The pyramid model, also known as the "Teach, Model, and Reinforce" model, is a framework used to promote positive behavior in young children. It consists of three main components:
1. Teaching: This involves explicitly teaching children appropriate behavior and social skills. This may include providing clear expectations, teaching problem-solving strategies, and using positive reinforcement.
2. Modeling: Adults or peers model positive behavior for children to observe and imitate. This can include role-playing, demonstrating appropriate behavior, and providing praise and reinforcement for positive actions.
3. Reinforcing: This involves providing positive feedback and rewards for desired behavior. This can include verbal praise, stickers, or other tangible rewards.
Caregivers can create a supportive environment encouraging children to develop strong social skills and positive behavior patterns using this framework. The National Center for Pyramid Model Innovations (NCPMI) has abundant resources to guide and support your practice.
This worksheet/checklist provides practical ways to implement this model in your family childcare program.
Pyramid Model Practices for Family Child Care Homes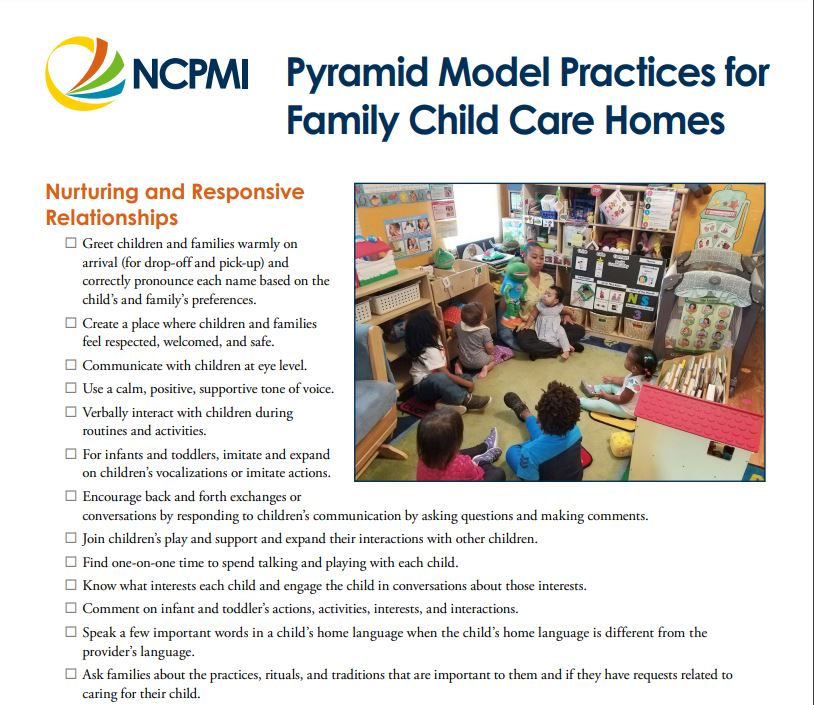 As you think about your environment, you may find this checklist useful for self-assessing quality in your environment and making an improvement plan. The checklist is based on the NAFCC Accreditation Observation Checklist.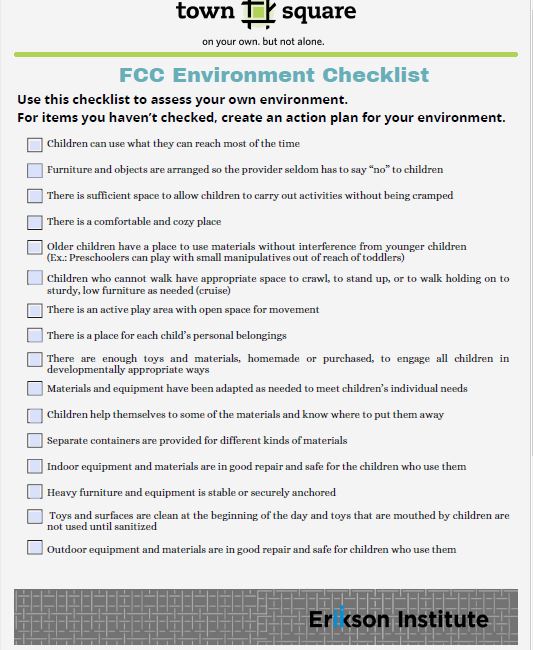 Creating a sense of place in early childhood programs is crucial for the healthy development of young children. A sense of place refers to children's physical and emotional connection with their surroundings. Young children need to feel safe, secure, and comfortable in order to learn and grow. By creating a sense of place in early childhood programs, educators can provide children with a nurturing environment where they can learn and explore.
Here are some benefits of creating a sense of place in your program:
Sense of Belonging: When children feel a sense of belonging in their environment, they are more likely to engage in activities and build relationships with peers and educators.
Social Emotional Development: A stable and consistent environment can help children feel emotionally secure and give them a sense of predictability, which is important for their emotional wellbeing.
Physical Development: A well-designed environment can stimulate physical development through exposure to different materials, spaces, and sensory experiences.
Learning and Exploration: Children who feel comfortable and safe in their environment are more likely to be curious and explore their surroundings. This can lead to richer and more meaningful learning experiences.
Sense of Ownership and Responsibility: When children participate in designing and maintaining their environment, they develop a sense of ownership and responsibility.
Penn State Better Kid care shares a wonderful resource with tips on how you can create a sense of place.
Creating a sense of place: Considering routine, ritual, and belonging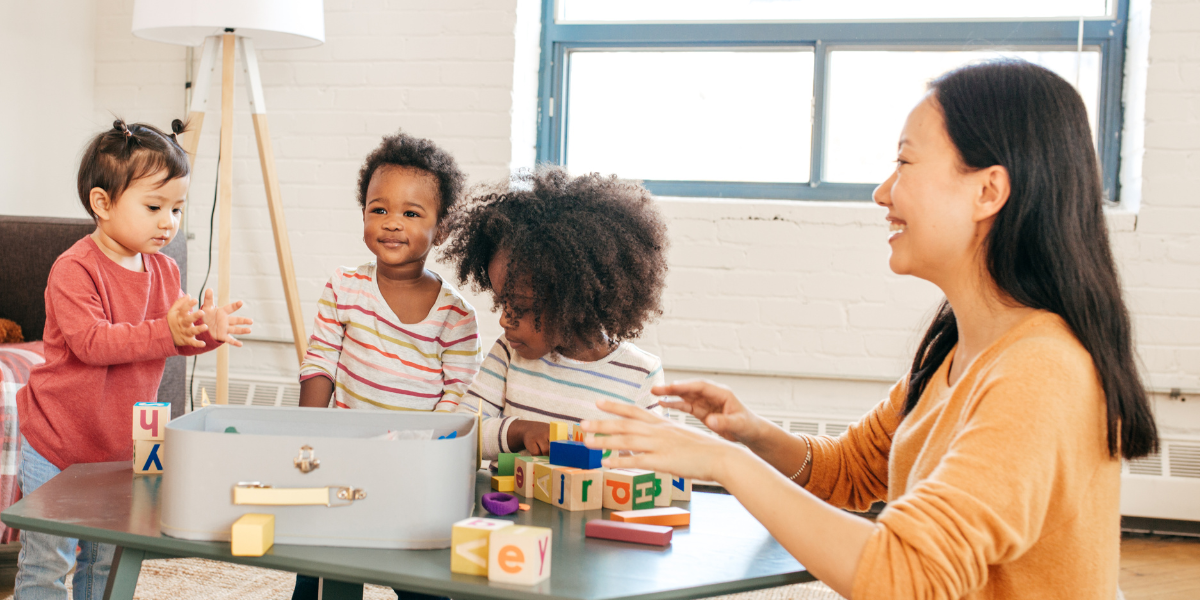 Hablar con las familias sobre sus preocupaciones puede resultar difícil. Sin embargo, una comunicación abierta es siempre lo mejor. Usted puede sospechar que hay un retraso, pero después de hablar con los padres puede descubrir que hay otras razones subyacentes para lo que ha observado o puede descubrir que los padres tienen las mismas preocupaciones. Este folleto de los CDC puede ser un excelente comienzo de conversación para determinar si es necesario realizar más evaluaciones.
Consejos para hablar con padres y madres sobre preocupaciones relacionadas con el desarrollo de un niño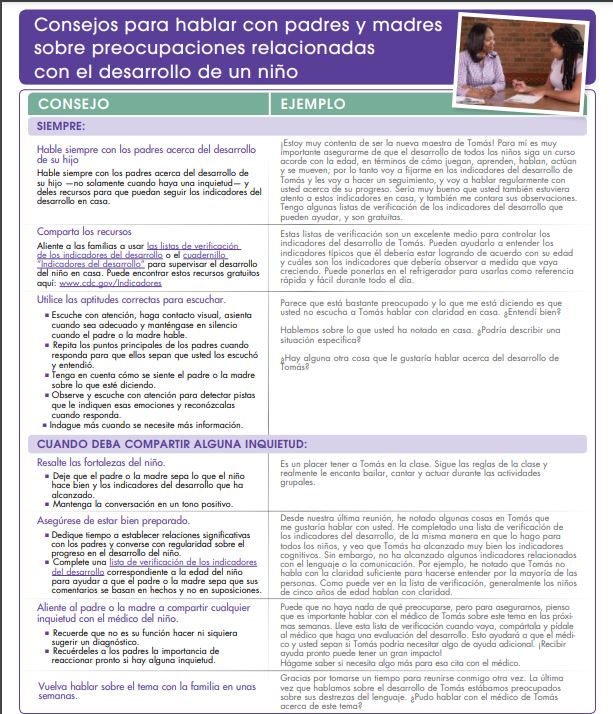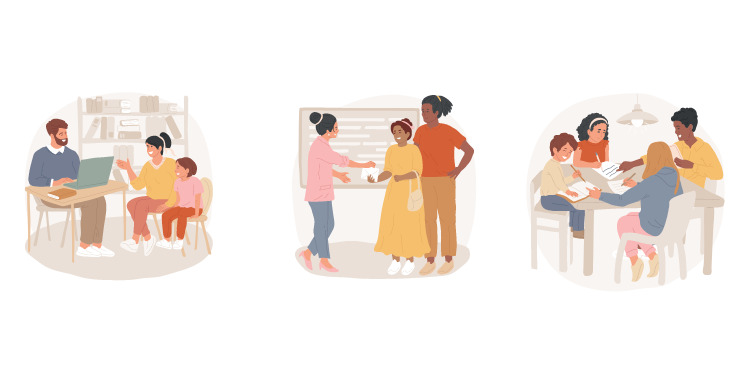 Schedules and routines help children feel safe and secure by providing them with everyday events and procedures, helping them know what is expected of them, and making their environment more predictable. Head start Early Childhood learning & knowledge center shares the importance of schedules and routines and ways to partner with families to best support children.
The Importance of Schedules and Routines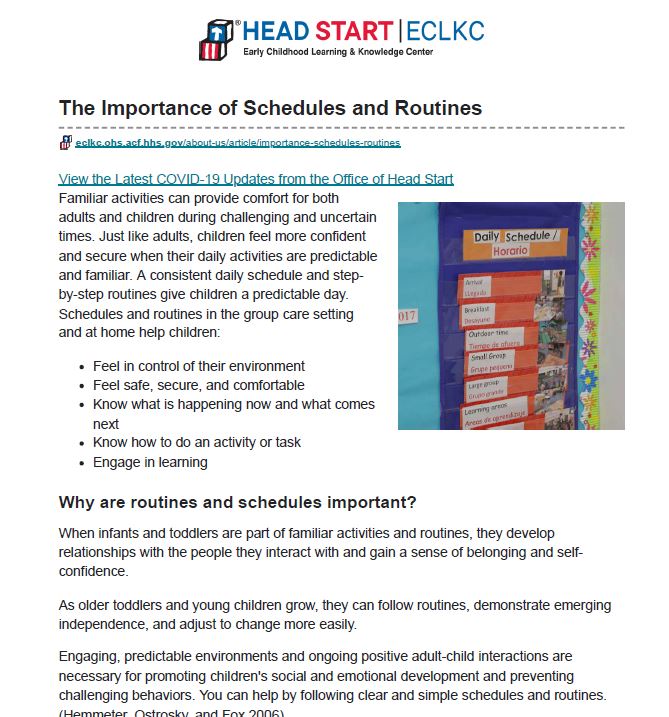 Una gran parte de tener un programa de cuidado y educación es tener un currículo, pero ¿qué es exactamente un currículo? Este recurso creado por Town square se sumerge en la exploración de los fundamentos de un currículo y sirve de guía para reflexionar sobre sus prácticas actuales.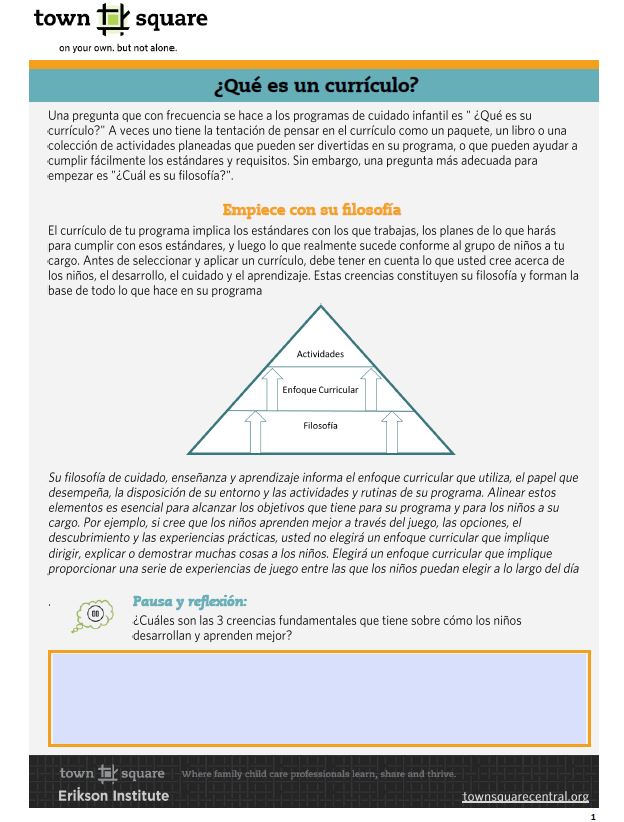 At times, the behavior of a young child can challenge the skills and abilities of their caregiver.
When a caregiver feels that a child's behavior is disruptive to other children and that there is not anything they can do to support the child in changing their behavior in a positive way it can create a lot of stress.
Within early care and education programs, including family child care programs, ongoing stress resulting from a caregiver feeling unable to support a child can create a situation in which suspension or expulsion from the program may appear to be the only or best solution. However, research indicates that suspension or expulsion of young children from early care and education programs hinders healthy development across all areas and can interfere with identifying and addressing differences. Children may qualify for intervention services, but if they are excluded from early care and education programs, they may not receive the referrals or evaluations that are needed.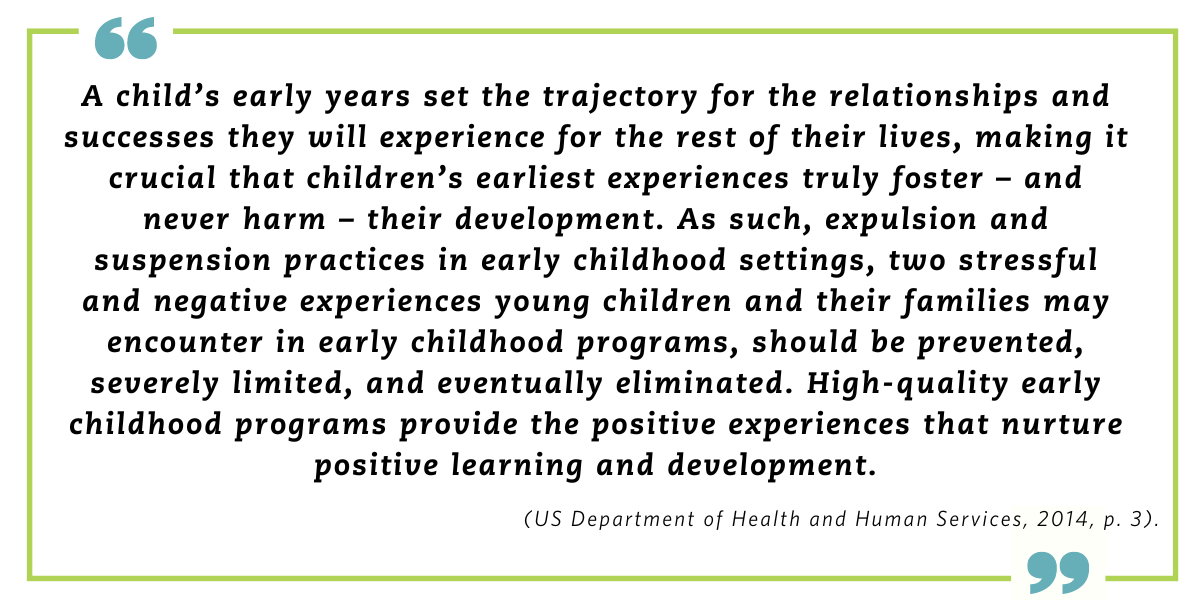 Statistics about suspension and expulsion of preschool aged children:
Boys receive more than three out of four out of program suspensions
Black children make up 18% of preschool program enrollment but 48% of those who are suspended
Young children who are expelled or suspended are up to 10 times more likely to:
                                     * drop out of high school
                                     * experience academic failure
                                    * repeat grades
                                    * have negative attitudes about school
                                    * face incarceration
                                   * be suspended or expelled in later grades
What can caregivers do to respond to the behavior of children in positive ways?
Illinois Early Learning has developed a series of tip sheets focused on positive guidance, which offer strategies for caregivers.
In addition, resources about developmental referrals and screenings can be found on the CDC website
Additional resources from the US Department of Health and Human Services Office of Early Childhood Development about reducing suspension and expulsion practices in early childhood settings.
A large part of running a care and education program is having a curriculum, but what exactly is a curriculum? This Town square-created resource dives deep into exploring the foundation of a curriculum and guides you in reflecting on your current practice.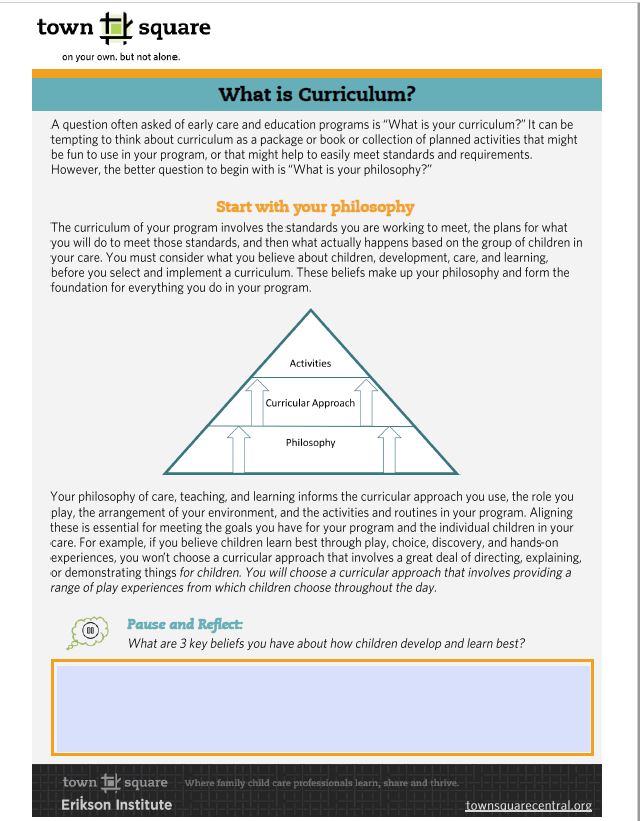 Los estudios demuestran la importancia de ofrecer a los niños muchas oportunidades lingüísticas, como hablar, leer y cantar. Esta hoja de consejos, creada por los Departamentos de Educación y de Salud y Servicios Humanos de EE.UU. en colaboración con Too Small to Fail, ofrece excelentes consejos prácticos para facilitar una rica conversación con los niños en edad preescolar, incluyendo el uso de preguntas, la ampliación de las palabras del niño y la lectura interactiva.
Consejos para facilitar una rica conversación