This guide can be a helpful tool when planning activities for multiple ages and that address different learning domains.  You can learn more about learning domains and planning for multiple ages in the module: Selecting and Managing Materials that Support Learning Across Domains on the Grow Page in Town Square under the Town Square Modules tab.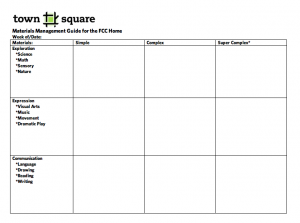 Choosing apps for children of different ages and with different interests can be challenging. Dr. Katie Paciga, Fred Rogers Fellow and Assistant Professor of Education, shares some of the trusted sources she uses when looking for reviews on the best apps for children as well as other information related to using technology with children.
Common Sense Media reviews apps and allows you to sort by age group.
The School Library Journal reviews apps and other technology for children.
Carissa Christner reviews apps for kids regularly for the Madison Public Library.
Dr. Katie Paciga, Fred Rogers Fellow and Assistant Professor of Education, shares some things to consider when choosing e-books or storytelling apps.
When looking for e-books consider if there are different types of menu options such as "read to me", "read and play", "read by myself" which will offer flexibility for different ages and reading levels.  Print tracking is another option that is excellent for emergent or beginning readers to draw attention to the words as they are being read.  Check to see that any interactive elements relate to the story line and aren't arbitrary, such that they draw attention away from the story or cause confusion.  An option to record narration of the story can also be great for supporting children's creativity.
Features of storytelling apps that are important to look for include the option to import images from the camera roll and the ability to use the keyboard or a finger for adding writing/text.  The option to audio record so that the story can be told by the child's voice rather than only by printed or written text makes a storytelling app more appropriate for a broad range of ages.
This checklist can be a helpful starting point for self-assessing quality in your environment and making a plan for improvement.  The checklist is based on the NAFCC Accreditation Observation Checklist.  For more information on creating a high quality environment check out the module: Creating a Child-Centered and Multi-Age Space on the Grow page under the Town Square Modules tab.
Several Chicago Public Library branches are offering a program for children birth to age five. story hour sessions are  for children ages birth to 5. Enjoy reading, singing, nursery rhymes and fun activities designed to help support children's language and literacy development. You can find out more about which branches are participating and dates and times for story hours at the Chicago Public Library Events page here: Library Events Link
If you are not located in the Chicago area you should check out your local library for activities and programs if you haven't already. The library can be a great regular field trip destination for family child care to participate in story hour or just to browse and check out books.