List of resources for baby sleep safely and ways to reduce the risk of Sudden Infant Death Syndrome (SIDS) and other sleep-related causes of infant death. Vital information for all that care for babies.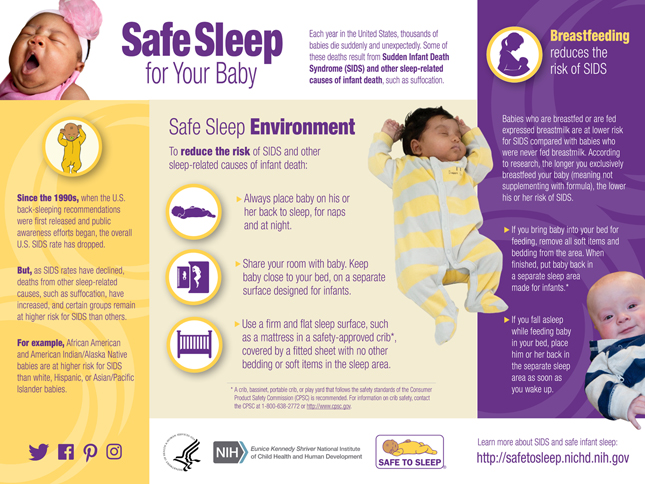 Read books to infants while you are holding them on your lap or be sure he/she can see the book. Any book with pictures will do, but board books work well for infants who often want to grab the pages or put the book in their mouth. Read for as long as the infant seems interested and don't worry if you don't make it all the way through the book. Allow the infant to touch and hold the book and read the same books many times. As infants gain more motor control allow them to turn the pages.
For a list of books by age click here.
Goal: To begin supporting infant's language development and book knowledge.
Hide a toy under a small blanket or hand towel. Show the baby how it seems to disappear and re-appear when you pull the blanket off. Repeat several times asking the baby "where did it go?" "There it is!" As the infant develops the capacity for understanding that objects exist even when they cannot see them (object permanence) they will more actively search for objects.
Goal: The infant and caregiver will practice a back and forth exchange which is important for language development and for building positive relationships.