Are you interested in having your idea featured on Town Square?
We are looking for content from providers like you!
Send us a description of your idea.
We are looking for content (including photos and video) such as:
A great activity that you did with the children
Tips for business (organization, record keeping, strategies for managing requirements)
A song or movement activity that the children enjoy
Tips for managing transition times (setting up meals, naptime, moving to outdoor spaces)
Positive interactions that support children's learning and development (between children or between provider and child)
Ideas for arranging your space
Other ideas you have that you think providers might be interested in hearing about
Town Square staff will help support and guide you in developing the content before posting it to the Town Square site.
Please send us your idea (including your name, your business name, location, and a description of your idea) using the link below or email us at: info@townsquarecentral.org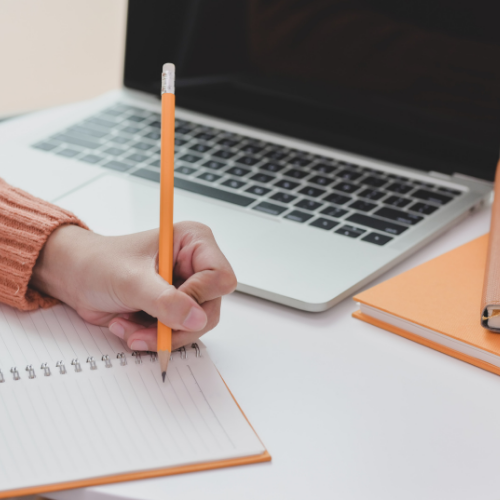 In the book The Last Child in the Woods, Richard Louv (2005) links the lack of nature in the lives of children to being part of a "wired generation." He says attention disorders, depression (yes, in children), and obesity are all due to a "Nature Deficit." This is an amazing book and a great resource for teachers. I encourage you to read it and bring more nature into your work with children
Kids love to dig and what's more exciting than finding a Roly Poly? Supply the kids with shovels, magnifying glasses and bug containers and let them go to work. I purchased all of my supplies at the Dollar Store making it very reasonably priced. You could use recycled food containers and spoons found in your kitchen if you don't have access to these materials.
Here are some fun facts about roly polies that you may not know:
They are found in most regions of the world and live in moist dark areas, under rocks, bark, leaves and logs.
They like to eat decaying plants or other vegetation. (What other creatures eat this type of food? Extend your science activity by setting out a fresh carrot with a rotten carrot and see which one the Pill Bugs will eat.)
Pill bugs have three body parts, seven pairs of legs, two antennae and two eyes.   They are ¼ to ½ of an inch in length and can roll into a ball when frightened. These are great facts to discover with your children. Bring out the magnifying glasses!
Pill bugs are actually not bugs, they are crustaceans. They are related to shrimp and crayfish, breathe with gills, and need humidity or moisture to survive. You can explore other types of crustaceans with children as well.
The pill bug goes through two stages of development: egg and adult. The female can lay up to 100 eggs, which are held in a pouch (like a kangaroo). After about two months as an egg, they hatch and emerge as a tiny adult. They grow by molting (shedding their skin) and can live up to three years. Good information to research with children. Try checking out a book about pill bugs.
You can explore habitats of all kinds of animals, bugs, or crustaceans. Try creating a roly poly habitat with children out of found materials. However, you also want to help children respect animals and their natural habitats. So make sure they know you ALWAYS put animals back in their natural habitats at the end of every day.
Town Square was created for family child care care professionals in collaboration with working family child care providers and experts in the field. This is your COMMUNITY and we want to hear from you.
Share your ideas with us…
Tell us a story about your program…
Give us your insights into what family child care professionals need…
We are here to listen, to help you get what you need, and connect you with each other in our online learning community.
So let us know what you think at info@townsquarecentral.org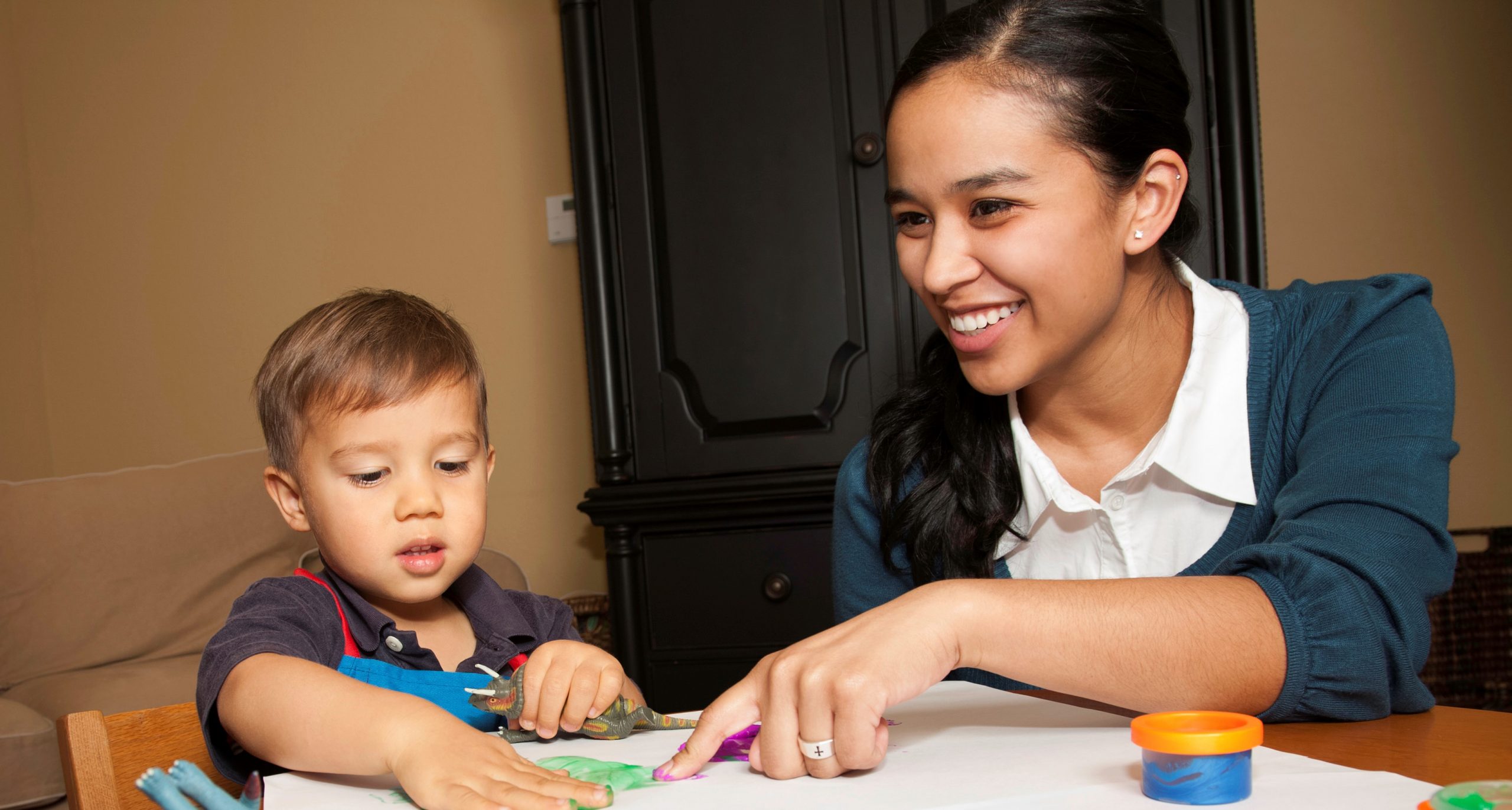 When preparing children for school, parents and teachers acquire all the tools that will be essential for their success in the classroom. Pencils, paper, crayons, blocks, baby dolls and books are all accessible for making the year successful. They are considered important pieces of the education process.
If you are fortunate enough to have a program that also provides fresh air and time for play outdoors in the winter months, consider yourself extremely lucky! However, your child will need a whole different list of supplies to make sure this time is equally successful.
Clothing is a crucial piece of the outdoor experience!
A few years ago it became clear to me that if I was supplying stumps, loose parts and the time to be outdoors in nature, our program had to have clothing available for backup. Clothing is a crucial piece of the outdoor experience. Teachers often ask me how long it takes to get everyone dressed to go outdoors? Trust me, the time it takes will get shorter and shorter very quickly. And the process is a learning lesson in itself. There is a sequential order involved. It is a lesson in self-sufficiency. What could be a better use of our time? With so many children attempting to get ready at the same time, children learn to independently get ready on their own. Our children love to play in the snow and they know that getting ready is part of the process. A few years ago I had a two year old that could Suit Up and Boot Up faster than her older counterparts.
I am always curious how others make this work in their programs. Like anything else in our classroom, I start with baby steps and tweak it as I go. I encourage you to try and get outdoors every day. It is so good for both our mental and physical health. However, you need the tools for this to be successful. If you have children who don't bring their "pencils" to class, you must supply them.
Here is our version of
 

Suit Up and Boot Up.

You can do this! Baby steps!
I start by setting up stations or centers. There are many stages of dress and it can take a lot of space, so offer that space to keep peace in the room and the focus on getting dressed. You don't want everyone standing on top of each other trying to get dressed. I start at one end of our room and lay the stations out ending at the exit door. You could also do a circle. After a day or two the children will help you lay out the stations.
After everyone has gone to the bathroom, we are ready to get serious!

 

We start with snow pants. Be aware that for some families this is an extra expense that they have not budgeted for or simply don't understand because the adults quit playing in the rain and snow! We always try to have an extra set or two around. If we supply the blocks and dolls, we also need to supply back up winter clothing for those who don't have what they need on any given day.
Then we have stations for their boots, coats, hats and mittens. By now they are standing by the door for the last inspection and the help they may need with zippers, buttons, buckles or mittens.
Car mittens vs snow mittens
Which brings us to mittens or gloves. For the very young, I am a big fan of mittens, just because they are so much easier to get on. As the children get older though, sometimes they just need the flexibility and precision to build or pick things up with gloves. This is where I am on a one-woman campaign for new vocabulary words.
Car mittens vs Snow Mittens (gloves qualify but it ruins my campaign slogan!) Fleece and wool mittens are good for car rides, but if you are going to sled, build snowmen, eat icicles or just PLAY in the snow you need SNOW mittens or gloves. Any waterproof glove or mitten will work, but really great ones go up past your wrist. They allow you to play for longer periods of time and stay warm in the winter temperatures. I knew my vocabulary word was catching on when a four year old sadly walked in the door and announced, "I could only find my car mittens today." Poor kid. He looked devastated. He knew the consequences. There are of course natural consequences to not wearing the proper clothing. You get wet, cold, tired and very crabby! Many times, children will not remember the snow play from a year ago. This is a brand new experience for them, even if they were outdoors daily last year! We want this to be a successful and enjoyable experience for them. We need to supply the tools for our day to be fun and stress free!
What do you do in the snow?
I often get asked, "What do you do in the snow?" We play! The night before the first predicted snowfall, I retrieve all the sand buckets and shovels and molds. These are great tools to add to snow play. If they are buried or frozen in the sandbox, it is an impossible task. Trust the voice of experience on this one!
Our little friends love to help shovel, build snow friends and snow angels. This is a whole new world of adventure and investigations for them. Just walking or running in snow is a new adventure! We have spent hours searching for ice and then working to remove it from whatever container it may have formed in. Slipping and sliding on ice? Ice skating without the cost of skates! Giggles galore, no broken bones to report! One hard fall will usually send a child off to find something else to do, but there are always a lot more laughs than tears. Trust the child! Jumping off any height only to land in a pile of fluffy white stuff to break the fall, can entertain us for long periods of time. Sliding down snow filled slides or jumping off a swing when the snow is just inches below it, are all new experiences. Finding animal tracks from brave squirrels, hungry birds or the neighbor's cat can buy us a good half hour of fun. When the winter days are so short that the children are coming to us in the dark, and heading home in the dark, getting outdoors in sunshine or at least daylight is so very good for our mental health.
Don't forget the clean-up!
After hours of play, the order is reversed. I set up laundry baskets and child size benches outdoors, with the last basket for boots next to the door so they can step right in on a dry floor. The children strip off their clothes and put them in the proper basket. This works well for separating wet clothing and boots away from our dry hats and coats. It also reinforces independence and sequencing as the children try to do this process on their own! (Those snow pants can be ornery sometimes!)
Of course nothing completes outdoor winter play quite like a big warm cup of soup or hot cocoa! If the temperatures cooperate and the sun is warming your soul, try an outdoor lunch. Hot soup, cheese and crackers, apples and carrots and milk! You can do this! Start with little steps and build your way up!
Remember, there is no such thing as bad weather, just bad clothing! It will change your winter play!
This fall, one of the more impactful tasks for everyone — especially at the local level — is to vote.
As Family child care providers, we have an obligation to vote for our interest and the interest of the children in our care. Voting is the primary means of communication to the government. Votes not only determine policy but people's lives and livelihoods. This year it is especially important to set up a plan to vote and to communicate with staff and families on the importance of their vote.
To help organize your specific plan, e.g. options such as via mail, in-person, or drop-ballot, the McCormick Center for Early Childhood Leadership created a "Planning for the Polls" resource by Roby Kelton, M.A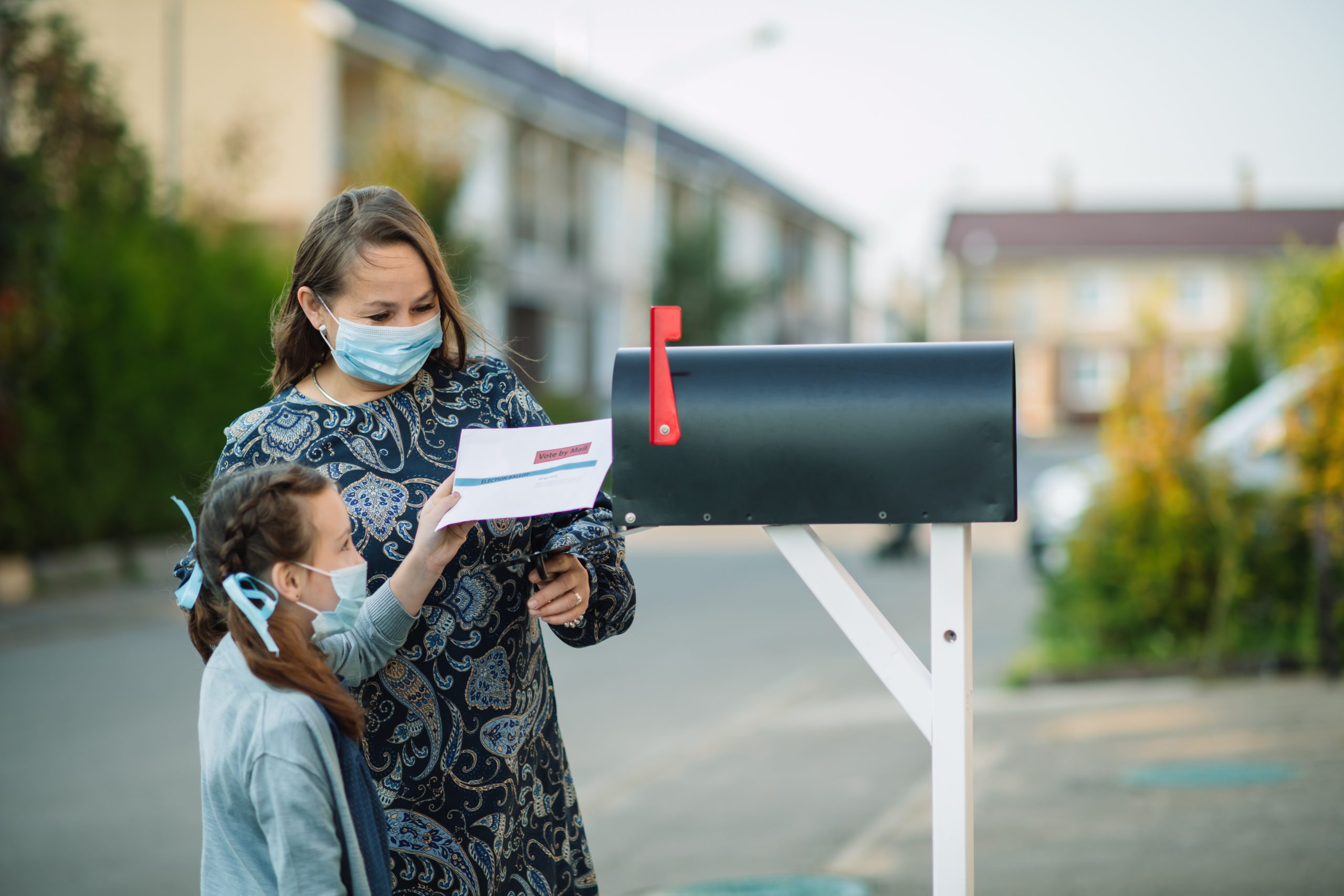 Due to the outbreak of COVID-19, I had to re-think my sick policy and revise the parent handbook to reflect the new changes instituted by the state Health Department and recommendations from the CDC.
A typical sick policy within a child care setting consists of children not returning until 24 hours after the last symptom (fever, diarrhea, vomiting, flu, etc.). A doctor's note is not always required upon returning, just as long as the child has returned after the 24-hour wait. This policy has its flaws. Oftentimes, the children are still not well after the 24-hour time frame. Illnesses such as a stomach virus, strep throat, or flu seem to pass through a child care setting like wildfire, being passed between not only the children but staff as well, causing unforeseen shut-downs due to the lack of adequate staff to child ratios.
COVID-19 has changed the way we handle sick policies and has also changed the way parents feel about keeping an ill child out of the facility, for the better.
Our new sick policy was added as addendums to the old policy and reflects a longer exclusion period of 48 hours after the last symptom of fever and/or illness. A doctor's note is also required upon the return of any child who was out with an illness, stating that the child is in good health and can return to the facility. These measures alone have substantially cut back on illnesses being spread throughout the program. I have seen fewer sick children and staff for this time of year as compared to previous years. Because of this reason, I have decided to make these policies indefinite.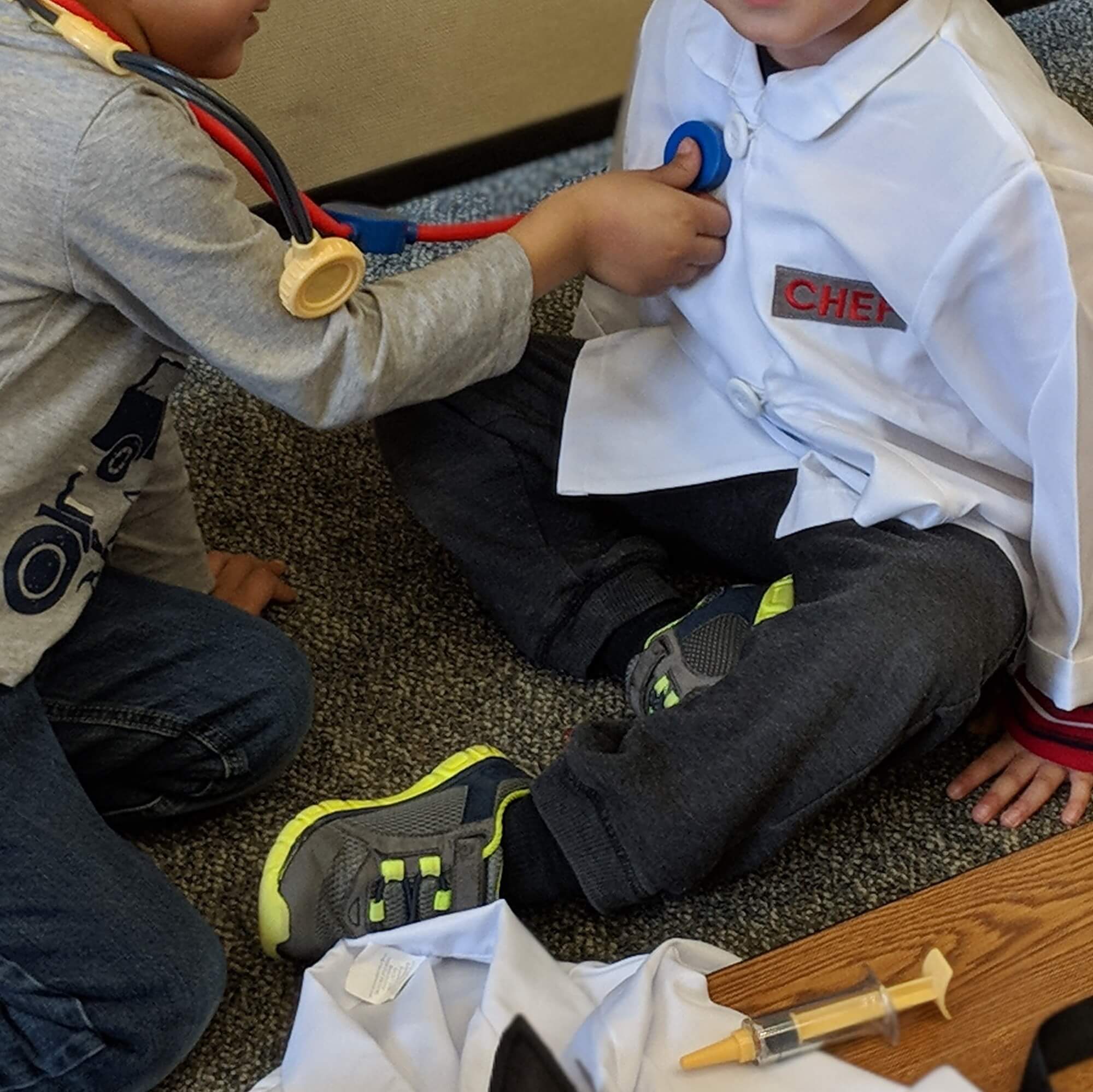 Have you had changes in your program policies due to COVID-19? Connect with us to share the changes and impact on your program.

It's no small statement to say that we are living in strange and sometimes scary times. As a world, we are navigating a health crisis that most of us have never experienced personally. We don't have any right answers, there are no good choices. So, we do the best that we can for our families; our friends; ourselves; and as ECE and FCC providers, for the families we serve. That spirit of continuing to serve families is how I developed my plan for my FCC program for the foreseeable future.
Before I talk about the changes I'm making, I should tell you a little about myself. I am an FCC provider with three kids of my own. My oldest is 7 and planning on attending in-person 2nd grade this fall…fingers crossed. I also have a 4-year-old and a 2-year-old. I am currently licensed to care for 7 children in addition to my own 3. My waiting list is long, and I don't anticipate being able to help even half of the families who are calling me every day. Childcare has taken a big hit; spots are precious, and parents are worried.
To add to parents' stress is the extremely difficult decision about what to do with their school age kids come August. Do I send them back to class and risk illness and trauma from the new rules? Do I somehow balance virtual learning with my full-time job? Do I withdrawal from the school and opt for a homeschooling option? How will I keep up? How can I best serve my children's education, health, social development, and emotional well-being? Again, there are no good answers, just a selection of bad options that we must choose from.
As more and more families called me to ask if I would be able to watch their school-agers while they were virtual learning, and I as I heard more and more parents share their concerns about being able to balance work and school at home (along with all of the other things that parents have to balance every day); I began to realize that this was an area I could help. All through this pandemic, I've been wondering: What's my role here? How can I use my skills to help others? What can I do to make a difference? Well, here it was. Slapping me in the face. I can offer virtual learning proctoring in my program. I can take the burden off parents and work with the district and teachers to help these children succeed this year.
So, I began to develop a plan. I'm lucky enough to have a wonderful assistant, so I was able to work out a daily routine that would allow me to teach the virtual learning kids at the table (each with their own device, following their district's learning plan) while my assistant ran play-based learning activities in the other room. I could offer one-on-one help for each child as they navigate this new way of learning in our own mini-school and communicate with their teachers to be sure we are staying on target and that I am focusing on any improvements or extra assistance that each child needs.
This is something many FCC providers could do to help the families we serve. This may not be the best option for all. I am not saying that every single FCC provider should or would be able to do this; but for those of us who can, what a great blessing it is to be able to help ease parents' stress in this time of need.
An example of our daily schedule is as follows: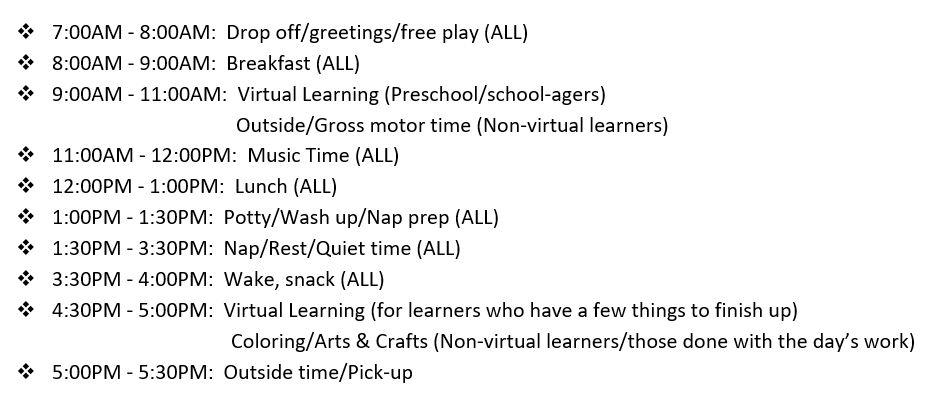 As you can see, some of our activities are still together as a group and our virtual learners are still getting to play outside, enjoy music/dancing, and participate in any extra activities we have scheduled for the day such as a special craft. Each day's schedule will be built so that school is not taking away special experiences and so the school-agers aren't sitting doing work on their own all day.
I currently have 3 children whose families have now chosen not to send their kids to in-person learning in favor of virtual learning with Mrs. Jessie and, if things don't go as planned, I'll be adding my big guy to that list as well. For our program, that means providing assistance for three different grades/ages, and four different virtual learning platforms/teachers/experiences at the same time. It sounds a bit hectic, but I know that it will be rewarding and worth the effort for the kids and their parents.
I encourage FCC providers, if this is something you feel like you could work into your program, to think about a plan, and assess if it is feasible for you. This is a long commitment, quite possibly the entire school year, but if you're up for the challenge, it may be a great help to parents in your community.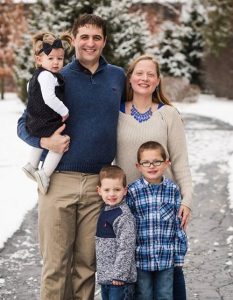 A first-hand account of the challenges of staying open during the pandemic written  by a friend of Town Square Patricia Twymon
It is 6:54 a.m. on Tuesday morning and my cell phone is ringing. My client, an essential worker, tells me that he is on his way to drop off his daughter Hailey at my home child care. I hang up and take a steadying breath. Like every morning since the pandemic began, I wonder to myself if I am doing the right thing by keeping my doors open to the children of essential workers. I am putting my family at great risk. Both my husband and I have underlying conditions, and his 83-year-old mom lives with us. Could I live with myself if one of them contracted COVID-19 because of my decision to stay open? At the same time, could I live with myself if I shut my door on parents and children in need?
The doorbell rings a short time later and I make my way to my front door. We have all gotten the routine down, now. I open the door and move aside to let Hailey in. Her father stands a distance away from the door; he knows not to approach the threshold. 
Hailey and I do not hug as we did before the pandemic, but I give her a smile and say good morning. I visually scan her body and listen for a cough as she removes her coat. I do not have access to a thermometer to check her temperature, so I look closely for sweat on her brow. When she is ready, I lead Hailey to the bathroom so that she can wash her hands. As I watch her lather, I feel a tinge of pride. She has learned what areas she needs to reach and how long she has to rub her hands together. I have been caring for Hailey since she was six weeks old. She is almost 4 now, and the time has flown by.
I try to keep our daily routine as much like the old one as possible, but the differences are striking. In the era of COVID-19, I am Hailey's only playmate. Instead of running around with her, I try my best to keep my distance while she plays. While Hailey naps, I sanitize every surface I can. I am as thorough as possible, fearing the worst if I miss a spot. I wonder when I will be able to find sanitizer at the store again. My cleaning supplies are running low, and the store shelves are empty. I have no idea how I will be able to maintain a clean, healthy, virus-free environment without access to bleach.
By the end of the day, I am mentally and emotionally exhausted, but I do not dare rest until I take a shower and change. As I do so, I continue to think of Hailey. She still seems happy and content to run around the otherwise empty child care. I wonder if she understands any of what is happening. Does she miss her friends? Can she tell that I am afraid?
My story has played out in many emergency child care homes and centers throughout our state. Money is not our motivation. Caregivers opened their homes and centers so that families can continue their essential work, without the pressure of worrying about what to do with their children. 
What will the post-pandemic world look like for centers and home programs once this lockdown has ended? Rumors are running rampant that we will lose a large portion of our children. How will our programs survive? It is more important than ever for both center and home-based providers to stand together in solidarity.   
I feel solidarity with my fellow child care workers right now, because I know that many are facing the same challenges that I am. Day after day, child care workers are overlooked on the news and left out of COVID-19 relief packages. We do not have access to personal protective equipment or sanitization supplies. Child care workers have been given, on average, an extra $10 per day to take care of children during the pandemic. Yet, we put our lives and our families' lives at risk every day. If child care workers were unable to work, other essential workers would be forced to stop working too.
Like other essential workers, child care workers are in the fight of, and for, our lives. We know that now is the time for us to step forward and do what we do best: take care of children. We need our policymakers to recognize our sacrifice by giving us the recognition, funding and protective equipment we need to do our work
Courtesy of Exchange Magazine July/August 2020  exchangepress.com
Exchange Magazine provides a variety of articles including stories about and by family child care providers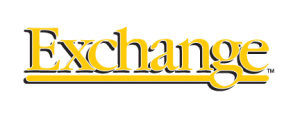 The Indiana Family and Social Services Administration, Office of Early Childhood and Out-of-School Learning offers an area map of the state with each corresponding local community-based organizations that administers  Resource and Referral services.