Stephanie Mckinstry from My Caterpillar Clubhouse, a Certified Nature Explore Classroom,  shares how she incorporating books and images of nature into her program. Listen below for her tips.
Sharing this excellent webinar recording by the National Center on Early Childhood Development, Teaching, and Learning – Meaningful makeovers: Overcoming Challenges in the Family Child Care Setting.
While makeovers help make the environment look appealing to children and their families, the makeovers are also meaningful because of the environmental changes that support children's learning and development.
Following along  a provider as she makeover her space and gives you suggestions to create a change in your own space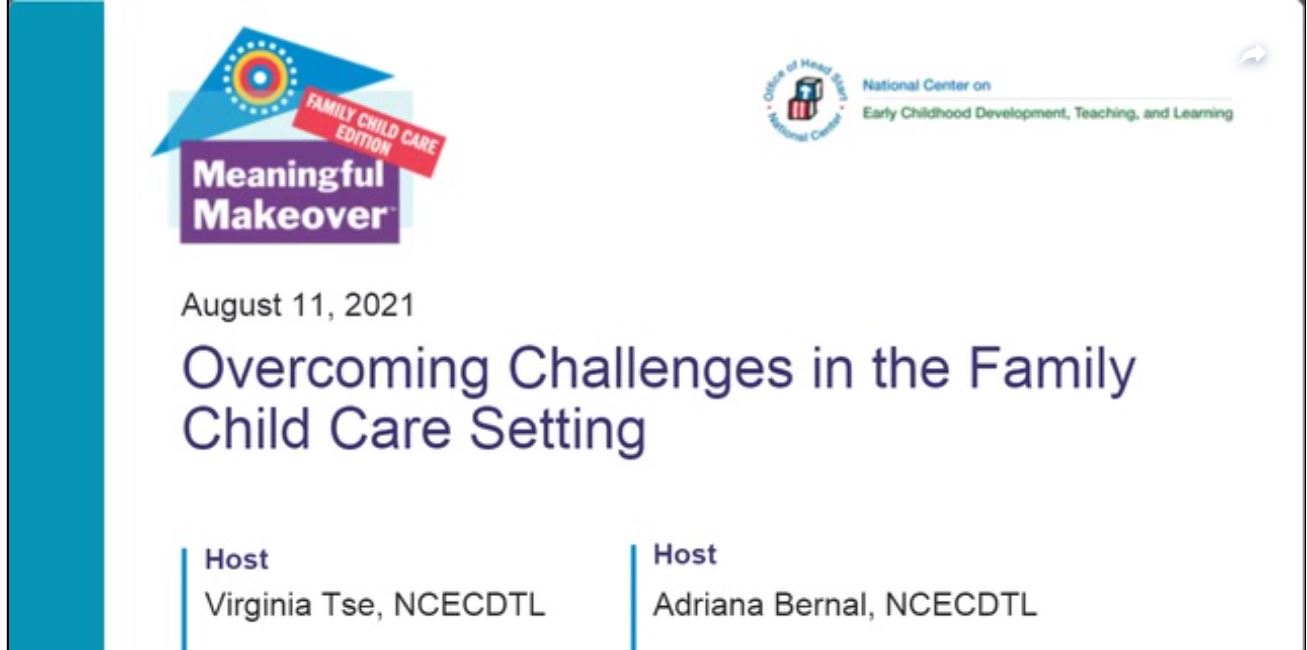 When I was a family child care provider I was lucky enough to live in the Chicago Metro Area and had a world of museums at my fingertips. I would choose every year to have a different annual membership and we would spend a couple of days every month exploring every nook and cranny of that museum. The next year I would move on to another museum. We spent hours and hours exploring Brookfield Zoo, the Chicago Children's Museum, the Field Museum, the Museum of Science and Industry, and Wonder Works Children's Museum. It was relatively inexpensive for the annual passes and I could take as many children on the annual pass as I wanted.
Many of you are probably thinking I am crazy! Field trips can be very stressful I know. But, the trick is to not see it as a field trip, but rather as an extension of your learning environment. Having an annual membership that allowed us to visit a couple of times a month meant I was not stressed out about making sure we saw everything in one day. We would often go spend 3 hours just in one or two areas of the museum. There was never any rush. Today some museum policies have changed, you can't always bring in as many children as you want and the parking (at least in Chicago) can be terribly expensive unless they offer deals for annual pass holders. But, it's still worth thinking about. Many of you may have local small museums right in your backyard that you don't even know about. These smaller museums are easier to navigate with young children, cater to smaller groups, and are often really excited you are there. It can be worth inquiring about a membership as a provider if information is not listed.
For example Wonder Works Children's Museum is in Oak Park, IL, a suburb just outside of Chicago. It has free parking and is small at only 6,400 square feet as compared to the Chicago Children's Museum at 84,000 square feet. But it packs a lot of fun into its small space. It has six experience areas including art, dramatic play, farm to market, outdoor theme area, construction, and gardening. Children will be happy to spend many days at this small museum and will love returning for things they remember fondly.
Though transporting children can be challenging (and this is especially true if you only venture out once or twice a year), it gets easier once children know the routine and understand why they are doing it.  So, don't judge your outings based on that once a year jaunt to the pumpkin patch. It can be helpful to remind children "If we get settled in the car quickly, we can get to the museum and play sooner." It is also helpful if the children know where they are going. I know that once I told my children it was a "Wonder Works Day", they would begin to get excited and talk about what they would do once they got there, which made the transportation process that much easier. Please remember that you must always follow licensing guidelines when transporting children.
So check out the big and small museums in your areas and make them into an extension of your learning environment.
When preparing children for school, parents and teachers acquire all the tools that will be essential for their success in the classroom. Pencils, paper, crayons, blocks, baby dolls and books are all accessible for making the year successful. They are considered important pieces of the education process.
If you are fortunate enough to have a program that also provides fresh air and time for play outdoors in the winter months, consider yourself extremely lucky! However, your child will need a whole different list of supplies to make sure this time is equally successful.
Clothing is a crucial piece of the outdoor experience!
A few years ago it became clear to me that if I was supplying stumps, loose parts and the time to be outdoors in nature, our program had to have clothing available for backup. Clothing is a crucial piece of the outdoor experience. Teachers often ask me how long it takes to get everyone dressed to go outdoors? Trust me, the time it takes will get shorter and shorter very quickly. And the process is a learning lesson in itself. There is a sequential order involved. It is a lesson in self-sufficiency. What could be a better use of our time? With so many children attempting to get ready at the same time, children learn to independently get ready on their own. Our children love to play in the snow and they know that getting ready is part of the process. A few years ago I had a two year old that could Suit Up and Boot Up faster than her older counterparts.
I am always curious how others make this work in their programs. Like anything else in our classroom, I start with baby steps and tweak it as I go. I encourage you to try and get outdoors every day. It is so good for both our mental and physical health. However, you need the tools for this to be successful. If you have children who don't bring their "pencils" to class, you must supply them.
Here is our version of
 

Suit Up and Boot Up.

You can do this! Baby steps!
I start by setting up stations or centers. There are many stages of dress and it can take a lot of space, so offer that space to keep peace in the room and the focus on getting dressed. You don't want everyone standing on top of each other trying to get dressed. I start at one end of our room and lay the stations out ending at the exit door. You could also do a circle. After a day or two the children will help you lay out the stations.
After everyone has gone to the bathroom, we are ready to get serious!

 

We start with snow pants. Be aware that for some families this is an extra expense that they have not budgeted for or simply don't understand because the adults quit playing in the rain and snow! We always try to have an extra set or two around. If we supply the blocks and dolls, we also need to supply back up winter clothing for those who don't have what they need on any given day.
Then we have stations for their boots, coats, hats and mittens. By now they are standing by the door for the last inspection and the help they may need with zippers, buttons, buckles or mittens.
Car mittens vs snow mittens
Which brings us to mittens or gloves. For the very young, I am a big fan of mittens, just because they are so much easier to get on. As the children get older though, sometimes they just need the flexibility and precision to build or pick things up with gloves. This is where I am on a one-woman campaign for new vocabulary words.
Car mittens vs Snow Mittens (gloves qualify but it ruins my campaign slogan!) Fleece and wool mittens are good for car rides, but if you are going to sled, build snowmen, eat icicles or just PLAY in the snow you need SNOW mittens or gloves. Any waterproof glove or mitten will work, but really great ones go up past your wrist. They allow you to play for longer periods of time and stay warm in the winter temperatures. I knew my vocabulary word was catching on when a four year old sadly walked in the door and announced, "I could only find my car mittens today." Poor kid. He looked devastated. He knew the consequences. There are of course natural consequences to not wearing the proper clothing. You get wet, cold, tired and very crabby! Many times, children will not remember the snow play from a year ago. This is a brand new experience for them, even if they were outdoors daily last year! We want this to be a successful and enjoyable experience for them. We need to supply the tools for our day to be fun and stress free!
What do you do in the snow?
I often get asked, "What do you do in the snow?" We play! The night before the first predicted snowfall, I retrieve all the sand buckets and shovels and molds. These are great tools to add to snow play. If they are buried or frozen in the sandbox, it is an impossible task. Trust the voice of experience on this one!
Our little friends love to help shovel, build snow friends and snow angels. This is a whole new world of adventure and investigations for them. Just walking or running in snow is a new adventure! We have spent hours searching for ice and then working to remove it from whatever container it may have formed in. Slipping and sliding on ice? Ice skating without the cost of skates! Giggles galore, no broken bones to report! One hard fall will usually send a child off to find something else to do, but there are always a lot more laughs than tears. Trust the child! Jumping off any height only to land in a pile of fluffy white stuff to break the fall, can entertain us for long periods of time. Sliding down snow filled slides or jumping off a swing when the snow is just inches below it, are all new experiences. Finding animal tracks from brave squirrels, hungry birds or the neighbor's cat can buy us a good half hour of fun. When the winter days are so short that the children are coming to us in the dark, and heading home in the dark, getting outdoors in sunshine or at least daylight is so very good for our mental health.
Don't forget the clean-up!
After hours of play, the order is reversed. I set up laundry baskets and child size benches outdoors, with the last basket for boots next to the door so they can step right in on a dry floor. The children strip off their clothes and put them in the proper basket. This works well for separating wet clothing and boots away from our dry hats and coats. It also reinforces independence and sequencing as the children try to do this process on their own! (Those snow pants can be ornery sometimes!)
Of course nothing completes outdoor winter play quite like a big warm cup of soup or hot cocoa! If the temperatures cooperate and the sun is warming your soul, try an outdoor lunch. Hot soup, cheese and crackers, apples and carrots and milk! You can do this! Start with little steps and build your way up!
Remember, there is no such thing as bad weather, just bad clothing! It will change your winter play!
Ahora es más fácil encontrar recursos en español.
El nuevo filtro situado en la página de inicio y en la página de descubrir (Discover) te permite encontrar rápidamente todos los recursos en español.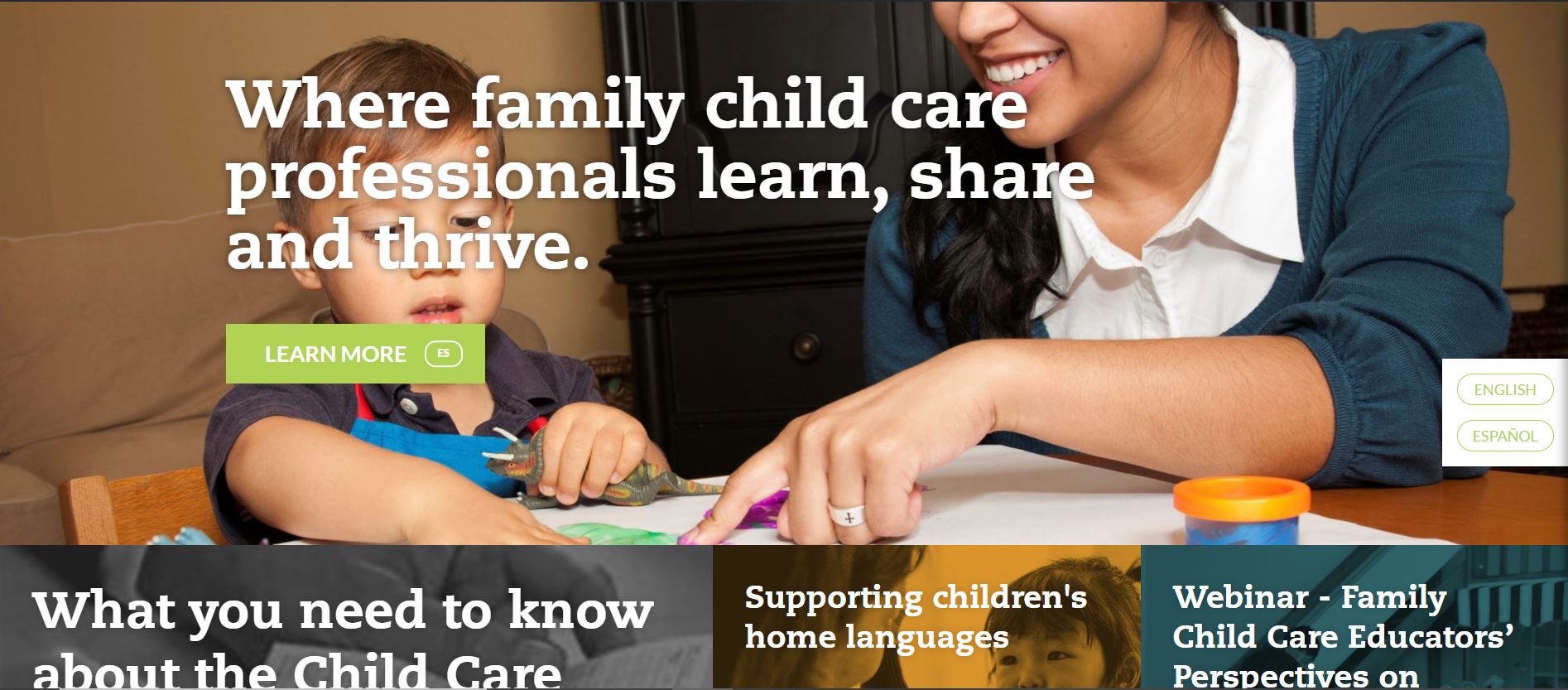 Para comenzar, haga clic en el botón titulado "Español" y explora todos los recursos que tenemos en español.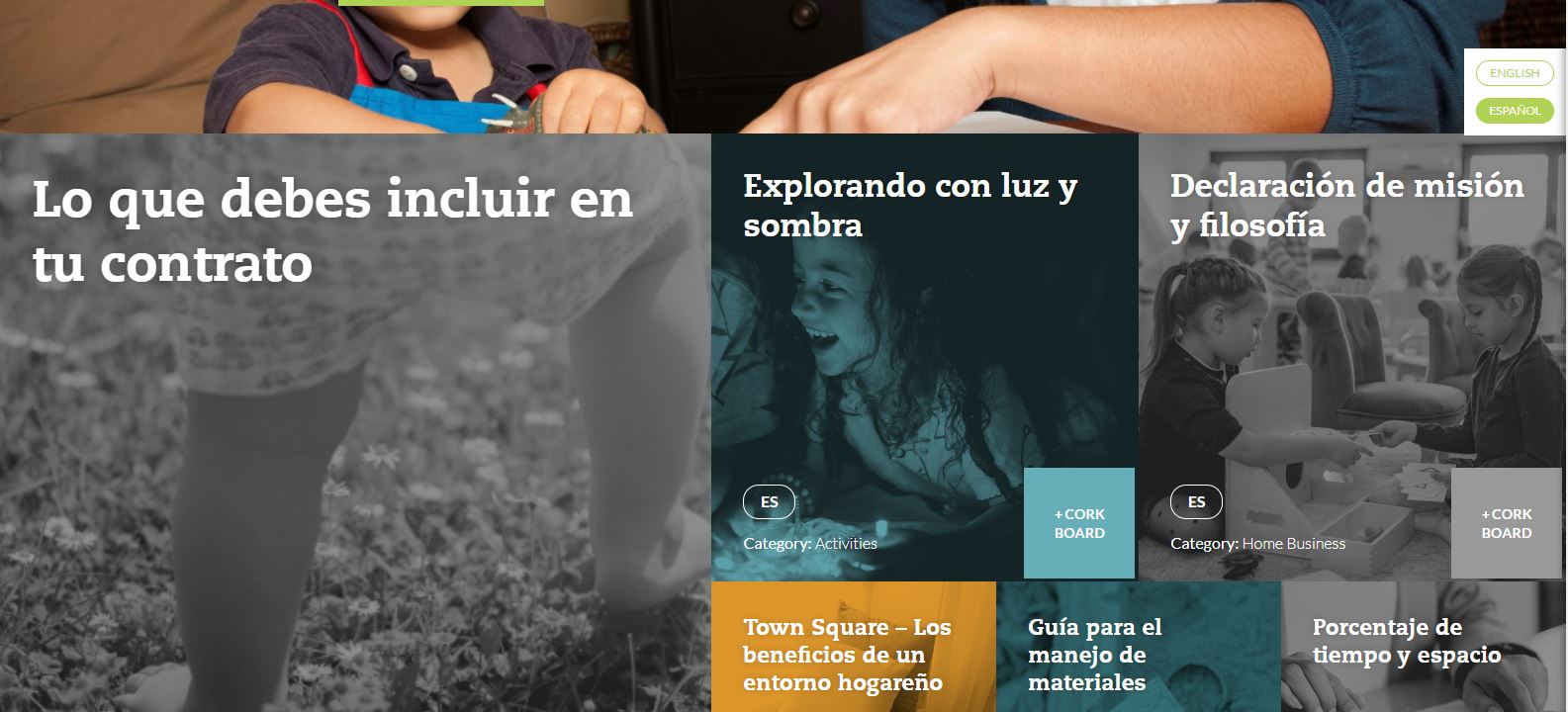 Si ves un recurso en inglés que te gustaría tener en español háznoslo saber. Si quieres contribuir un recurso o una idea póngase en contacto con nosotros info@townsquarecentral.org
Join the National Center on Early Childhood Quality Assurance (NCECQA) in a new webinar, Family Child Care Educators' Perspectives on Leaving, Staying, and Entering the Field, with researchers Juliet Bromer and Toni Porter. Join us on Wednesday, December 1, from 1:00 to 2:00 p.m. (Eastern Standard Time) to hear about the new findings.
The Multi-State Study of Family Child Care Decline and Supply is the first study to examine the indepth factors that contribute to family child care (FCC) educators' decisions to leave or stay in the field. The study included interviews with 30 formerly regulated FCC educators and focus groups and surveys with 149 current FCC educators in four states (California, Florida, Massachusetts, and Wisconsin).
The researchers will present:
Three types of career trajectories among former FCC educators and three primary challenges that contributed to their actual exit from the work
The rewards that are an inherent aspect of FCC work that may keep educators in the field and the ways that these reports of rewards vary across personal and professional characteristics
Educators' experiences with entry into the field, particularly the process of becoming regulated, and the common challenges faced during the initial regulatory process
Implications for future policy and program directions to redress the changes in the supply of regulated FCC.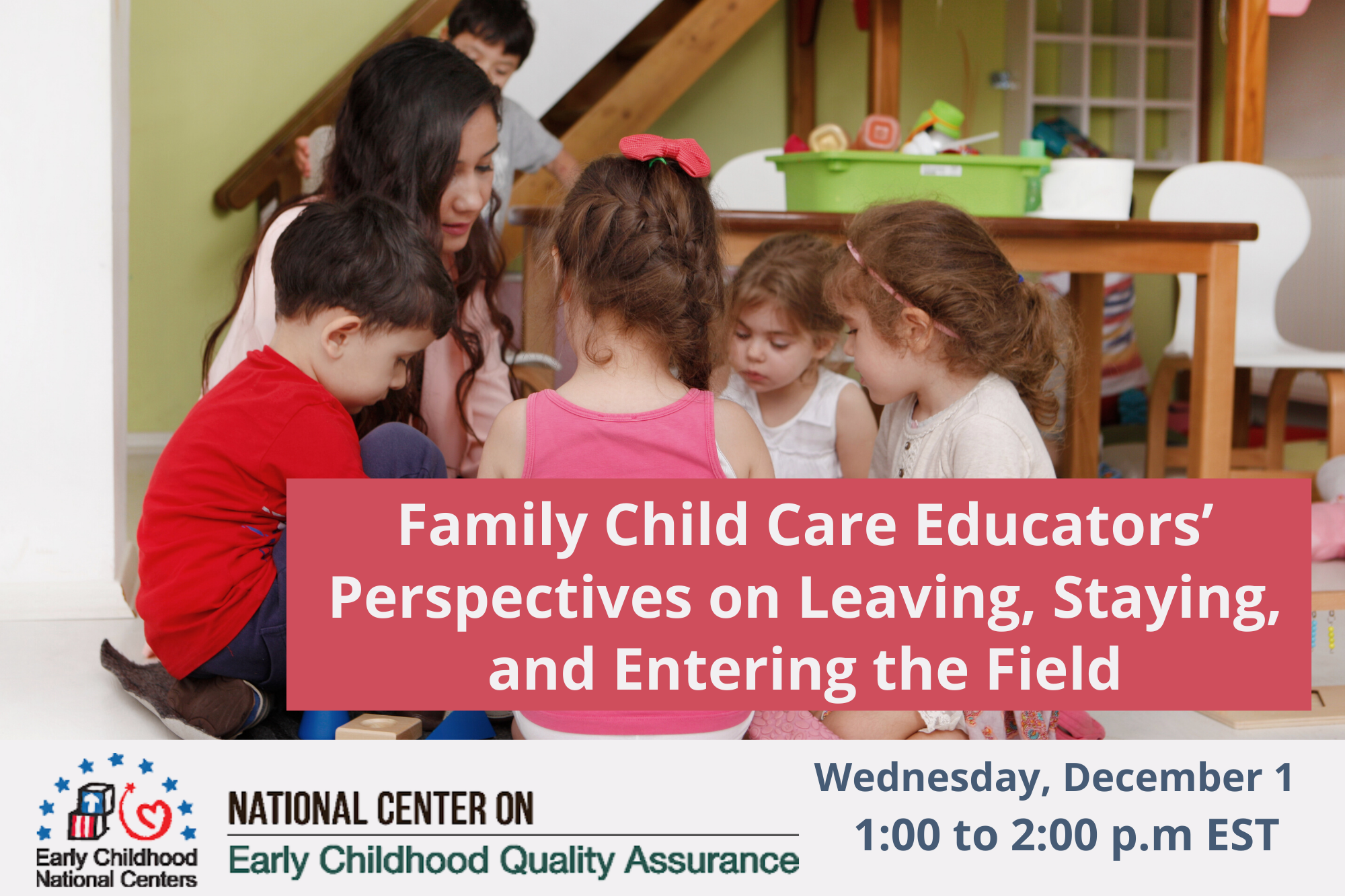 August and September are big Sunflower months around here. If you happen to put sunflowers in your bird feeders, you likely have sunflowers all over, even some in strange places.I like to let most of my sunflowers live their long lives, but every once in awhile one pops up somewhere and I have to pluck it out. Also, at some point they all die off, and they can be quite unsightly. Instead of just composting the giants, I try to use these opportunities as teachable moments. Here are a few activities you can do with sunflowers.
Weeding/ Ages 3-99
Engage children in assisting in the removal process. Weeding requires a lot of gross motor skills. Using several muscles in unison, and stimulating brain activity. Children enjoy the satisfaction of pulling as hard as they can, and it's great for them to see the progress of their efforts. Once pulled, help them remove the stem, the leaves, and the flower, and place the different parts into labeled bins to explore next.
Sunflower exploration/ Ages 0 – 99 / Fine motor skills, Scientific knowledge/ Math
Offer sunflowers to children with a variety of tools such as plastic knives, mallet, tweezers, water, different containers. Encourage the children to explore the sunflowers using the tools. Offer some safety guidelines if necessary. Then, let them go at it! As they are exploring you can scaffold their learning by asking questions or offering new techniques.
Sunflower painting / Ages 1 – 99 / Fine motor skills/ Creative Arts/ Early Math / Science
Create the art area by laying down an old sheet on the grass. Offer each child a canvas and a sunflower. Squirt desired colors of paint on canvas and encourage children to use their sunflower or hands to paint.
Seed counting / 2 -99 / Math
Use tweezers or fingers to extract seeds from flower head. This process alone is really cool! The textures of the sunflower are varied and interesting. Count seeds by 1's, 5's, and 10's! Make up a recipe "We need 30 seeds to bake our bread!"
Cooking! / 2 -99
After you have counted, painted, smashed, and tweezed the sunflower pieces, cook with them! Flower petals look gorgeous on a mud pie, and children will love having new textures to work with.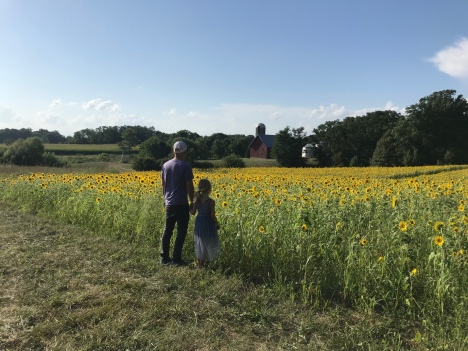 During our  webinar, Child Development for the Family Child Care Provider, there were many providers offering excellent suggestions and strategies for helping to bridge the home and FCC experience and partnering with parents in this process. Here are a few of the highlights:
­"I find that the children in my child care home adapt to their environment with me better when I try to include things that maybe they do at home.­"
­"There is a child who I cared for who used to throw very big tantrums and have huge melt downs when he did not get his way. I sat down with mom and she stated he did the same thing at home also. So we both agreed on a strategy and we both did it­".
"Role modeling is very important. Children do what they see us do­".
­"I believe when we are supportive of families, and encourage love and give hope and encouragement and understanding, and show support for families, it helps the families to feel like someone is in their corner and they are not all alone in parenting­".
­"I offer hand-outs, give website links and short reads to my parents. I also host a parent meeting annually where just the parents are able to attend, we discuss topics, I share what I know, and we together look for answers".
(These are quotes from FCC professionals who participated in the webinar and contributed their questions and ideas during the live webinar. We have made minor edits to some quotes to fit this format. To view the recording of the webinar, click on the Grow section and explore webinars).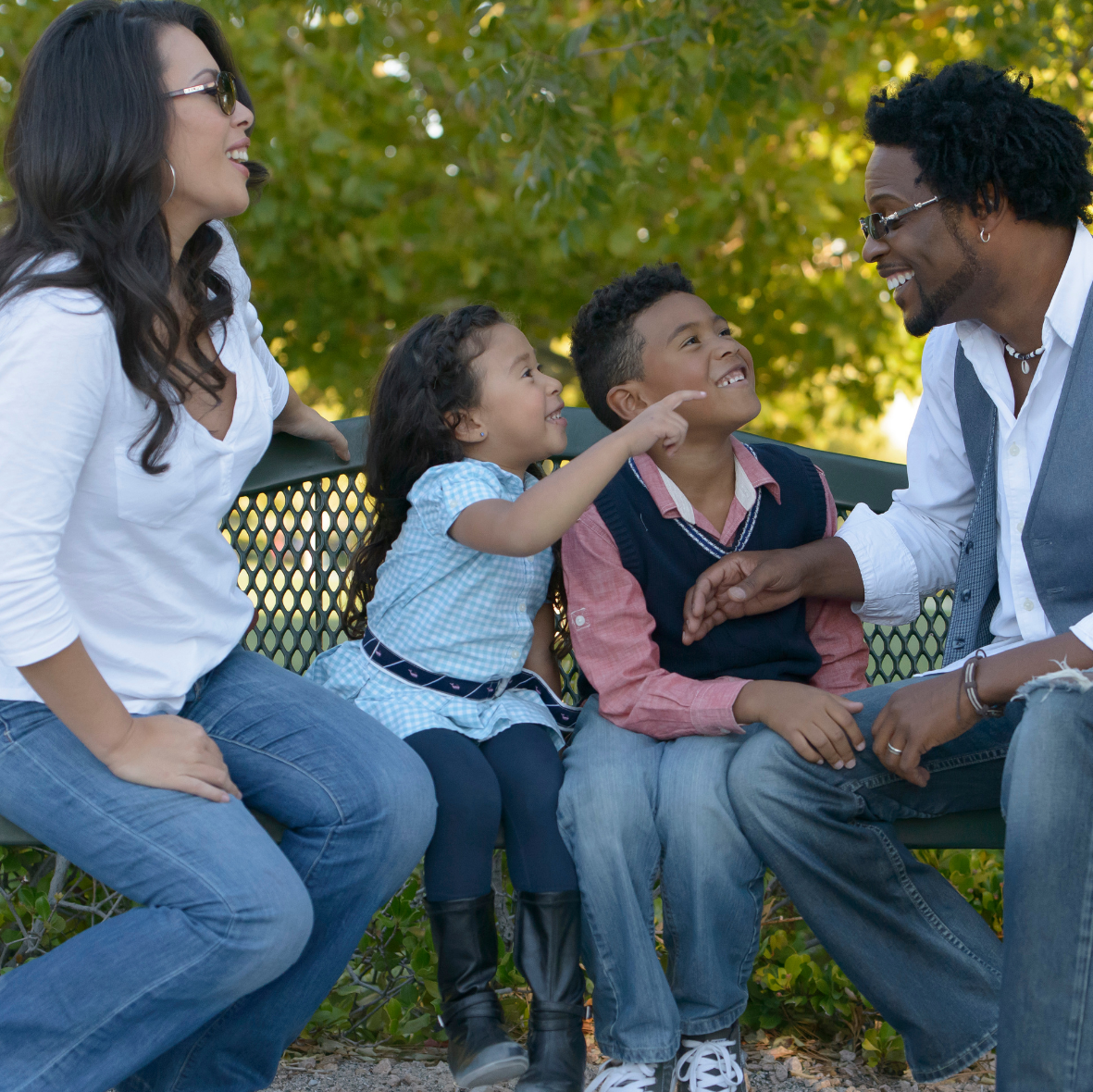 Our garden
In our garden, we focus on learning together, caring for each other and our planet, and helping children develop a sense of belonging to a community and the natural world. We learn about growing our own food, composting, and recycling.
Here are just a few benefits of gardening with children:
Sensory Development

. Gardening engages many aspects of sensory learning. Children get to see, touch, smell, and taste what they grow in their garden. 

Encourages Healthy Eating.

  Children develop an interest in their growing vegetables, which leads to their keen interest in eating them.

Responsibility & Patience

. Gardening is a great way to teach responsibility, as children learn how to care for plants. The process of harvesting does not happen overnight. Children learn to be patient when waiting for the vegetables to grow as children observe and care for their plants.

Expanding learning:

Gardening helps with a wide range of learning, including learning about the seasons, weather, life cycles, animals. It also helps develop numeracy and literacy skills. Following sequential steps, seeing print in labels, drawing and writing to document growth, measuring the plants, counting the seeds and vegetables.  

Develops Social Skills:

 Especially here at Caterpillar Clubhouse, gardening can be a very sociable activity. Children learn to work together and enjoy discussing different types of veggies and their process of taking care of their plants. Gardening presents wonderful opportunities for children to bond and help one another look after and nurture their garden.

Helps self-regulation: 

Studies have shown that having contact with dirt, whether it's through gardening, digging holes, or making pies out of mud, can significantly improve a child's mood and reduce anxiety and stress, even boost immunity which we all need.
We talk about all the flower parts, exploring each part by touching and smelling!
We observe and document using different materials!
Now we explore and eat!
We are protectors!
I often remind the children of the great privilege and responsibilities we have when we spend time in nature.
I am a true believer that a child exposed to the natural world will have heightened respect and deep regard for that world. 
Teaching your child to be kind to even the smallest creature is a value they can carry with them throughout their whole lives.
Exposing your child to bugs early on is less about education and more about empathy and understanding; It's about teaching love and kindness, acceptance and tolerance.
The kids loved getting eye level with all the new little creatures and explore their worlds. 
Today we did many kinds of bug boards to flip over and discover what their habitat looks like.
We did bug logs, rocks, stumps, boards, pavers.
While teaching the kids about bugs, I want them to understand insects can be useful and are needed in the environment. We talked about how to be respectful to the bugs. It's normal to see interesting bugs outside because that is their home, but we have to be gentle and respect their space. Sometimes we can put them in an indoor habitat and observe them, and sometimes we observe them in their outdoor habitat.
How I guide their interest:
Allow them to explore
Encourage them to use their senses, observe, touch, smell
Ask questions!
How I expand their learning:
Counting the legs and talk about how all true bugs have six legs.

Identify the parts of the insect: head, abdomen, and thorax.

Discuss how bees and butterflies help plants grow, and fruit ripen