Welcome Spring!
Let's take full advantage of the warm weather and have some safe fun outside!
Incorporating arts into the outdoors is a great way to encourage creativity, exploration, self-expression, and mobility skills development, all while enjoying some sun!
Sharing a simple recipe for outdoor chalk paint!
Printer friendly – Chalk Paint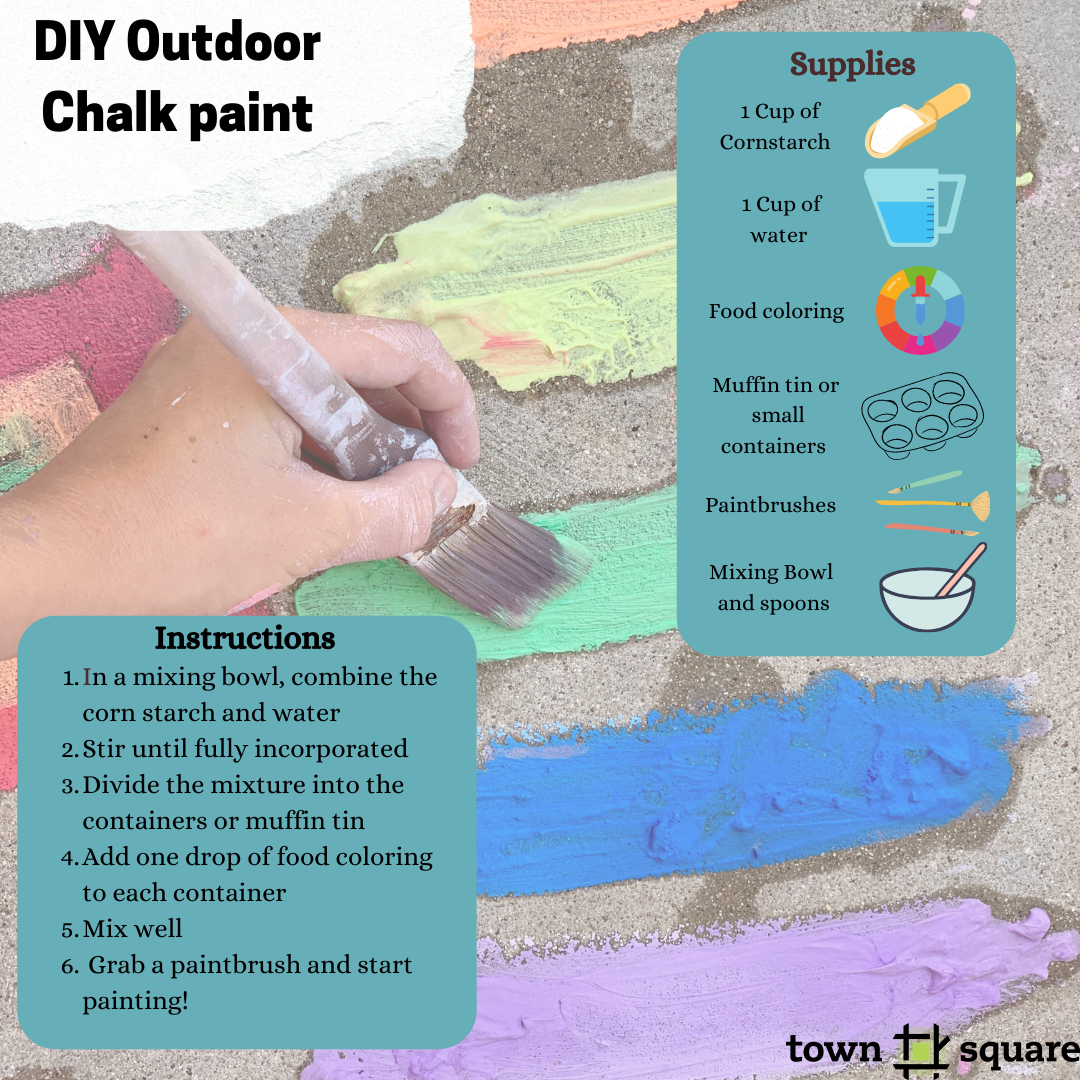 Children love to play outdoors, but in the winter it is not always possible with very low temperatures. This can be disappointing for children, especially when there is fresh snow on the ground.
You can offer children the option to play with snow indoors.  Scoop snow into a bucket or other large container and put the snow in a sensory table (if you have one), the sink, the tub, or even a plastic container (such as an under the bed box) placed on some towels on the floor.  Children can:
Build a tiny snow person
Make impressions in the snow with hands, cups, shovels, or other tools
Use spray bottles to spray color on the snow (a few drops of washable tempera paint in a spray bottle full of water works well)
Talk about what happens to the snow that was brought inside compared to the snow they can see through the window outside as well as how the snow feels on their hands.
Goals: Use senses to explore and build vocabulary and language skills.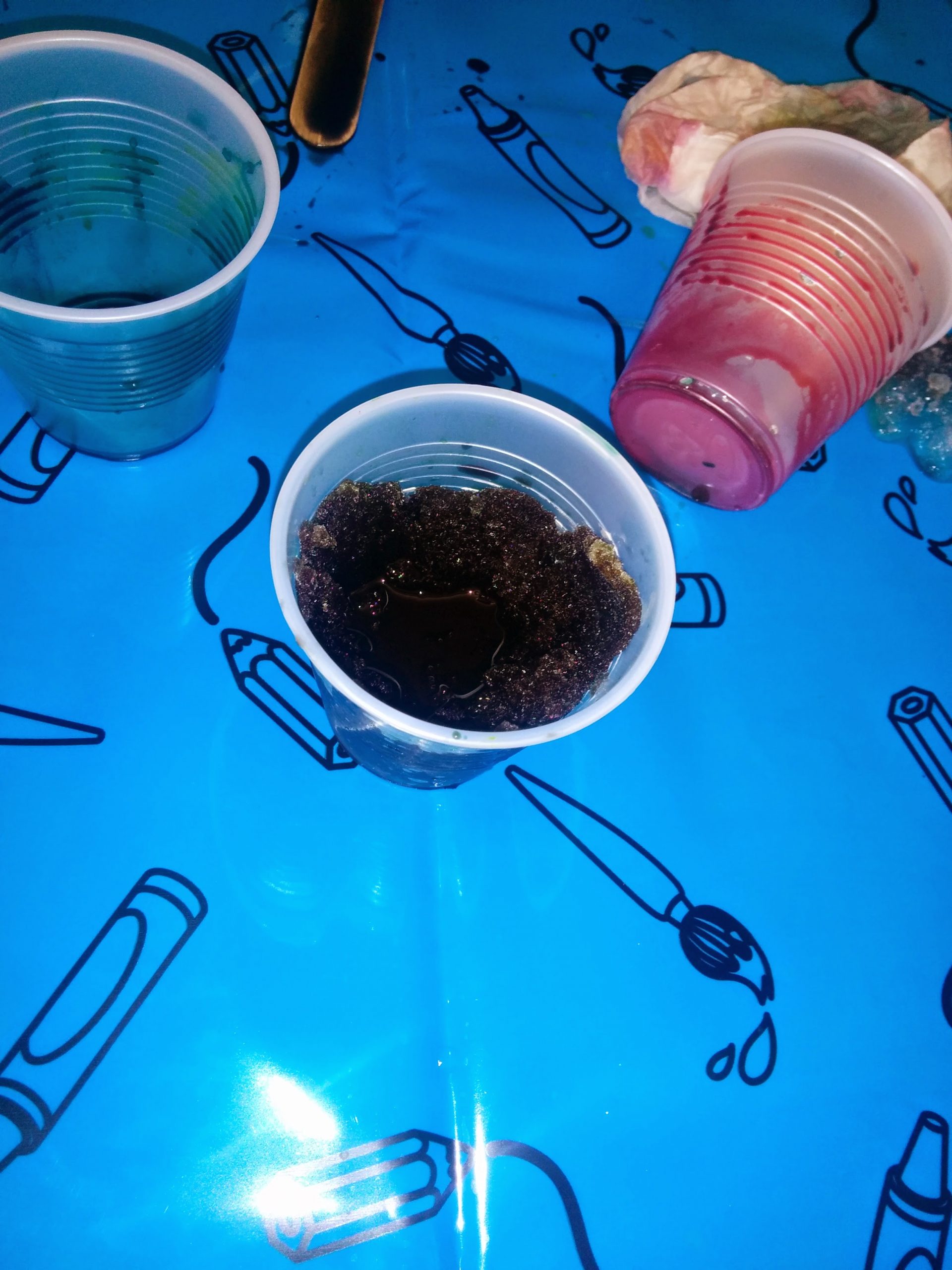 Anticipating a break from child care in addition to stresses that families are under with planning for travel and parties at this time of year can affect children's behavior.  Part of this is can be due to not having a good sense about what to expect.  One activity that can help children make sense of what is coming up is to make a paper chain to count down the days until the break or event.
Have children help to cut strips of colored paper and use one to make a loop that you glue or staple closed.  Add the number of loops onto the chain for the number of days that you have left until break and each day a child can remove one of the loops.  This give a visual indication to children about how many more days it will be until the break.
You can make one chain for the group or each child can make their own.  You can practice counting up and counting down using the number of loops on the chain.  You can also encourage children to make patterns with different colors of paper as they create their chains.
Goals: Help children manage their behavior around anticipation of the break.  Practice math concepts of patterning and counting up and down.

We are officially in Autumn, and of course, with this season comes pumpkins! Here are few ideas on how to explore pumpkins in your program:
Explore the outside of the pumpkin!
*Have children touch the shell and stem
How does it feels? Is it smooth, bumpy, hard?
What do you see?
What sound does it make?
What color is it?
Why does it have a stem?
Explore the inside of the pumpkin!
*After exploring the outside, move to the inside. Carve out the stem and ask children to look inside, describing what they see. If they are comfortable, have them touch the inside, feel the pulp and seeds, describing this texture. Dig into the pulp and seeds by using a spoon to scoop it out. Ask children:
How does it feel?
What does it smell like?
What color is it?
What shape is it?
*For infants or children who are overstimulated with touching the raw pumpkin pulp, scoop the pulp and seeds in a freezer bag, glue the bag shut, and have them squish the bag
*With the pulp and seeds out, have the  children separate the seeds from the pulp. As an added activity, have them count how many seeds they found
Explore what happens after!
*Leave your pumpkin in a safe place inside or outside to observe the daily changes
*Ask children to notice the difference in color, texture, and smell
*Why is the pumpkin changing?
* Rinse the seeds and lay them out to dry. Once dry, place them on a cookie sheet to roast. Have older children taste them                          (safety precaution choking hazard)
*Explore a pie pumpkin instead of a carving pumpkin, bake the pumpkin and have children try the pulp or use it to make a pie or cookies
 Have a fun Autumn activity? Share your ideas with us at info@townsquarecentral.org

Encourage your school age children to create a collection.  They might take a container or bag and collect some things that they find in nature while outside, or they might collect a variety of stray parts or art and craft materials from around your home.  Ask them to sort their collection in different ways and involve the other children in viewing their collection and trying to discover their sorting pattern.  Challenge them to sort their collections in multiple ways and describe the rules they have established for sorting.
Goal: Children will practice sorting materials by different attributes and describing the different qualities of the materials in their collection.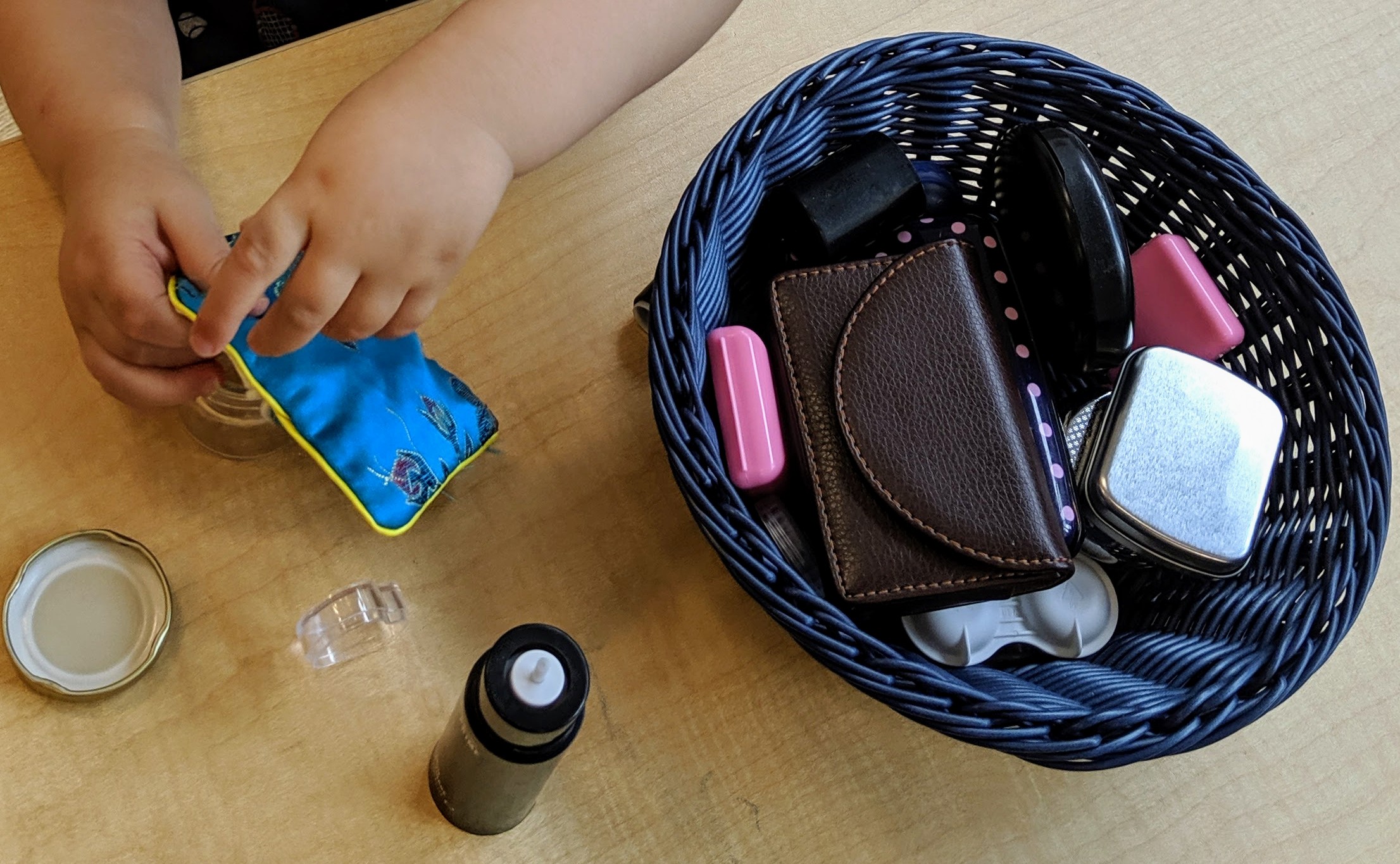 Explore your neighborhood or back yard if available and find leaf or petals, then once inside have fun with these 5 activities
SORTING:  Ask the children to sort the leaves and petals any way they want and then explain to the other children what their sorting rule was. (For example, one child might sort by color while another sorts by shape).
COUNTING:  Count the leaves and petals that each child has collected, or the number of leaves or petals in each category from the sorting activity above.
RUBBING: Create leaf rubbing by placing paper on top of a leaf with the vein side up and using the side of a peeled crayon to rub over the leaf onto the paper and reveal the vein pattern.
PRESSING: Have children arrange leaves and petals on a piece of waxed paper and place another sheet of waxed paper over the top.  A grown up can use an iron to press the waxed paper pieces together sealing the leaves inside.  (Clear contact paper could also be used).
CREATING: Children can glue leaves and petals to paper in arrangements that look like insects, animals, birds, or whatever they imagine.  They can use markers to add details to their creation.

Part 2  – Indoor large motor play activities for programs with limited access to an outdoor space, bad weather, or to share with families
Balloon ping pong – Using a paper plate or piece of cardboard and a stick, create a simple paddle. Then tie a string to a balloon and hang it down from the ceiling or doorway. Invite the children to hit the balloon with the paddle.
Tape maze – Use painters' tape to make a fun maze on the floor. Ask children to then walk, hop, skip and jump to follow the tape. Different lines or shapes can indicate different ways to move. You can also use the maze for a car road by moving toy cars along the tape.
Hit the target toss – Using a bean bag, soft toy or plastic ring, add a mark on each step of a staircase. Add some extra fun and put numbers, colors or shapes on each stair. Ask each child to toss the object at the designated targets. You can also try this on a flat surface, just be sure to arrange the targets further apart from one another.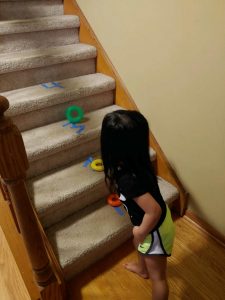 Paper airplane challenge – Take some paper and use some to cut out shapes of different sizes as targets, then tape the paper with the cut out targets across a doorway. Have children create their own airplane to try to fly through the targets. Encourage creating different kinds of paper planes and challenge the children to fly their airplane through different targets.
Ball Maze – Cut out strips of paper and then use tape to place them on the floor, arrange the arches to create a maze. Using a ball, ask children to roll under the arches to the end of the maze.
Simon Says – Play an active game of Simon Says, using paper cutouts of handprints or footprints, call out the name of the body part to have children move to reach the printout. Try adding different learning concepts, use shapes, colors, numbers depending on the children in your care.
Obstacle Course – Have each child design one part of an obstacle course and take a photo of it, shuffle the order of the photos to decide the order of the obstacle course, you can also draw the order or have children guide one another through the course. 
Printable version  Indoor large motor activities 2

Some fun ideas for indoor large motor play for programs with limited access to an outdoor space, bad weather, or to share with families
Laser maze – Works best in a hallway, but a door frame can work for a shorter obstacle. Using painter's tape, streamers or yarn, web it between the walls or door frame. Have children walk through without touching the tape.
Ball toss – Use softballs or bean bags and baskets or boxes. Arrange the boxes in a straight line. Have children take turns hitting the target. You can also use a staircase and have a box on each step, for older children use different size boxes to challenge them.
Movement dice – Create a die with different movements shown on each side. Have children do the movement they roll or do a sequence of movements based on several rolls. For an added challenge, add a second die with numbers on each side for the number of times they must repeat that move.  Simply print the pattern below, draw the movements, cut and fold the pattern into dice and start playing! 
Hopscotch – Using painters tape or washi tape create your version of a hopscotch board.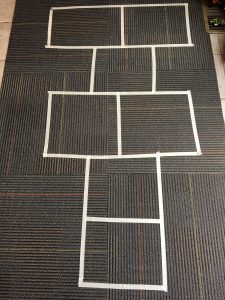 Sticky wall – Place contact paper or thick tape on a wall, sticky side out. Have children throw pompoms or balls of paper to the target. For younger children, lower it down and allow them to place items on the sticky side. 
Ball race – using a box and a few balls, cut out holes on the bottom of a box, then have children then move the box allowing the ball to fall through. For older children, have them work with a larger box in teams, or create many holes and ask the children to try to keep the ball from falling through a hole.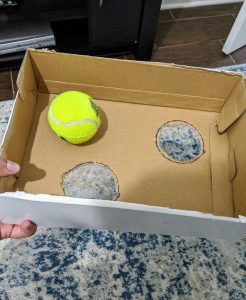 Bubble wrap road – Lay a path of bubble wrap on the floor and have children use balls or cars on the road. For younger children, have them walk or crawl on the bubble road.
Balancing course – To work on balance, have children hold a spoon with a ball or pompom, then walk, jump, skip, to the other side of the room.  Try a paper plate on their head, or holding toilet paper roll with a ball on top for extra challenge.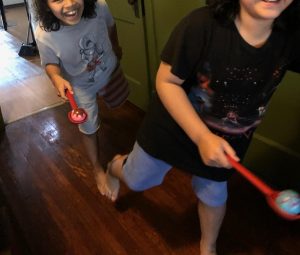 Magnetic fishing– Create a simple magnetic fishing game with paper clips or bobby pins, paper or felt, straws and a magnet. Have children take turns fishing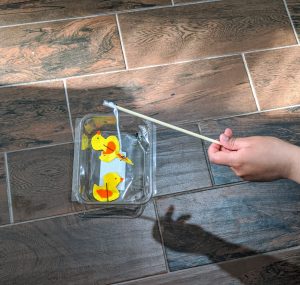 Printable version Indoor large motor activities
Algunas ideas divertidas de juego en casa usando los motores grandes para programas con acceso limitado a un espacio externo,  días con mal clima o para compartir con las familias
Laberinto de láser – Funciona mejor en un pasillo, pero un marco de puerta puede funcionar para un obstáculo más corto. Usando cinta de enmascarar, serpentinas o hilo, teje una red entre las paredes o el marco de la puerta. Haga que los niños pasen sin tocar la cinta.
Tirar pelotas – Use pelotas blandas o bolsitas de frijoles y canastas o cajas. Coloque las cajas en una línea recta. Haga que los niños tomen turnos para tirar la pelota . También puede usar una escalera y tener una caja en cada escalón, para los niños mayores use cajas de diferentes tamaños para desafiarlos.
Dados de movimiento – Construye un dado con diferentes movimientos mostrados en cada lado. Haga que los niños demuestren el movimiento que tiran o que hagan una secuencia de movimientos basados en varias tiradas. Para un desafío adicional, agregue un segundo dado con números en cada lado para el número de veces que deben repetir ese movimiento. Simplemente impriman el patrón de abajo, dibujen los movimientos, corten y doblen el patrón en los dados y ¡empiecen a jugar!
Rayuela – Usando cinta de enmascarar o cinta de washi crea tu versión de una rayuela.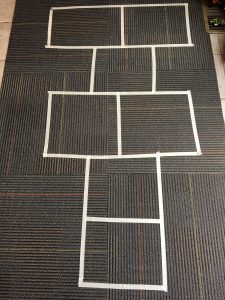 Pared pegajosa – Coloca papel de contacto o cinta gruesa en una pared, con el lado pegajoso hacia afuera. Haga que los niños tiren pompones o bolas de papel al objetivo. Para los niños más pequeños, bájelo y permítales colocar los objetos en el lado pegajoso.
Carrera de pelotas: usando una caja y unas cuantas pelotas, corten agujeros en el fondo de la caja, y hagan que los niños muevan la caja permitiendo que la pelota se caiga por un agujero. Para los niños mayores, haga que trabajen con una caja más grande en equipos, o que creen muchos agujeros y pida a los niños que intenten evitar que la pelota caiga por un agujero.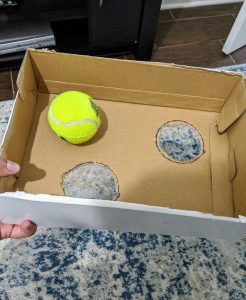 Camino de burbujas – Coloque un camino de plástico de burbujas en el suelo y haga que los niños usen pelotas o carritos en el camino. Para los niños más pequeños, haga que caminen o gateen por el camino de burbujas.
Curso de equilibrio – Para trabajar en el equilibrio, haga que los niños sostengan una cuchara con una pelota o un pompón, luego caminen, salten, brinquen, al otro lado del cuarto. Intente colocarles un plato de papel en la cabeza, o sostener un rollo de papel higiénico con una pelota encima para un desafío adicional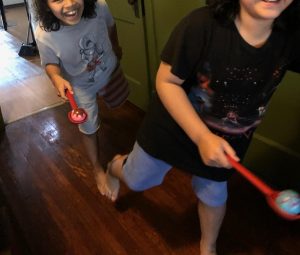 Pesca magnética –  Crea un simple juego de pescar con imán con clips de papel o pasadores de pelo, papel o felpa, popotes y un imán. Haga que los niños se turnen para pescar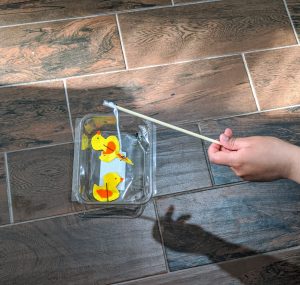 Versión para imprimir Juegos de motores grandes
"Music gives a soul to the universe, wings to the mind, flight to the imagination, and life to everything."
                                                                                                                                              – Plato
Many wonderful children's artists are providing free concerts ad resources to help educators and families; the following are a few of our favorites.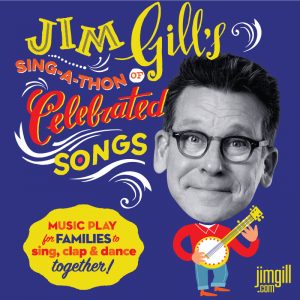 Jim Gill – A energetic performer with the best banjo! Join him on YouTube for music and a reading of his funny opera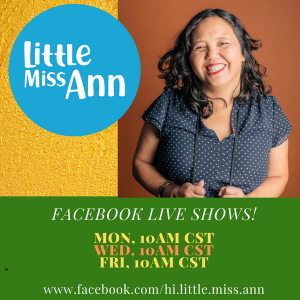 Little Miss Ann – The sweetest singer, spreading joy with her music! Join her weekly on Facebook live.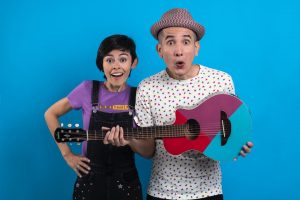 Andres 123 – Grammy award winner and bilingual children music singer. Join him for virtual concerts