Creating a nature scavenger color-hunt game is a fun nature-themed activity to get your group outdoors. This is an activity that, no matter their age, they will stay busy and observe as they play creatively and explore outside.
You can use a canvas panel or a piece of cardboard, I would say roughly the size of a medium-large pizza box. You then want to take 10 color paint swatches. I like to take a walk in my space and quickly take 10 pictures to match when I get to my hardware store. This is something that will, of course, change with the seasons.
We did 10 colors; my group is 2.5-4 years old. It's entirely up to you how you choose to do this; you can cut smaller pieces of cardboard and give each child 5 colors; you can do it as a group as we did. You can add shapes by cutting the paint sample into a circle or triangle. You can also use this as a take-home activity for family engagement. Ask families to bring it back and discuss it with the group.
So after you have the canvas panel or cardboard, the color swatches, and 10 clothespins, you want to hot glue the colors swatches down and the clothespins. Then go explore for colors!
You can set rules for the game, like the color green can not be grass. Once the child finds the color, they yell "I found yellow", clip it, and attach it to the board. We display our board and showcase it for pick up. Children are always so proud to name what they found and the color it matches.
Bring the mirrors outdoors and enjoy this simple and rewarding activity! During the early years, children are enamored with their own reflections. Providing this opportunity to study themselves, and create art, encompasses many different skill sets for young children.
Infants: Infants will enjoy simply looking at themselves in a mirror. Offer a hand mirror on a blanket where they can gaze and practice tummy time!
Toddlers: Help toddlers label their own features in the mirror. Encourage them to explore different art materials without concern about the final product. Focus on correctly holding utensils (pencil between fore finger and thumb).
Older Toddlers: Encourage older toddlers to recognize simple shapes in their features and transcribe those shapes on their drawing. Encourage correct handling of utensils, and help children write their names.
Pre-K: Encourage children to write their names and label their features when finished with their portraits.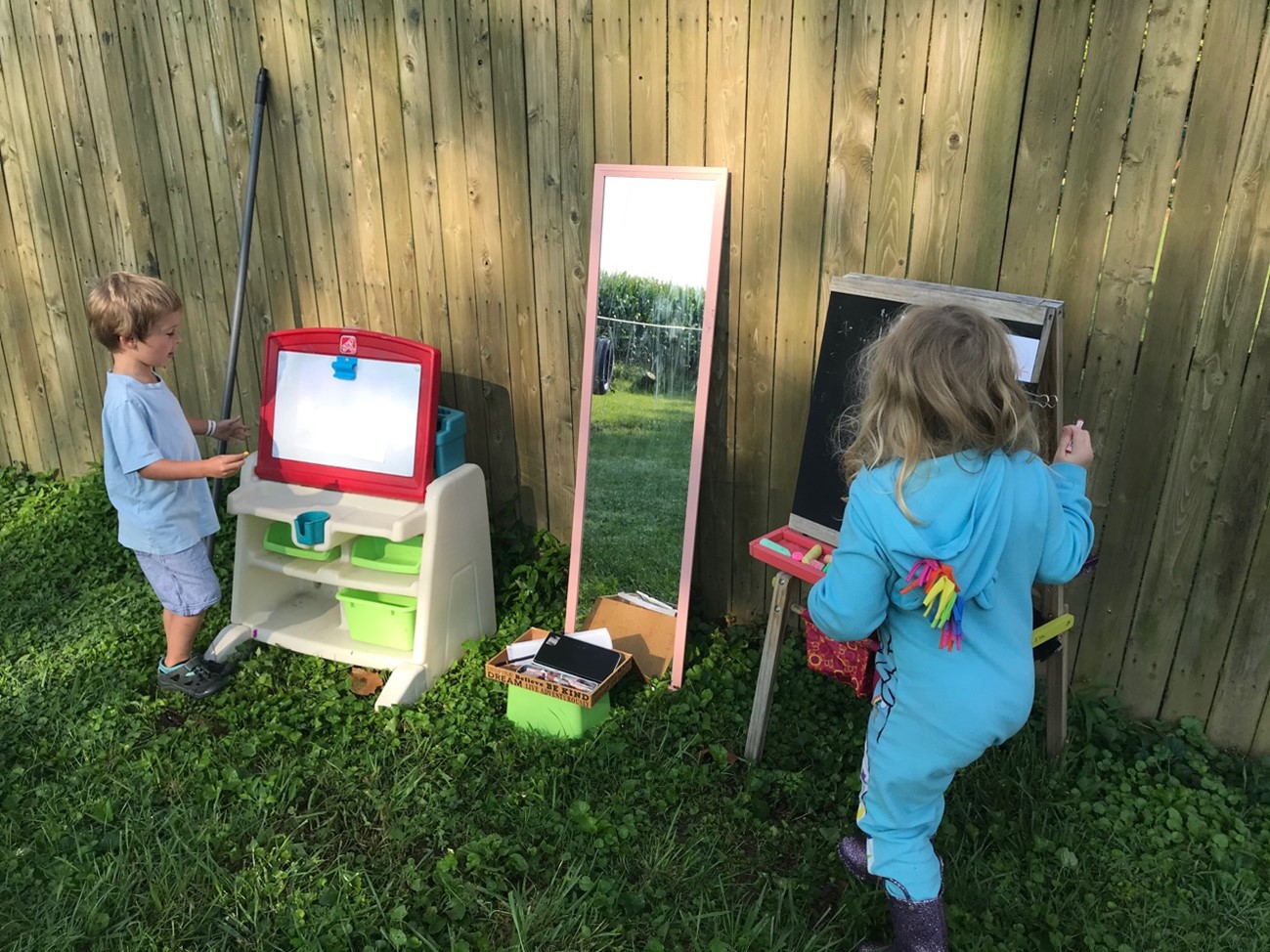 Have you tried self portraits in your program?  Have a fun activity?  Share it with us info@townsquare.org

We are officially in Autumn, and of course, with this season comes pumpkins! Here are few ideas on how to explore pumpkins in your program:
Explore the outside of the pumpkin!
*Have children touch the shell and stem
How does it feels? Is it smooth, bumpy, hard?
What do you see?
What sound does it make?
What color is it?
Why does it have a stem?
Explore the inside of the pumpkin!
*After exploring the outside, move to the inside. Carve out the stem and ask children to look inside, describing what they see. If they are comfortable, have them touch the inside, feel the pulp and seeds, describing this texture. Dig into the pulp and seeds by using a spoon to scoop it out. Ask children:
How does it feel?
What does it smell like?
What color is it?
What shape is it?
*For infants or children who are overstimulated with touching the raw pumpkin pulp, scoop the pulp and seeds in a freezer bag, glue the bag shut, and have them squish the bag
*With the pulp and seeds out, have the  children separate the seeds from the pulp. As an added activity, have them count how many seeds they found
Explore what happens after!
*Leave your pumpkin in a safe place inside or outside to observe the daily changes
*Ask children to notice the difference in color, texture, and smell
*Why is the pumpkin changing?
* Rinse the seeds and lay them out to dry. Once dry, place them on a cookie sheet to roast. Have older children taste them                          (safety precaution choking hazard)
*Explore a pie pumpkin instead of a carving pumpkin, bake the pumpkin and have children try the pulp or use it to make a pie or cookies
 Have a fun Autumn activity? Share your ideas with us at info@townsquarecentral.org

Es magia!
Algunas de las experiencias más mágicas provienen de los materiales más simples. Saque algunas linternas y vea qué exploraciones mágicas suceden.
Esta experiencia apoya el desarrollo en varios de los Objetivos de Ciencias del Aprendizaje Temprano.
Desarrolle habilidades iniciales en el uso de prácticas científicas y de ingeniería, como observar, hacer preguntas, resolver problemas y sacar conclusiones.
Identificar, describir y comparar las propiedades físicas de los objetos.
Comience a entender las prácticas básicas de seguridad que uno debe seguir al explorar y participar en investigaciones científicas y de ingeniería.
Utilice herramientas científicas para la investigación.

Weaving is a fun, inexpensive activity that aids in developing large and fine motor skills. Focusing on strengthening the thumb and forefinger as children hold on to the ribbon or string and push and pull, coordinating their movement. 
The benefits of weaving go beyond just motor development; weaving aids in developing
Hand & Eye Coordination:

 encourage children to use the visual information received to coordinate the movement of the hands.

Concentration:

 it isn't an uncommon sight to see children taking their time and concentrate when they weave. There is often silence as they carefully move the material between the rods.

Creativity:

 children can get very creative when it comes to weaving. There is no right or wrong way of doing it. They might choose to use different objects or create patterns.

Understanding patterns:

as children choose their ribbon and movement, they will explore patterns. Essential in pre-reading skills and numerical development.
There are several ways to include this activity in your program; Stephanie McKinstry owner of My Caterpillar Clubhouse shares how she incorporates weaving in her program.
" Using a Jenny Lind bed I found down an alley for free. I  took out all the hardware and zip-tied the bottom, middle and top together, standing the frames in a V shape, allowing the legs to stand on their own".
You can also try this with a fence, adding a very decorative touch to your outdoor space.
If you have limited space in your program, you can use a laundry basket, a milk crate, or some plastic fencing.
Have you tried weaving in your program?  Have a fun activity?  Share it with us info@townsquare.org
Welcome Spring!
Let's take full advantage of the warm weather and have some safe fun outside!
Incorporating arts into the outdoors is a great way to encourage creativity, exploration, self-expression, and mobility skills development, all while enjoying some sun!
Sharing a simple recipe for outdoor chalk paint!
Printer friendly – Chalk Paint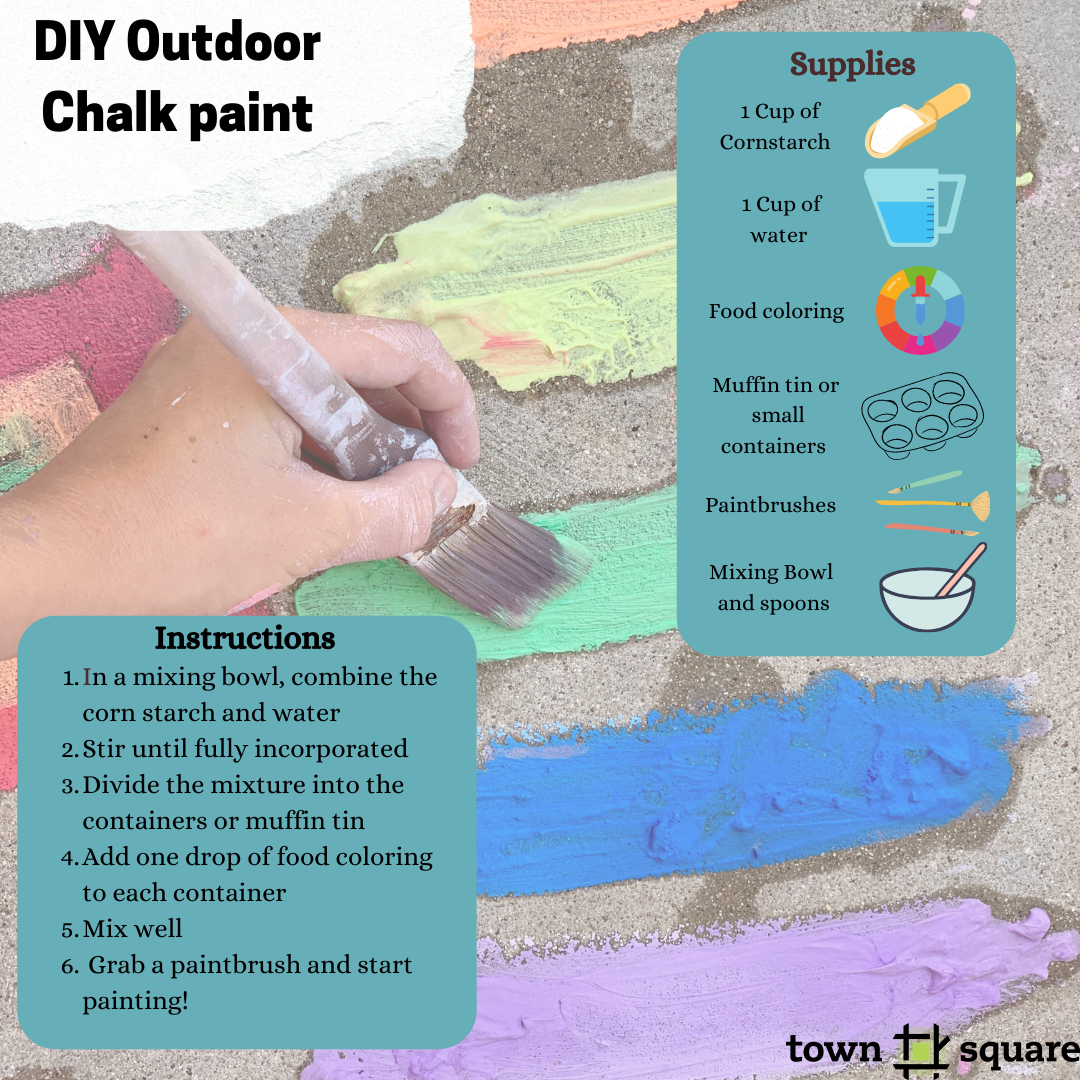 Children love to play outdoors, but in the winter it is not always possible with very low temperatures. This can be disappointing for children, especially when there is fresh snow on the ground.
You can offer children the option to play with snow indoors.  Scoop snow into a bucket or other large container and put the snow in a sensory table (if you have one), the sink, the tub, or even a plastic container (such as an under the bed box) placed on some towels on the floor.  Children can:
Build a tiny snow person
Make impressions in the snow with hands, cups, shovels, or other tools
Use spray bottles to spray color on the snow (a few drops of washable tempera paint in a spray bottle full of water works well)
Talk about what happens to the snow that was brought inside compared to the snow they can see through the window outside as well as how the snow feels on their hands.
Goals: Use senses to explore and build vocabulary and language skills.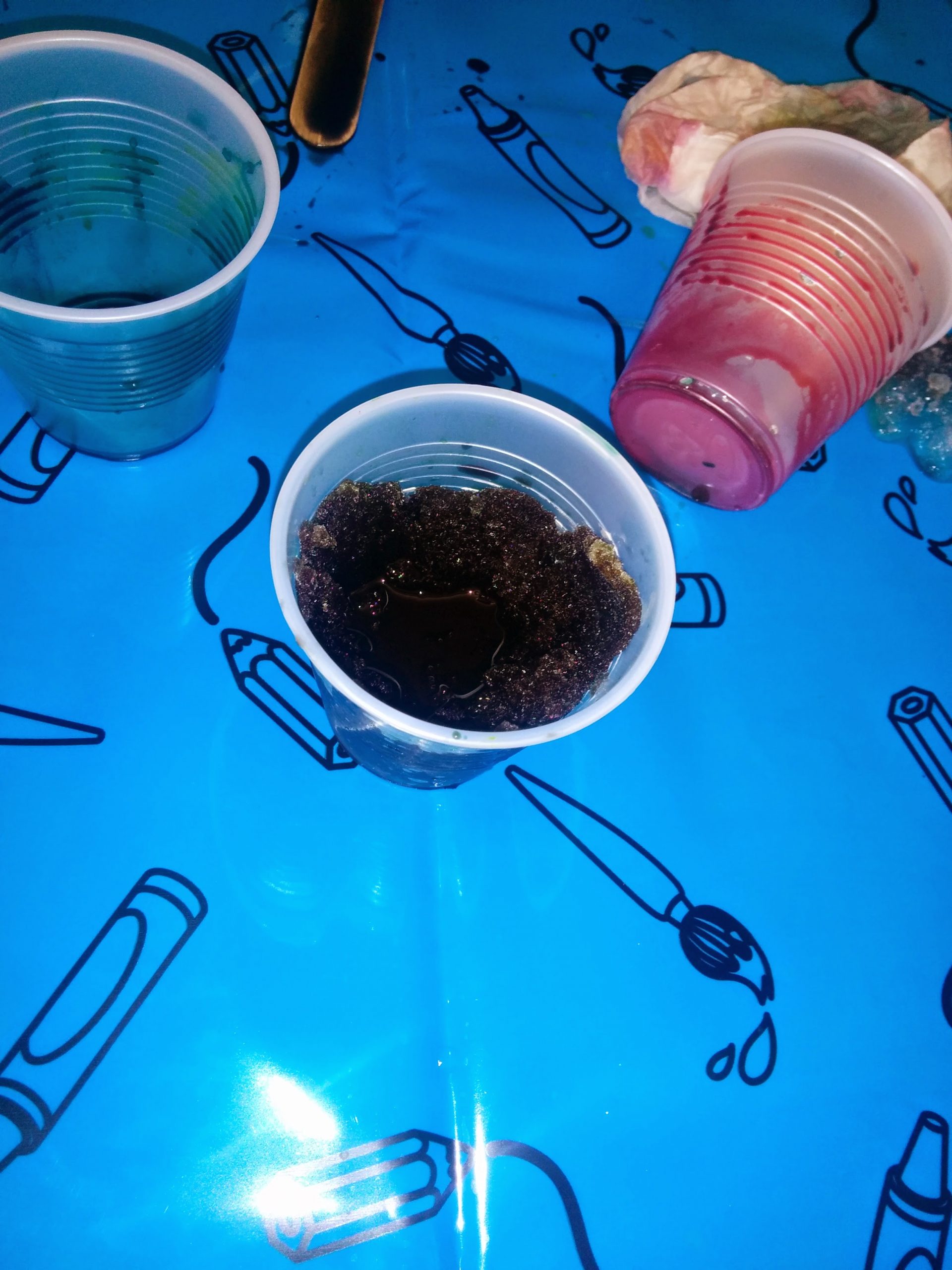 Anticipating a break from child care in addition to stresses that families are under with planning for travel and parties at this time of year can affect children's behavior.  Part of this is can be due to not having a good sense about what to expect.  One activity that can help children make sense of what is coming up is to make a paper chain to count down the days until the break or event.
Have children help to cut strips of colored paper and use one to make a loop that you glue or staple closed.  Add the number of loops onto the chain for the number of days that you have left until break and each day a child can remove one of the loops.  This give a visual indication to children about how many more days it will be until the break.
You can make one chain for the group or each child can make their own.  You can practice counting up and counting down using the number of loops on the chain.  You can also encourage children to make patterns with different colors of paper as they create their chains.
Goals: Help children manage their behavior around anticipation of the break.  Practice math concepts of patterning and counting up and down.

Tejer es una actividad divertida y económica que ayuda a desarrollar la motricidad gruesa y fina. Consiste en fortalecer el pulgar y el índice mientras los niños sostienen la cinta o el cordel y empujan y jalan, coordinando el movimiento.
Los beneficios de tejer no se limitan exclusivamente al desarrollo motriz; tejer ayuda a desarrollar
La coordinación entre manos y ojos: anima a los niños a utilizar la información visual recibida para coordinar el movimiento de las manos.
Concentración: no es raro ver a los niños tomarse su tiempo y concentrarse cuando tejen. A menudo hay silencio mientras mueven cuidadosamente el material entre las varillas.
Creatividad: los niños pueden ser muy creativos a la hora de tejer. No hay una forma correcta o incorrecta de hacerlo. Los niños pueden optar a utilizar diferentes objetos o crear patrones.
Comprensión de los patrones: a medida que los niños eligen la cinta y el movimiento, exploran los patrones. Esencial para las habilidades de prelectura y el desarrollo numérico.
Hay varias maneras de incorporar esta actividad en tu programa; Stephanie McKinstry, propietaria de My Caterpillar Clubhouse, comparte cómo incorpora el tejido en su programa.
" Utilizando una cama Jenny Lind que encontré en un callejón gratis. Quité todos los herrajes y uní con bridas de cremallera lo de abajo, lo de en medio y lo de arriba, colocando los marcos en forma de V, lo que permitió que las patas se mantuvieran paradas".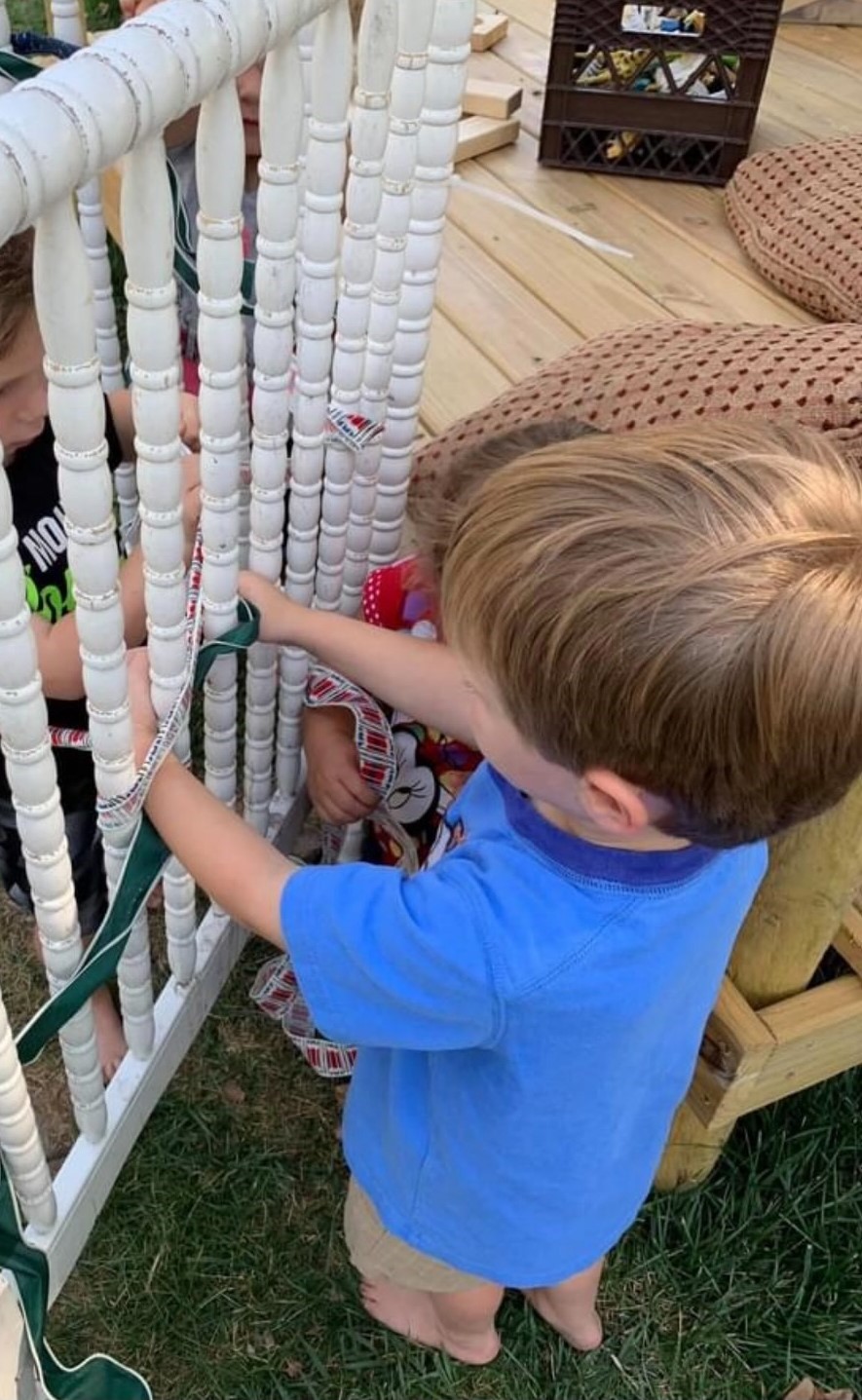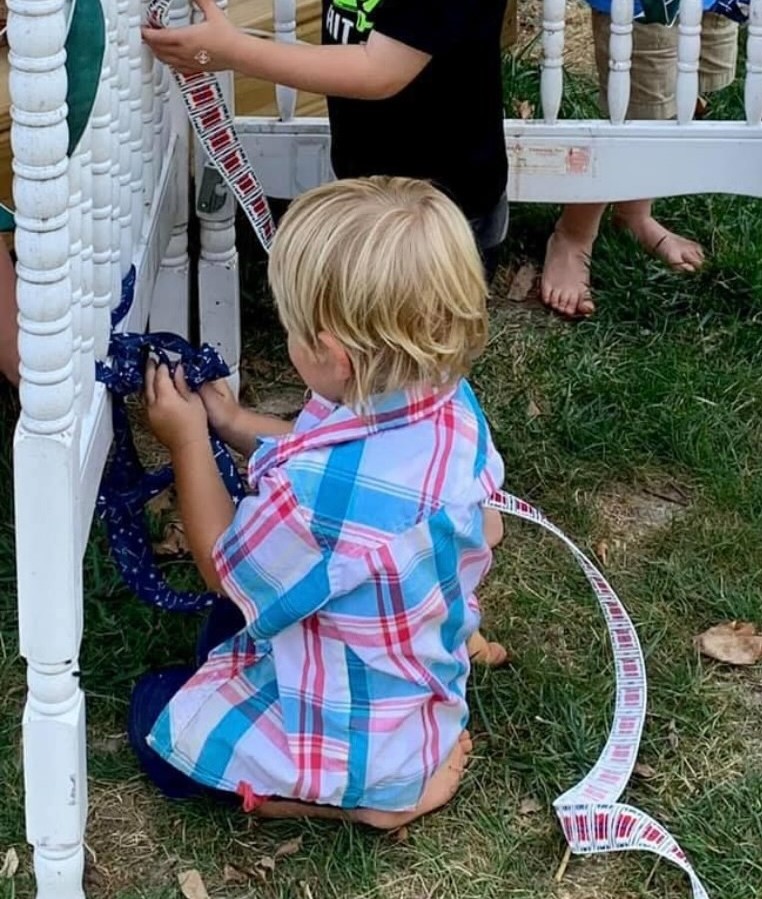 También puedes intentarlo con una valla, dando un toque muy decorativo a tu jardín.
Si tienes poco espacio en tu programa, puedes utilizar un cesto de ropa sucia, una caja de leche o una valla de plástico.
¿Has intentado tejer en tu programa? ¿Tienes una actividad divertida? Compártela con nosotros info@townsquare.org

Encourage your school age children to create a collection.  They might take a container or bag and collect some things that they find in nature while outside, or they might collect a variety of stray parts or art and craft materials from around your home.  Ask them to sort their collection in different ways and involve the other children in viewing their collection and trying to discover their sorting pattern.  Challenge them to sort their collections in multiple ways and describe the rules they have established for sorting.
Goal: Children will practice sorting materials by different attributes and describing the different qualities of the materials in their collection.