Town Square has joined Myrtle's Club as a resource to support child care providers.
"Myrtle's Club™ was designed to support child care providers by making available high quality training opportunities on topics ranging from curriculum to business basics, services that support the business side of child care, and to increase the purchasing power for our providers. By assisting child care providers in this way, the YWCA is helping support providers on the path to improving quality and educational programs for their students."
As a provider who is a member of the Myrtle's Club network, you can access training, professional development, business support services, as well as materials and resources that help you maintain your licensing and enhance your work at a discount.  Check out what is available and the membership levels at: YWCA of Metropolitan Chicago: Myrtle's Club.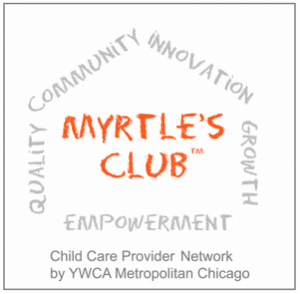 The Ounce of Prevention Fund's goal is to promote high quality early childhood experiences for all young children, particularly those who are born into poverty. They offer resources and programs based upon the latest research and theories in child development. They partner with many advocacy organizations and offer publications, videos, and tools for families and professionals related to advocacy.