Adapted from Janet Gonzalez-Mena and Navaz Bhavnagri these questions are helpful for providers to self reflect when struggling with a family's practice, that is different than their own.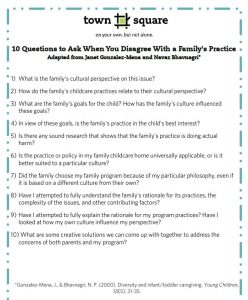 This family resource from the Head Start Center on Cultural and Linguistic Responsiveness provides information on the importance and benefits of home language and what to expect as children are learning both their home language and English.  It provides information on how to support language development and answers questions about common concerns for parents of dual language learners.
The Gift of Language Family Handout
The Gift of Language Family Handout -Spanish
"Voices for Illinois Children is a statewide, nonpartisan, multi-issue advocacy organization that is committed to building better lives for children. They engage in a range of activities — including policy research and analysis, policy advocacy, strategic communications, and community engagement — all in support of policies and programs that enhance the well-being of children, families, and communities in Illinois."
This site has information regarding advocacy for anyone who works with children or wants to be an advocate for educational opportunity, health and well-being. They offer fact sheets including "We Are a Stronger IL When We Invest in High-Quality Preschool" and "We Are a Stronger IL When Families Can Afford Quality Child Care".
For more information go to  Voices for Illinois Children.