This nine-part course (approximately 3 hours and 45 minutes) from the National Child Traumatic Stress Network will teach participants about "early childhood social-emotional development; the impact of stress and trauma; reflect on the possible meanings of children's behaviors; explore the influence of culture on families' socialization goals; and become familiar with a number of strategies aimed to promote secure attachment and safe socialization practices."
Providers will need to sign up for a free account to access this resource.
Attachment Vitamins: Interactive Course on Early Childhood Attachment, Stress, and Trauma (nctsn.org)
As caregivers, we experience stress in many ways, appearing through body sensations, thoughts, behaviors, and emotions. This Town square-created resource can help you think about long-term strategies to break the stress cycle.
Strategies For Managing Stress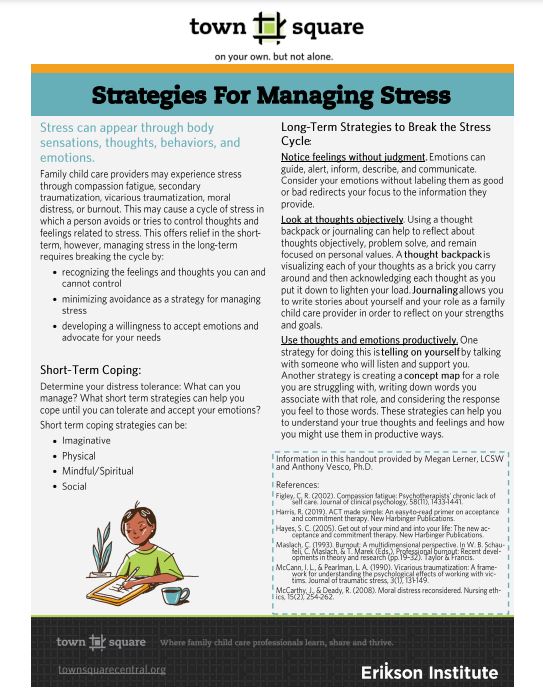 Anticipating a break from child care in addition to stresses that families are under with planning for travel and parties at this time of year can affect children's behavior.  Part of this is can be due to not having a good sense about what to expect.  One activity that can help children make sense of what is coming up is to make a paper chain to count down the days until the break or event.
Have children help to cut strips of colored paper and use one to make a loop that you glue or staple closed.  Add the number of loops onto the chain for the number of days that you have left until break and each day a child can remove one of the loops.  This give a visual indication to children about how many more days it will be until the break.
You can make one chain for the group or each child can make their own.  You can practice counting up and counting down using the number of loops on the chain.  You can also encourage children to make patterns with different colors of paper as they create their chains.
Goals: Help children manage their behavior around anticipation of the break.  Practice math concepts of patterning and counting up and down.
Stress affects people differently, and this stress can manifest itself in different aspects of our lives. Stress is not exclusive to adults; children, especially now, are also experiencing stress. This webinar put together by INAAP (Indiana Chapter American of Pediatrics), Office of Early Childhood and Out-of-School Learning, as well as Early Learning Indiana showcases strategies for addressing mental health needs for yourself and the families you serve.      

Taking care of young children is a job filled with joy, but also responsibility, and it can be stressful.  This booklet from Head Start ECLCK gives information on how to identify your sources of stress and strategies for reducing stress.  Learn more about how to identify your stressors and manage them effectively.
Taking Care of Ourselves Booklet – English
Para ver este recurso en español haga clic aquí
The NCTSN offers information about many types of trauma, treatments, and other related topics. There are specific resources for parents and care providers as well as training. The mission of NCTSN is to raise the standard of care and improve access to services for traumatized children and families, as well as to raise public awareness about childhood trauma and stress. This page has resources for caregivers of young children who have been exposed to trauma.
"The most important adults in a young child's life are caregivers and relatives. These adults can help reestablish security and stability for children who have experienced trauma."
The National Child Traumatic Stress Network (NCTSN) created this report on childhood trauma to help anyone who works with children to understand what research is showing about the impact of trauma on young children.
"Young children are less able to anticipate danger or to know how to keep themselves safe, and so are particularly vulnerable to the effects of exposure to trauma."
Included in the report are information about childhood trauma, behaviors linked to exposure to trauma, and the role of caregivers as protective factors for children.  There are also resources for professionals and families.
National Child Traumatic Stress Network: Early Childhood Trauma
The Illinois Childhood Trauma Coalition (ICTC) brings together many organizations to work on educating the community about the effects of childhood trauma and create programs and systems that prevent trauma and support the needs of children and families.

The Illinois Children's Mental Health Partnership (ICMHP) includes members, staff and volunteers that work on many initiatives and committees to advocate and provide consultation for mental health for young children in IL. ICMHP was created through the Children's Mental Health Act of 2003.
To find out more about how to support children's mental health click here