The roots of early math skills begin developing from birth, through babies' everyday play and interactions with parents and caregivers. These early math skills have a big impact on children's school readiness—in fact, research has found that a strong understanding of early math concepts predicts both a child's future math and literacy skills.  This website offers handouts, videos, and more for parents and providers to support early math skills.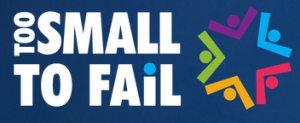 Visit Too Small To Fail Let's Talk About Math to see these math resources and more.  Content on the website is available in both English and Spanish.
PEEP and the Big Wide World is a web-based resource (associated with the public television show of the same name) that highlights STEM (science, technology, engineering, and math) experiences for preschoolers. The website offers free resources in Spanish and English for parents, early childhood teachers, and family child care providers — including videos, online games, apps, activity ideas, teaching strategies, a blog, and more! Check out some of the teaching strategy videos featuring family child care providers here.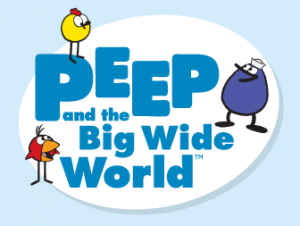 I recently took my kiddos to the local children's museum and they spent a lot of time on two activities.  One was a room full of matchbox cars and ramps of all kinds.  The other was creating your own flying machine with paper and masking tape and testing it in a wind tube.  I was talking with someone about how engaged the children were with both activities in terms of experimenting and exploring concepts and saying how I wished I could have things like this at home. Then I started to think about how I might be able to do modified versions of these activities in my home.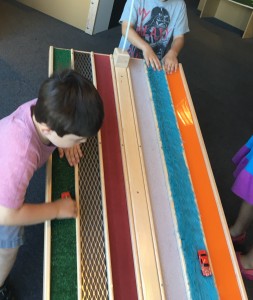 We have a huge collection of matchbox cars. We have some old mailing tubes and plenty of surfaces to create different matchbox car runs.  We also have cardboard and some wooden boards to make some different ramps.  The great thing is that we can work on that inside or outside and set it up for the day and put it away when we are done.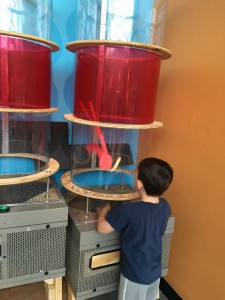 For the flying machines and wind tube project I decided to ask the kids what we would need to do in order to try something similar.  One child who was really into that activity said he knew we had a fan, but not the tube part, and we would need something so the flying machines didn't fly all over the place.  We decided to think more about it and ask other people for ideas.  I mentioned it to a colleague and she said she had actually seen a homemade wind tube at a preschool made with two embroidery hoops and clear flexible plastic sheeting.  So I did a search on Google to see if I could find an example and found this resource from Exploratorium,  which gives directions on how to make your own wind tube at home.
I'm looking forward to building this and extending the exploration that happened at the museum in my home!