Provide children with a large sheet of butcher paper and small trays or plates with paint to explore dipping and making marks with recycled materials such as toilet paper or paper towel tubes, containers of various shapes and sizes, materials with different textures, etc. This could be an activity that is available over several days that children can experiment with in a variety of ways.
Goal: Children will work collaboratively, use fine motor skills, and explore making marks with paint using a variety of recyclable materials.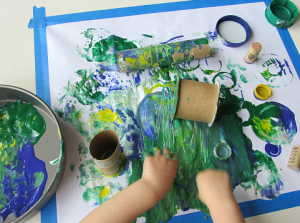 Looking at the sky is a simple and relaxing activity that fosters observation and creativity skills. It can change your perspective of the world as you have to explore a broader view. Children can see different animals or flying objects, some we may have missed if we don't look up. They can also observe cloud formation and shape. Develop their creativity in describing what clouds look like and the stories the clouds are telling us. Next time you are outside, encourage children to look up and explore the sky. You can invite them to this activity by simply laying down a blanket or, if available, providing binoculars!


Preschool children love to help. You can ask children to create videos or even a series of photos to explain how to do something or even steps or guidelines for a routine activity like hand washing, as this example from a provider illustrates:
Children might like to share ideas about things like how to get ready to go play outside, how to clean up after a meal, what to do with your things when you come in, or any number of other things.  You can create a slide show with pictures or post a child-created video to a private YouTube channel to share with families. This appropriate use of technology that features the children in your care is sure to be an exciting activity.
Goal: Involve children in communicating information using technology.
Give children a spray bottle with water or a small container of water with a brush so they can wet a window.  Have a variety of foam shapes that children can stick to the window to create scenes or patterns. You can buy pre-cut shapes or you can cut out your own shapes from fun foam sheets, both of which are relatively inexpensive at the craft store.
Goal: Children will enjoy sensory play with water while creating patterns or scenes with shapes.
Ask children to gather sticks (if outside) or provide Popsicle sticks or straws (if indoors). Then have children create shapes or letters using the sticks. Talk about the number of sticks you need to create specific shapes or letters and encourage the children to talk together about what they made.
Goal: Children will use sticks to create shapes and letters