One of the most significant challenges many providers face is ending the workday and giving yourself time off. Given your workplace is your home, it can feel like you are working all day and can't take time off.
It is essential, especially during a stressful time, to take time for our mental health and be away from work. Having clear boundaries can help set the expectation of the importance of your time. Natalie Harrison, a family child care professional, and owner of Natty's Treehouse Childcare in Muncie IN, shares the time boundaries she created for her business. She communicates these boundaries with families using her handbook; in doing so, families agree to her time limits.
Hours of operations – hours your business is open. Within that time, set time restrictions for how long a child/family can be in your care.
Natalie states in her handbook:
Hours of Operation:
Monday – Friday 6:00am-5:30pm
(No child should exceed 10 hours a day unless previously discussed with Natalie.)
Another time restriction can be time for families to communicate with you. While families can message/call you during opening hours, you can also set limits on after-hours messages; restricting messages can help you end the day.
Lastly, give yourself time to take time off, adding information on the vacation policy gives you time to close your business along with holidays you would like to celebrate or need a break.
Holidays
Natty's Treehouse Childcare will be closed on all major holidays. Holiday dates and times are subject to change!
• New Year's Day               • Labor Day                         • Memorial Day          • Thanksgiving                   • Friday after Thanksgiving                         •Christmas                           • 4th of July
Provider Vacation Policy
The provider will take up to two weeks of vacation each year. Formal notification will be provided to families 30-60 days before the vacation.
Setting clear time boundaries within your handbook can help communicate your business's value and the need for you to take a rest.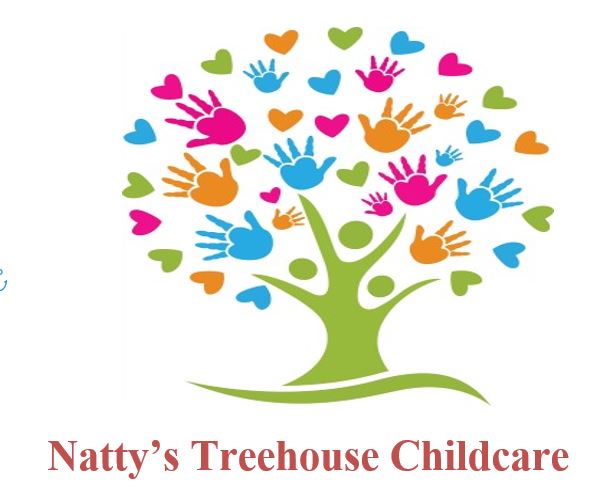 Town Square had the pleasure of sitting down with Jill Russell, family child care provider and owner of Rusell Family Childcare, to discuss the importance of policies and how they protect her business and families in her care. Listen below
It's impossible to predict the future, you never know when a natural disaster or emergency can occur. While you can't prevent all emergencies, you can protect the children in your care, your family, and your business by having adequate insurance protection. This resource by Child Care Aware and Tom Copeland summarizes four types of insurance policies and why they are necessary to have.
How Insurance Protects You in an Emergency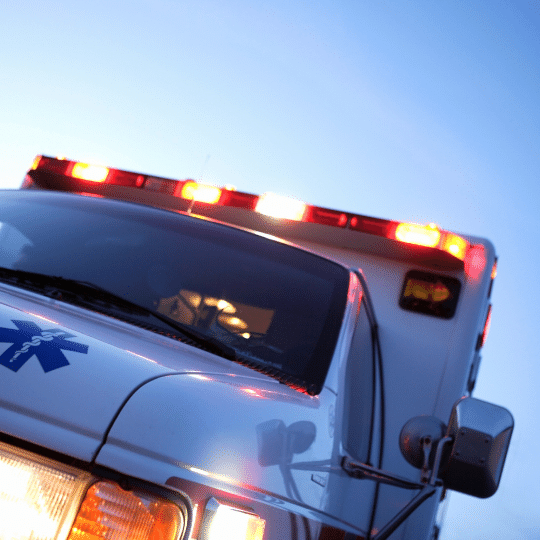 Clearly defining your policies and following through on them is helpful for families, for you as a professional, and to maintain the standards needed for licensing and high-quality care.
This Town Square resource was created with the help of family child care professionals who shared what they thought was necessary to include in a contract.
Whether you are just starting your program or a veteran, this resource can help you review and think more about your contract!
Town Square Tip Sheet -Things to Include in Your Contract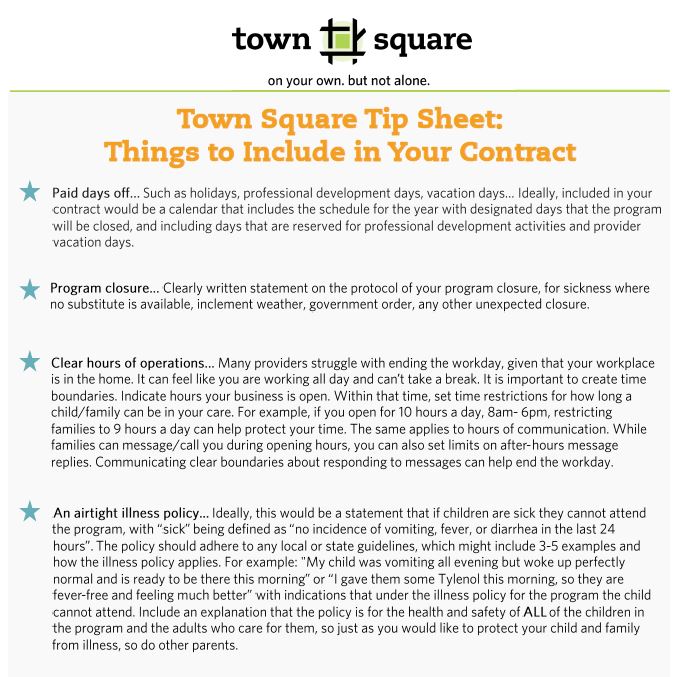 Due to the outbreak of COVID-19, I had to re-think my sick policy and revise the parent handbook to reflect the new changes instituted by the state Health Department and recommendations from the CDC.
A typical sick policy within a child care setting consists of children not returning until 24 hours after the last symptom (fever, diarrhea, vomiting, flu, etc.). A doctor's note is not always required upon returning, just as long as the child has returned after the 24-hour wait. This policy has its flaws. Oftentimes, the children are still not well after the 24-hour time frame. Illnesses such as a stomach virus, strep throat, or flu seem to pass through a child care setting like wildfire, being passed between not only the children but staff as well, causing unforeseen shut-downs due to the lack of adequate staff to child ratios.
COVID-19 has changed the way we handle sick policies and has also changed the way parents feel about keeping an ill child out of the facility, for the better.
Our new sick policy was added as addendums to the old policy and reflects a longer exclusion period of 48 hours after the last symptom of fever and/or illness. A doctor's note is also required upon the return of any child who was out with an illness, stating that the child is in good health and can return to the facility. These measures alone have substantially cut back on illnesses being spread throughout the program. I have seen fewer sick children and staff for this time of year as compared to previous years. Because of this reason, I have decided to make these policies indefinite.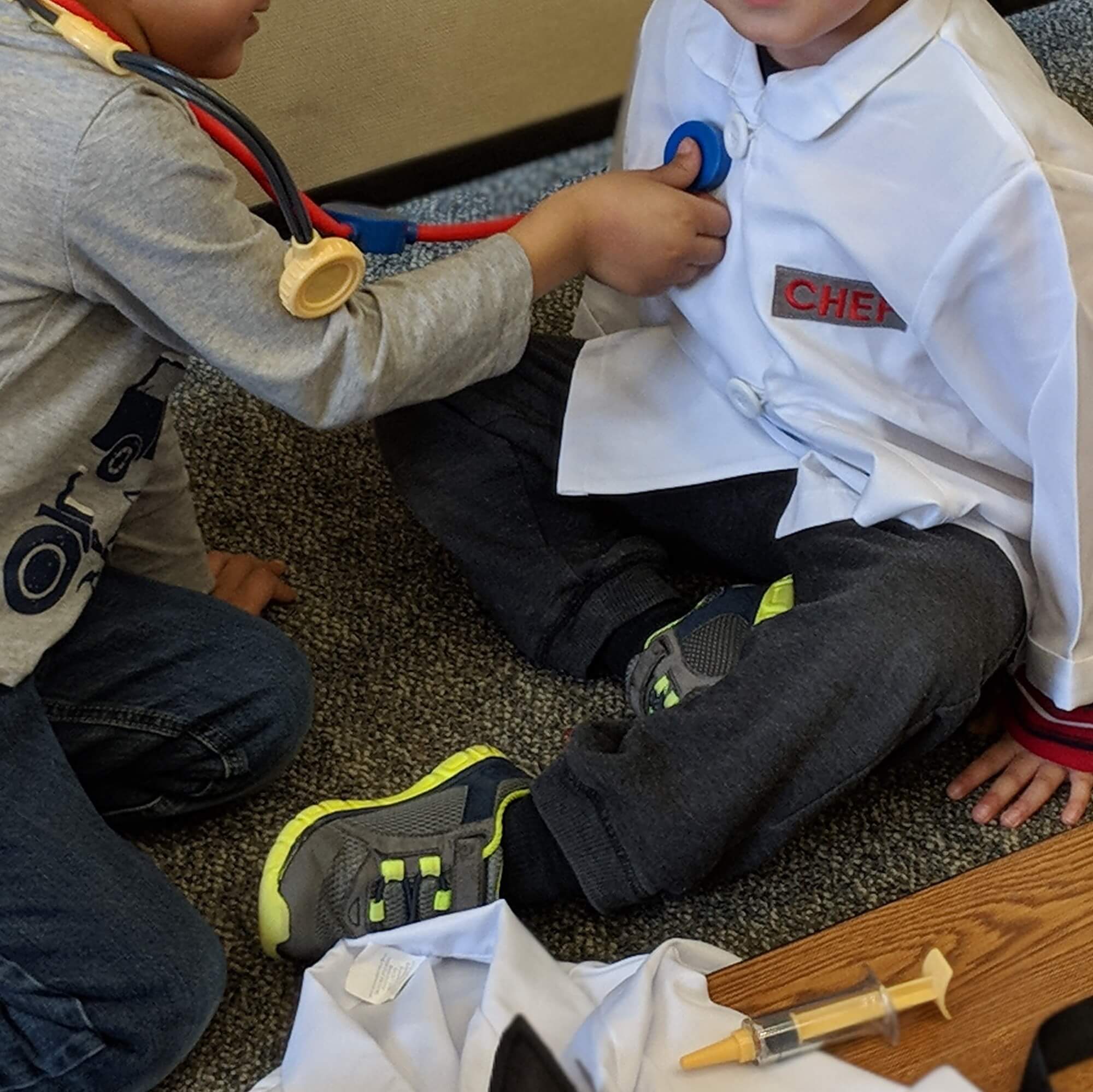 Explore our Learn, Share, and Grow series located in the Grow tab.
Learn, Share, and Grow series covers a particular topic spread across a number of short video segments. By breaking up the topic into multiple shorter videos, they are more digestible one at a time, while still being a part of a larger coherent segment.
Below is the second of three parts business series. Family Child Care Provider Laverne Head explains why policies are essential for the success of an FCC business.
Debido al brote de Covid-19, tuve que reformular mi política de enfermedades para mi guardería y modificar el manual de padres para que reflejara los nuevos cambios inculcados por el Departamento de Salud del estado y las recomendaciones de los CDC.
La política típica de enfermedades en mi guardería consiste en que los niños sólo regresan 24 horas después del último síntoma. (Fiebre, diarrea, vómitos, gripe, etc.) No siempre se requiere una nota del médico al regresar, siempre y cuando el niño espero 24 horas sin síntomas. Esta política tiene sus defectos. Muchas veces, los niños no se recuperan bien cuando pasan las 24 horas. Enfermedades como el virus estomacal, la faringitis estreptocócica o la gripe se transmiten como un incendio forestal, no sólo entre los niños sino también entre el personal, causando interrupciones inesperadas al programa debido a la falta de personal adecuado en proporción a los niños.
El Covid-19 ha cambiado la forma en que manejamos las políticas de enfermedades y también ha mejorado la forma en que los padres se sienten acerca de evitar que un niño enfermo entre en el programa.
Nuestra nueva política de enfermedades, que se añadió como apéndice a la antigua política, refleja un período de exclusión de 48 horas después del último síntoma de fiebre y/o enfermedad. También se requiere una nota del médico al regresar, en la que se indique que el niño está en buena salud y puede regresar a al programa. Estas medidas por sí solas han reducido sustancialmente las enfermedades que se propagan por todo el centro. He visto menos niños y personal enfermo durante esta época del año en comparación con años anteriores. Por esta razón, he decidido convertir estas políticas permanentes.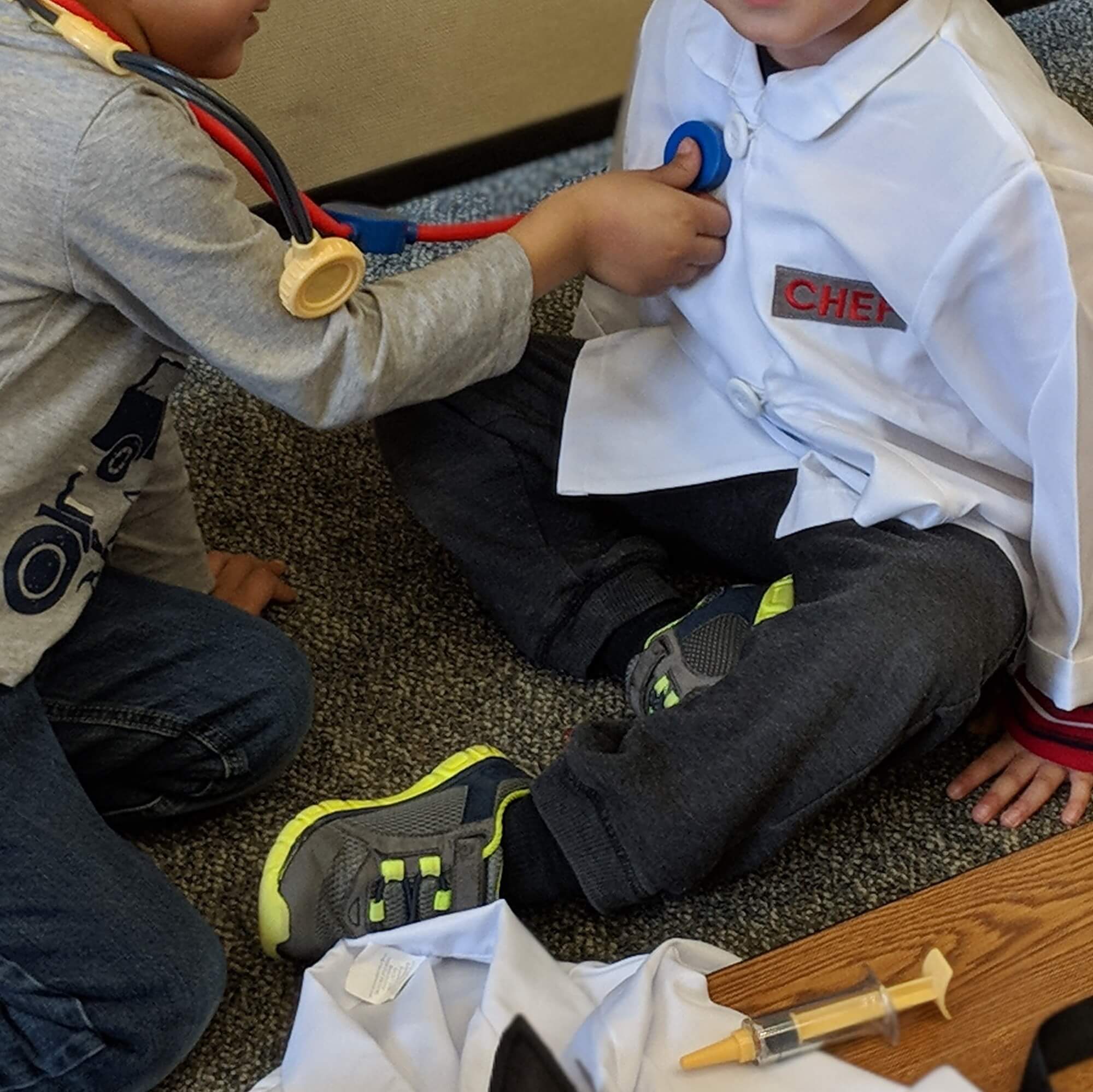 ¿Ha habido cambios en las políticas de su programa debido a COVID-19? Conéctese con nosotros para compartir los cambios y el impacto en su programa.
We asked family child care professionals what types of things they thought were most important to include in their contract and put together this tip sheet:
Top 5 Things to Include in Your Contract
Clearly defining your policies and following through on them is helpful for parents, for you as a professional, and also for maintaining the standards needed for licensing and high quality care.
Take some time to review and revise your program's contract today!
"Voices for Illinois Children is a statewide, nonpartisan, multi-issue advocacy organization that is committed to building better lives for children. They engage in a range of activities — including policy research and analysis, policy advocacy, strategic communications, and community engagement — all in support of policies and programs that enhance the well-being of children, families, and communities in Illinois."
This site has information regarding advocacy for anyone who works with children or wants to be an advocate for educational opportunity, health and well-being. They offer fact sheets including "We Are a Stronger IL When We Invest in High-Quality Preschool" and "We Are a Stronger IL When Families Can Afford Quality Child Care".
For more information go to  Voices for Illinois Children.