Early Childhood Education can have a lot of buzzwords and misunderstandings. This "Philosophy Spotlight" series intends to introduce you to the origins of a number of currently used philosophies directly from the writings of their founders and accomplished practitioners, as well as modern practices and ideas associated with these philosophies. Note that many of the philosophies and philosophers we reference in the US are Euro-centric in origin. I will do my best to integrate philosophies of development and learning from a more diverse body of knowledge, for the benefit of all children and providers. You'll notice a significant amount of overlap between philosophies, as well as some stark differences. Use these articles to consider your own approach to early education, and maybe refine how you see you work and design your program. These are intended to be broad overviews; please see the references if you'd like to learn more about each one! 
Modern Regulating Bodies/Standards: 
No regulating body exists to officially designate a program as play based.
Origins, Theories and Theorists:
Friedrich Froebel: Known as the "father of kindergarten," Froebel believed that young children learn best through play and should be trusted to be in charge of their own play. The adult is present to support and guide children, ensuring their safety. Froebel is known for his "gifts" to children, sets of materials for children of different ages to use and learn from in their play. These gifts, in order, are:
For infants, a set of six soft balls, in the primary and secondary colors (red, yellow, blue, orange, green, purple)
Toddlers received a set with a wooden sphere, cube, and cylinder.
After that, a two-inch cube made of eight, 1-inch blocks, designed to be taken apart and put together again.
Around five years old, children would add rectangular prisms, with the dimensions of 1/2″ by 1″ by 2″, demonstrating the concept of fractions.
One 3-inch cube made of 21 one-inch cubes, 6 half-cubes, and 12 quarter-cubes.
The final classic gift is a set of 18 rectangular blocks, 12 flat square blocks, and 6 narrow columns. Concepts of scale, proportion, symmetry, and balance can be discovered with this set of blocks.
Quote: "A child that plays thoroughly, with self-active determination, persevering until physical fatigue forbids, will surely be a thorough, determined man, capable of self-sacrifice for the promotion of the welfare of himself or others."
Dr. Peter Gray: a modern psychologist who writes about the role of play in children's lives and the way we are all wired to learn through play. He states that true play has four characteristics:
Play is self-chosen and self-directed
Play is intrinsically motivated' means are more valuable than ends
 Play is guided by mental rules
Play is always creative and usually imaginative
Constructivism: a philosophy of education that states that people construct their own knowledge through interactions with the world around them as well as with and through other people.
Values: 
Long blocks of time for children to play uninterrupted: Children need time to get involved in their play, plan, and create scenarios. At least 30 minutes and ideally 90 minutes at a time.
Creative expression: children are encouraged to express their ideas in a variety of ways through their play as well as in varied art media.
Educators and other adults are observers and sometimes co-players, and design environments for children to play in, but do not control the play scenarios. They do, however, offer materials, scaffold interactions, and interject when a play becomes hazardous either to children's physical or emotional wellbeing.
What You Might Observe in a Program with Emergent Curriculum:
Educators will be close to the children but not necessarily playing with them unless invited in.
Schedule is arranged with few transitions, and large blocks of time for children to play and develop their ideas.
Many art and writing materials available to encourage children's self-expression.
Open-ended materials for play. While explicitly representative items may be present (train sets, dolls, kitchens), there will likely be many more items that don't have a pre-assigned purpose, such as large pieces of fabric, wood blocks, or collections of natural materials such as stones and leaves.
Influence on Modern ECE Programs at Large: 
Many early childhood programs value children's free and creative play, with a focus on open-ended materials.
NAFCC level one accreditation requires the children have the opportunity to direct their own free play for at least 30 minutes at a time, for at least one full hour in a half day of care.
The presence of unit blocks is directly from Froebel.
Questions for Your Reflection:
How do children play in your program? What are their preferred games, themes, and materials?
What is the adult's role in play in your program?
How do your daily and weekly routines support children's engaging in free play, both individually and in groups?
When providers encounter children engaging in play with troubling themes, it's important to understand how to interact with the children in their play, when and how to interrupt, and how to talk to families about our observations. This one-page downloadable/printable document from mental health professionals Megan Lerner, LCSW and Anthony T. Vesco, PhD, can help prepare you for these difficult situations.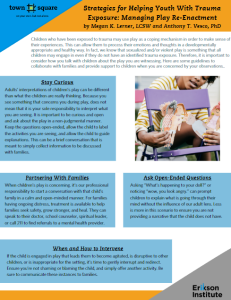 Play is vital for children; through play, children can develop, explore, and practice new skills. This Town square created a resource aids in developing a better understanding of the skills and learning involved in children's play.
You might think that I'm just playing, but…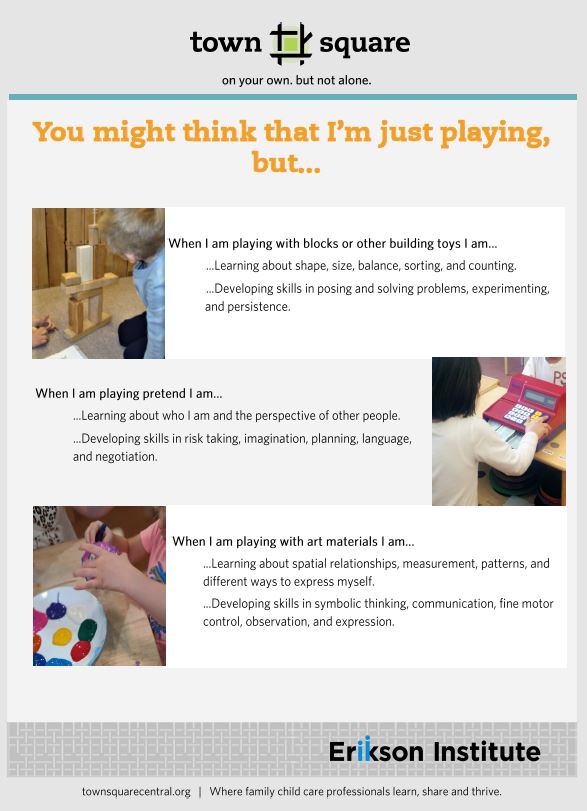 Playing with Nuts and bolts
Nuts and bolts may seem like a simple activity, but it provides children with many great opportunities to explore and build on their skills. 
                 * Hand and eye coordination as children grasp and pick their                                 selection of bolts and then attach the nuts and bolts.
                 * Twisting, pinching, rotating give fingers muscles a workout,                                 skills needed later for writing
                * Giving children a variety of bolts and nuts allows them the                                   opportunity to sort, match, categorize as they make a selection                         and plan how to use them.
               * Create patterns, count and describing of different attributes                                  including size
               * Back and forth conversation as they work with other children                            
               * Exploration and explanation of their creation and learning to                                 others
               * So much creativity as children came up with new ways to create                        and play, testing their ideas.
               * Different textures, weights, sizes, and materials can be                                        incorporated, experimenting with touch and sound.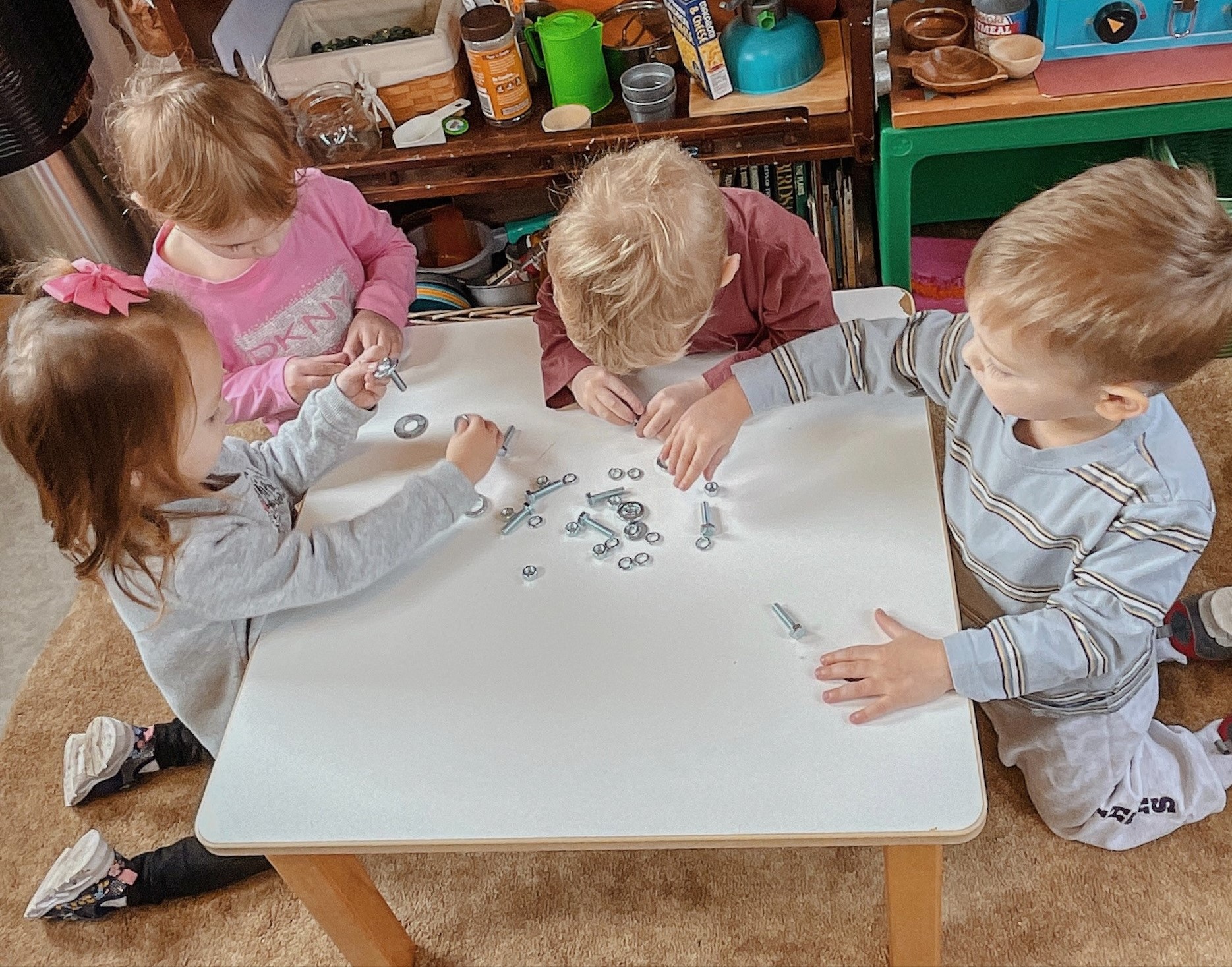 Educating and caring for young children requires that providers take on various roles to support meaningful and playful experiences.
The roles providers take on include…
Observer – To watch and document children's play and thinking in order to assess children's strengths and development to plan for children's learning.
Validator – To support, nurture and acknowledge children's behavior in a way that does not interrupt or alter the child's activity.
Player – To play and participate with children in a responsive partnership.​
Extender – To challenge, elaborate, further and provoke children's thinking and ideas.
Problem initiator – To pose and take advantage of problems, conflicts, and appropriate challenges to question and engage children's thinking.​
Role model – To display expected behaviors and attitudes of play and learning.
Documenter – To collect and organize data.
Assessor – To assess children's individual and group strengths, abilities, interests, and developmental needs.
Manager – To set the stage for meaningful play.
Instructor – To impart or demonstrate information.​
It is essential to note that these roles are not static, where one day you decide to be an observer and another extender. Instead, the roles change throughout the day, creating balance.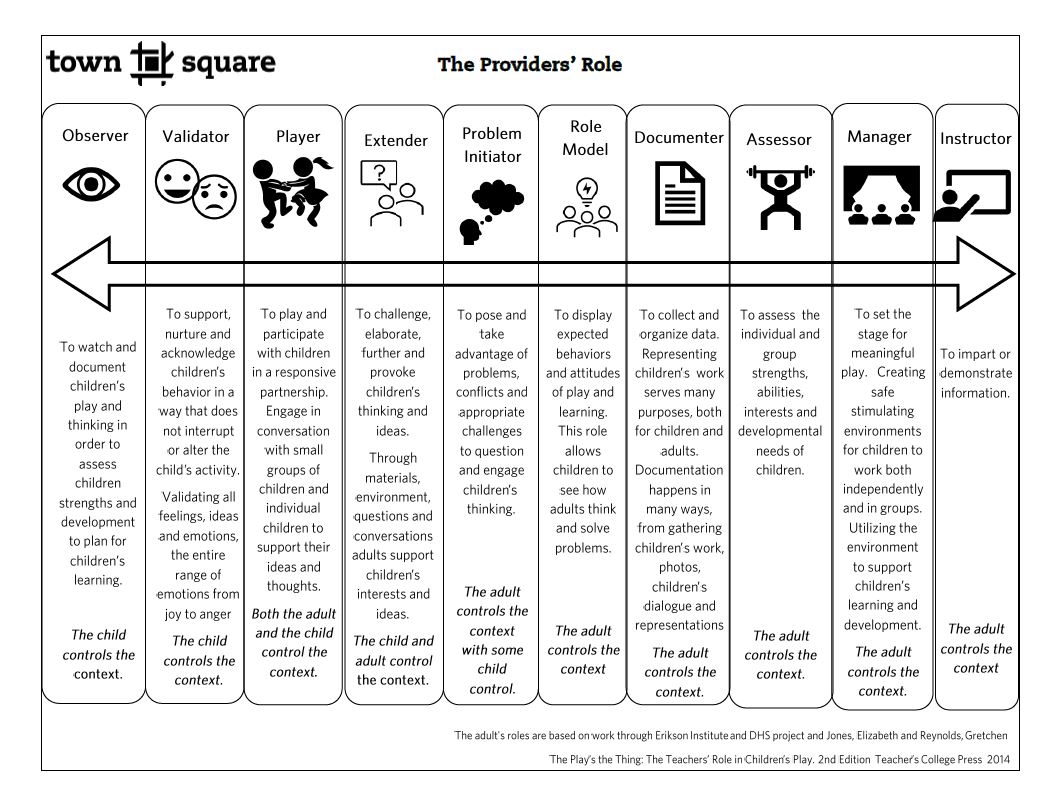 What if one of the answers to reducing inequality and addressing mental health concerns among young children is as simple as providing more opportunities to play? A growing body of research and several experts are making the case for play to boost the well-being of young children as the pandemic drags on—even as concerns over lost learning time and the pressure to catch kids up grow stronger.
Play is so powerful, according to a recent report by the LEGO Foundation, that it can be used as a possible intervention to close achievement gaps between children ages 3 to 6. The report looked at 26 studies of play from 18 countries. It found that in disadvantaged communities, including those in Bangladesh, Rwanda and Ethiopia, children showed significantly greater learning gains in literacy, motor and social-emotional development when attending child care centers that used a mix of instruction and free and guided play. That's compared to children in centers with fewer opportunities to play, especially in child-led activities, or that placed a greater emphasis on rote learning. This is important, the report's authors noted, as it shows free and guided play opportunities are possible even in settings where resources may be scarce. "Play can exist everywhere," said Bo Stjerne Thomsen, chair of Learning Through Play at the LEGO Foundation. "It's the experience. Testing and trying out new ideas…It's really about the state of mind you're in while playing."
The report found that play enabled children to progress in several domains of learning, including language and literacy, social emotional skills and math. The varieties of play include games, open play where children can freely explore and use their imaginations and play where teachers provide materials and some parameters. The findings suggest that rather than focusing primarily on academic outcomes and school readiness, play should be used as a strategy to "tackle inequality and improve the outcomes of children from different socio-economic groups." That also means opportunities to play should be considered a marker of quality in early childhood programs, the authors concluded. Stjerne Thomsen said the authors have not defined an ideal amount of play as they believe it can be embedded throughout the day. More importantly, he added, is that teachers are trained to facilitate free play and guided play opportunities. "Play is often defined as recreation…not serious or practical," said Stjerne Thomsen. Instead, many schools are focused on academic skills and standardized assessments, he added.
The findings of the report, which echo years of related research on the emotional physical and cognitive benefits of play, are notable considering that in America access to play spaces is lacking in many lower-income and rural communities. That became more noticeable during the pandemic when outdoor activities became one of the safest options for activities. Experts say opportunities to play are essential for helping kids process their feelings and changes in their life, especially after the past year of disruption and trauma. "Play is absolutely an essential part of the healing process," said Tena Sloan, a licensed therapist and the vice president of early childhood mental health consultation and training at Kidango, a nonprofit with a network of child care centers in California. "We need to give [kids] these other ways to diffuse their stress and express themselves." That includes, she adds, "being outside and having that freedom to play."
Some nationwide initiatives have been working for years to create play space equity and ensure kids have access to safe, outdoor spaces, even in high-density or rural areas. The non-profit KABOOM! has built or improved more than 17,000 play spaces nationwide and has partnered with communities to build unique play spaces based on local needs, including obstacle courses for teens and "play installations" that turn everyday spaces, like bus stops, laundromats and sidewalks, into places where children can play. During the pandemic, the non-profit continued to build playgrounds and sports parks across the country with the help of volunteers; it also created "play kits" that schools could send home to children, allowing them opportunities to play in and around their home.
Play can help bring "normalcy back," said Jen DeMelo, director of special projects at Kaboom! "This pandemic has brought to light that [play] is not a luxury, this is a necessity," DeMelo added. "We need this. Kids need this to thrive."
This story Twenty-six studies point to more play for young children was produced by The Hechinger Report, a nonprofit, independent news organization focused on inequality and innovation in education. 
Loose parts are materials that can be used in a variety of ways.  It is very likely that you have things that can be used for loose parts play already around, such as bottle caps, rocks, pinecones, etc.  This handout was created collaboratively between Town Square and the Early Math Collaborative at Erikson Institute as a resource for the Oak Park Collaboration for Early Childhood Symposium.
Creating Challenges with Loose Parts Handout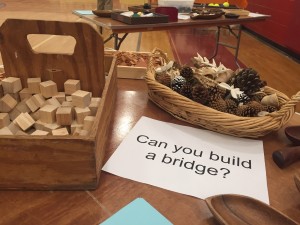 Part 2  – Indoor large motor play activities for programs with limited access to an outdoor space, bad weather, or to share with families
Balloon ping pong – Using a paper plate or piece of cardboard and a stick, create a simple paddle. Then tie a string to a balloon and hang it down from the ceiling or doorway. Invite the children to hit the balloon with the paddle.
Tape maze – Use painters' tape to make a fun maze on the floor. Ask children to then walk, hop, skip and jump to follow the tape. Different lines or shapes can indicate different ways to move. You can also use the maze for a car road by moving toy cars along the tape.
Hit the target toss – Using a bean bag, soft toy or plastic ring, add a mark on each step of a staircase. Add some extra fun and put numbers, colors or shapes on each stair. Ask each child to toss the object at the designated targets. You can also try this on a flat surface, just be sure to arrange the targets further apart from one another.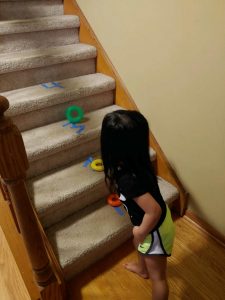 Paper airplane challenge – Take some paper and use some to cut out shapes of different sizes as targets, then tape the paper with the cut out targets across a doorway. Have children create their own airplane to try to fly through the targets. Encourage creating different kinds of paper planes and challenge the children to fly their airplane through different targets.
Ball Maze – Cut out strips of paper and then use tape to place them on the floor, arrange the arches to create a maze. Using a ball, ask children to roll under the arches to the end of the maze.
Simon Says – Play an active game of Simon Says, using paper cutouts of handprints or footprints, call out the name of the body part to have children move to reach the printout. Try adding different learning concepts, use shapes, colors, numbers depending on the children in your care.
Obstacle Course – Have each child design one part of an obstacle course and take a photo of it, shuffle the order of the photos to decide the order of the obstacle course, you can also draw the order or have children guide one another through the course. 
Printable version  Indoor large motor activities 2parte
Some fun ideas for indoor large motor play for programs with limited access to an outdoor space, bad weather, or to share with families
Laser maze – Works best in a hallway, but a door frame can work for a shorter obstacle. Using painter's tape, streamers or yarn, web it between the walls or door frame. Have children walk through without touching the tape.
Ball toss – Use softballs or bean bags and baskets or boxes. Arrange the boxes in a straight line. Have children take turns hitting the target. You can also use a staircase and have a box on each step, for older children use different size boxes to challenge them.
Movement dice – Create a die with different movements shown on each side. Have children do the movement they roll or do a sequence of movements based on several rolls. For an added challenge, add a second die with numbers on each side for the number of times they must repeat that move.  Simply print the pattern below, draw the movements, cut and fold the pattern into dice and start playing! 
Hopscotch – Using painters tape or washi tape create your version of a hopscotch board.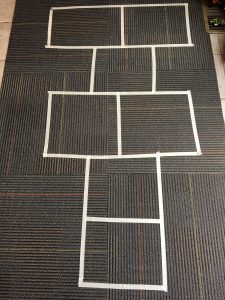 Sticky wall – Place contact paper or thick tape on a wall, sticky side out. Have children throw pompoms or balls of paper to the target. For younger children, lower it down and allow them to place items on the sticky side. 
Ball race – using a box and a few balls, cut out holes on the bottom of a box, then have children then move the box allowing the ball to fall through. For older children, have them work with a larger box in teams, or create many holes and ask the children to try to keep the ball from falling through a hole.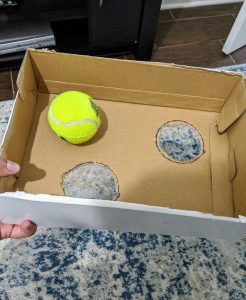 Bubble wrap road – Lay a path of bubble wrap on the floor and have children use balls or cars on the road. For younger children, have them walk or crawl on the bubble road.
Balancing course – To work on balance, have children hold a spoon with a ball or pompom, then walk, jump, skip, to the other side of the room.  Try a paper plate on their head, or holding toilet paper roll with a ball on top for extra challenge.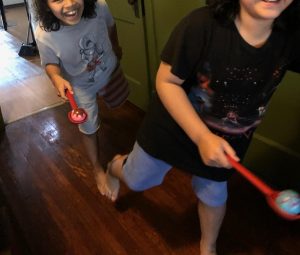 Magnetic fishing– Create a simple magnetic fishing game with paper clips or bobby pins, paper or felt, straws and a magnet. Have children take turns fishing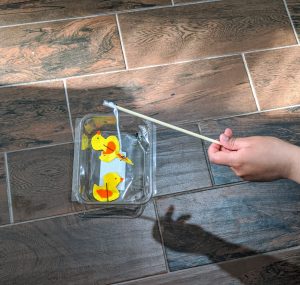 Printable version Indoor large motor activities
Use masking tape to create roads on the floor for matchbox or hot wheel type cars. Children can 'drive' cars along the roads and create dramatic play scenarios. Children can add other accessories, such as road signs, farm animals, train toys, etc. to extend the activity.
Goal: Children will move vehicles around the masking tape roads and engage in dramatic play.