As you think about your environment, you may find this checklist useful for self-assessing quality in your environment and making an improvement plan. The checklist is based on the NAFCC Accreditation Observation Checklist.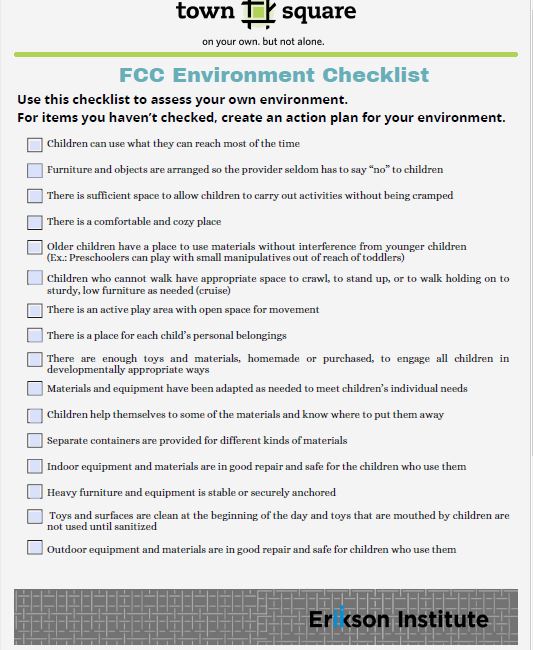 Webinar recording put together by the National Center for Early Childhood Health and Wellness, sharing tips and strategies on ways to support children's physical development by providing them with fun movement opportunities in a mixed age group setting.

Best for infants around 1 mo. Infant should be lying in front of you. Hold your index fingers up to the infants fingers touch gently until they grasps each finger firmly. Gently pull baby forward and watch baby hold on tight, straighten arms and begin to sit forward. Smile and say things like,  "look how strong you are"!
Goal: Supports the development of muscle and vision as baby focuses on your voice and face while using their arm and hand muscles.
Let children use blocks (cardboard or soft blocks work well), pillows/cushions, and even furniture to set up an obstacle course where they can climb, crawl under, and move in various ways to make their way through. This is also something that can be set up outside with natural landscape features, using chalk on sidewalk to mark areas, or even with riding toys as part of the course.
Goal: Children will work collaboratively to set up and run through an obstacle course.

Encourage children to name animals and then move their body like that animal. They can incorporate sounds as well. You might even make an 'animal parade'. Talk about the different ways they move their bodies to look like the animal and name the body parts they use. (The book From Head to Toe by Eric Carle is a great resource for this activity).
Goal: Expand children's vocabulary related to body parts and animal names and move in a variety of ways.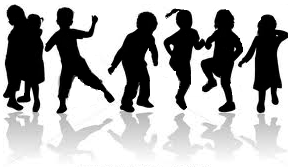 Make your own game of bowling using recycled 1 or 2 liter bottles. make them fun by decorating them with colorful masking tape. Helpful tip, seal the top on with a glue gun so the bottles do not crush easily. Use any ball to knock down the pins.
Goal:  Children will develop large motor skills and hand-eye coordination with this activity.
Lie the infant on their tummy on a blanket and sit in front of them. Show the infant a stuffed animal, ball or other toy that rolls encourage baby to reach for toy.
Goal:This activity exercises and strengthens baby's arms, legs and stomach muscles. It also encourages scooting and crawling.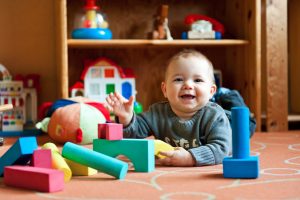 Babies may begin to crawl around six months. However, some babies may never crawl; sometimes they will roll, scoot, army crawl, or move in other ways leading to developing skills in walking.  As babies develop increasing skills in mobility, the caregiver must continue to adjust the environment and boundaries to keep children safe while allowing them room to explore.
Sit at a table, hold the baby in your arms in front of you, resting your elbows on the table. Tilt baby up at an angle so you are face to  face with the baby. Gently, slowly rock and sing or hum to get babies attention. When baby is looking at you, speak to baby looking straight into baby's eyes. Gently lower baby on his/her back and repeat.
Goal: Babies focus on the face and voice and build their neck muscles, which helps them hold their head up.