Fort building is an activity most children enjoy– who wouldn't love the opportunity to be the architect of their own space? It's also an incredible way to promote children's creativity, imagination, persistence, and STEAM skills.
Why is this a STEAM activity?
Science: children need to navigate the physical properties of a variety of materials to make their fort. Will the fabric keep its shape when draped over sticks, or will it fold in ways the children didn't anticipate? Will rubber bands be strong enough to hold the sticks together, or will they need to use yarn or glue?
Technology: Older children can use rulers, measuring tape, levels, and more tools to help them plan and execute their forts.
Engineering: Structural engineers need to take into account the materials they're working with when designing structures for an intended purpose. These young engineers will learn the foundational problem-solving skills when the plan and test their designs.
Art: A sense of aesthetics is crucial in fort design! Children can select their color scheme and decor as they assemble.
Math: Geometry is key here, as children figure out how large a space they need to fit the people they would like inside, and measure their sticks and cloth accordingly.
Building outdoor fabric forts promotes play can help children develop problem-solving skills that will help them later in life. Fabric forts don't always work out the way kids want them to! They teach children to find new and better ways to achieve the result they want.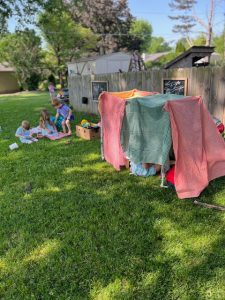 How can you get started? Depending on the ages of the children involved, this activity may use: blankets, tablecloths, sticks, lengths of PVC pipe, yarn, glue, paper, rubber bands, and all kinds of other "stuff" that you have on hand!
Creating a nature scavenger color-hunt game is a fun nature-themed activity to get your group outdoors. This is an activity that, no matter their age, they will stay busy and observe as they play creatively and explore outside.
You can use a canvas panel or a piece of cardboard, I would say roughly the size of a medium-large pizza box. You then want to take 10 color paint swatches. I like to take a walk in my space and quickly take 10 pictures to match when I get to my hardware store. This is something that will, of course, change with the seasons.
We did 10 colors; my group is 2.5-4 years old. It's entirely up to you how you choose to do this; you can cut smaller pieces of cardboard and give each child 5 colors; you can do it as a group as we did. You can add shapes by cutting the paint sample into a circle or triangle. You can also use this as a take-home activity for family engagement. Ask families to bring it back and discuss it with the group.
So after you have the canvas panel or cardboard, the color swatches, and 10 clothespins, you want to hot glue the colors swatches down and the clothespins. Then go explore for colors!
You can set rules for the game, like the color green can not be grass. Once the child finds the color, they yell "I found yellow", clip it, and attach it to the board. We display our board and showcase it for pick up. Children are always so proud to name what they found and the color it matches.