Looking for a way to keep your business records more organized?  Kim Tipsword, owner of Kimmy's House, shared this idea for a portable office.  She uses these portable file boxes, one for DCFS files (physical forms, child records, space radon report, etc.), one for credentials for Grants, Excelerate, etc., and one for things she uses daily (calendar keeper, meal counts, and receipts).
She keeps her portable office on her stairs because she doesn't use her second floor often.  These could also fit under a coffee table or alongside a couch or on the counter.
Para ver este recurso en español haga clic aquí
The National Association for Family Child Care (NAFCC) is a membership based national association for family child care providers. The NAFCC site includes tools for NAFCC accreditation including a self-study program to help providers prepare for accreditation. There is a calendar for national events for family child care providers including the NAFCC conference, a blog about relevant topics for family child care providers, and information for families and the public regarding family child care.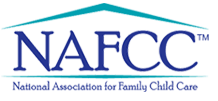 Get your tax payments organized at the federal and state level by creating an account with the U.S. Department of the Treasury and the state of Illinois.
The Electronic Federal Tax Payment System® tax payment service is provided free by the U.S. Department of the Treasury. After you've enrolled and received your credentials, you can pay any tax due to the Internal Revenue Service (IRS) using this system.  You can also set up an account for the state of Illinois at My Tax IL.