Looking at the sky is a simple and relaxing activity that fosters observation and creativity skills. It can change your perspective of the world as you have to explore a broader view. Children can see different animals or flying objects, some we may have missed if we don't look up. They can also observe cloud formation and shape. Develop their creativity in describing what clouds look like and the stories the clouds are telling us. Next time you are outside, encourage children to look up and explore the sky. You can invite them to this activity by simply laying down a blanket or, if available, providing binoculars!

One of our favorite and must exciting activities is exploring worms. To start, we first figure out where worms live; often, children have seen worms out on the sidewalk or crawling on dirt and have a good idea of where to search for more. Exploring all the places in our outdoor space where they can live—asking children where they saw them and where they could have crawled under. By taking on this approach to finding the worms, we set the groundwork to learn more about worms' habitat. Plus, it is fun to look for clues.
Once we decide where to look, the fun and messy part starts, children can use their hands, or I provide shovels so they can dig in the dirt. Figuring out what children are comfortable with is key; some will love to touch the dirt, while others may not want to. The same can be said for when we find a worm. Some children are curious and want to pick them up immediately. Others may want to see them from afar. We give children space and allow them to go at their own pace in the exploration.
If they are touching the worm, we talk about kindness, responsibility, respect, and compassion for the worm. Years ago, when we saw a worm or bug, I would immediately say, "look with your eyes, we might scare it or hurt it". Over time I have learned the importance of having children experience holding insects, animals, and materials. I had to shift my thinking, and instead of avoiding the touching. I began to trust the children. Talking with them about how we treat animals and how we want to make sure we are caring for nature. Allowing them to take responsibility and feel proud of how they care for others helps them develop a great sense of self.
Maple samaras or helicopters are winged seeds of maple trees; because of their shape, it is fun to see them fall and twirl in the air. Stephanie Mckinstry of My Caterpillar Clubhouse shares fun ways to utilize these seeds in your program.
Start by collecting the leaves, having children gather as many leaves as possible, and then setting them out so they can explore.
Encourage children to toss them to see them twirl or to separate the leaf from the seed.
Opening the seed and observing what they see, feel, and hear. You can also add a muffin tin or container to separate the leaf from the seed.
They are a great addition to the mud kitchen, or incorporate them in your indoor dramatic play area.
Use the seeds to count or create patterns.
Once dried, they are an excellent collage material and can easily be glued or painted.
Get creative and encourage the kids to use their imagination!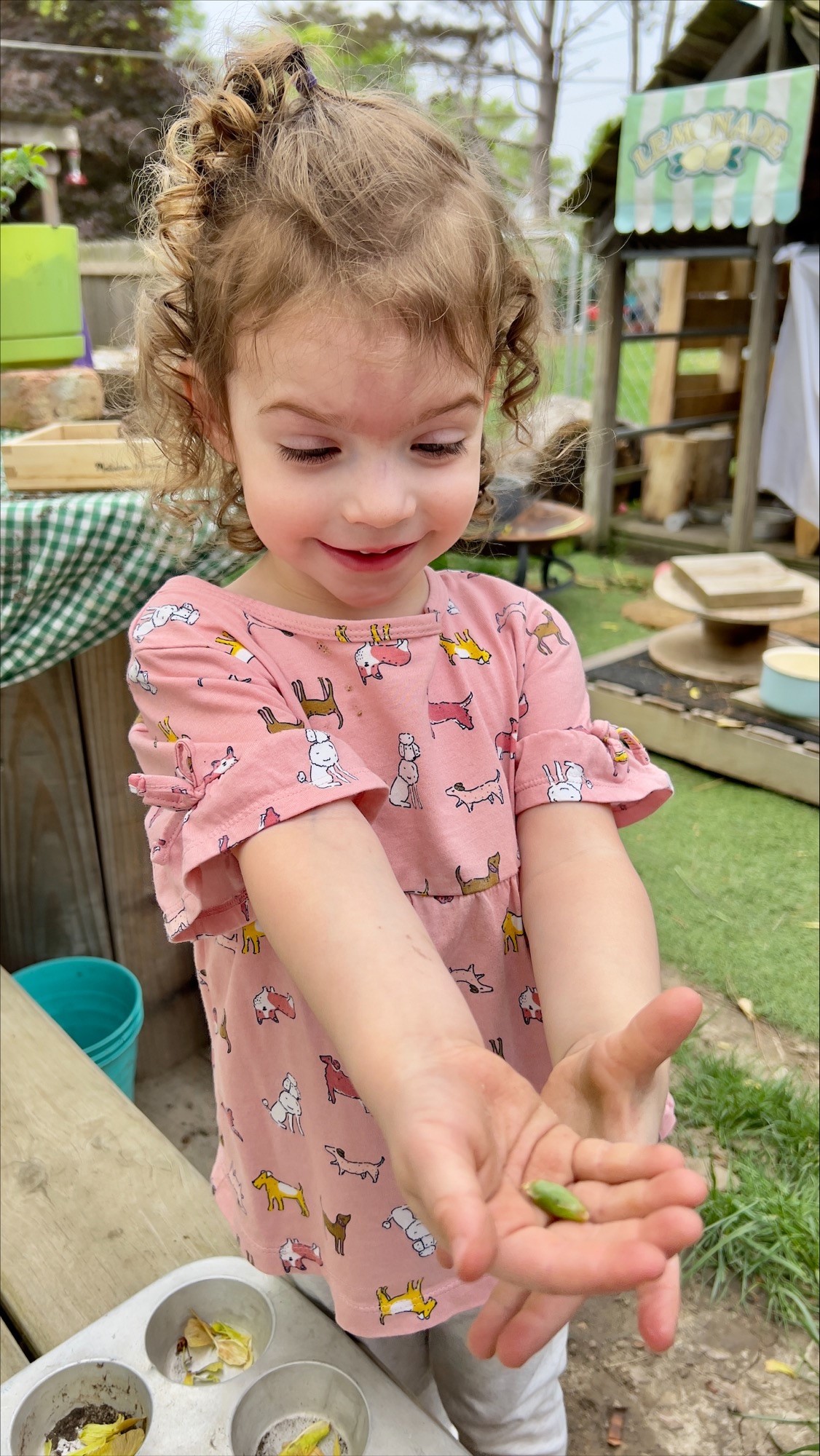 Gardening has many benefits for young children, including developing responsibility skills , fostering a sense of community, and developing confidence as they care for the plant and observe the growth. To begin, all you need are a few materials, and gardening doesn't need an ample outdoor space; you can easily create a small indoor garden to fit your program.
Stephanie Mckinstry from My Caterpillar Clubhouse, a Certified Nature Explore Classroom, shares more benefits of gardening, how she begins her garden indoor  and transfers the seeds to her outdoor garden. Watch below.
Stephanie Mckinstry from My Caterpillar Clubhouse, a Certified Nature Explore Classroom,  shares how she incorporating books and images of nature into her program. Listen below for her tips.
Creating a nature scavenger color-hunt game is a fun nature-themed activity to get your group outdoors. This is an activity that, no matter their age, they will stay busy and observe as they play creatively and explore outside.
You can use a canvas panel or a piece of cardboard, I would say roughly the size of a medium-large pizza box. You then want to take 10 color paint swatches. I like to take a walk in my space and quickly take 10 pictures to match when I get to my hardware store. This is something that will, of course, change with the seasons.
We did 10 colors; my group is 2.5-4 years old. It's entirely up to you how you choose to do this; you can cut smaller pieces of cardboard and give each child 5 colors; you can do it as a group as we did. You can add shapes by cutting the paint sample into a circle or triangle. You can also use this as a take-home activity for family engagement. Ask families to bring it back and discuss it with the group.
So after you have the canvas panel or cardboard, the color swatches, and 10 clothespins, you want to hot glue the colors swatches down and the clothespins. Then go explore for colors!
You can set rules for the game, like the color green can not be grass. Once the child finds the color, they yell "I found yellow", clip it, and attach it to the board. We display our board and showcase it for pick up. Children are always so proud to name what they found and the color it matches.
We are protectors!
I often remind the children of the great privilege and responsibilities we have when we spend time in nature.
I am a true believer that a child exposed to the natural world will have heightened respect and deep regard for that world. 
Teaching your child to be kind to even the smallest creature is a value they can carry with them throughout their whole lives.
Exposing your child to bugs early on is less about education and more about empathy and understanding; It's about teaching love and kindness, acceptance and tolerance.
The kids loved getting eye level with all the new little creatures and explore their worlds. 
Today we did many kinds of bug boards to flip over and discover what their habitat looks like.
We did bug logs, rocks, stumps, boards, pavers.
While teaching the kids about bugs, I want them to understand insects can be useful and are needed in the environment. We talked about how to be respectful to the bugs. It's normal to see interesting bugs outside because that is their home, but we have to be gentle and respect their space. Sometimes we can put them in an indoor habitat and observe them, and sometimes we observe them in their outdoor habitat.
How I guide their interest:
Allow them to explore
Encourage them to use their senses, observe, touch, smell
Ask questions!
How I expand their learning:
Counting the legs and talk about how all true bugs have six legs.

Identify the parts of the insect: head, abdomen, and thorax.

Discuss how bees and butterflies help plants grow, and fruit ripen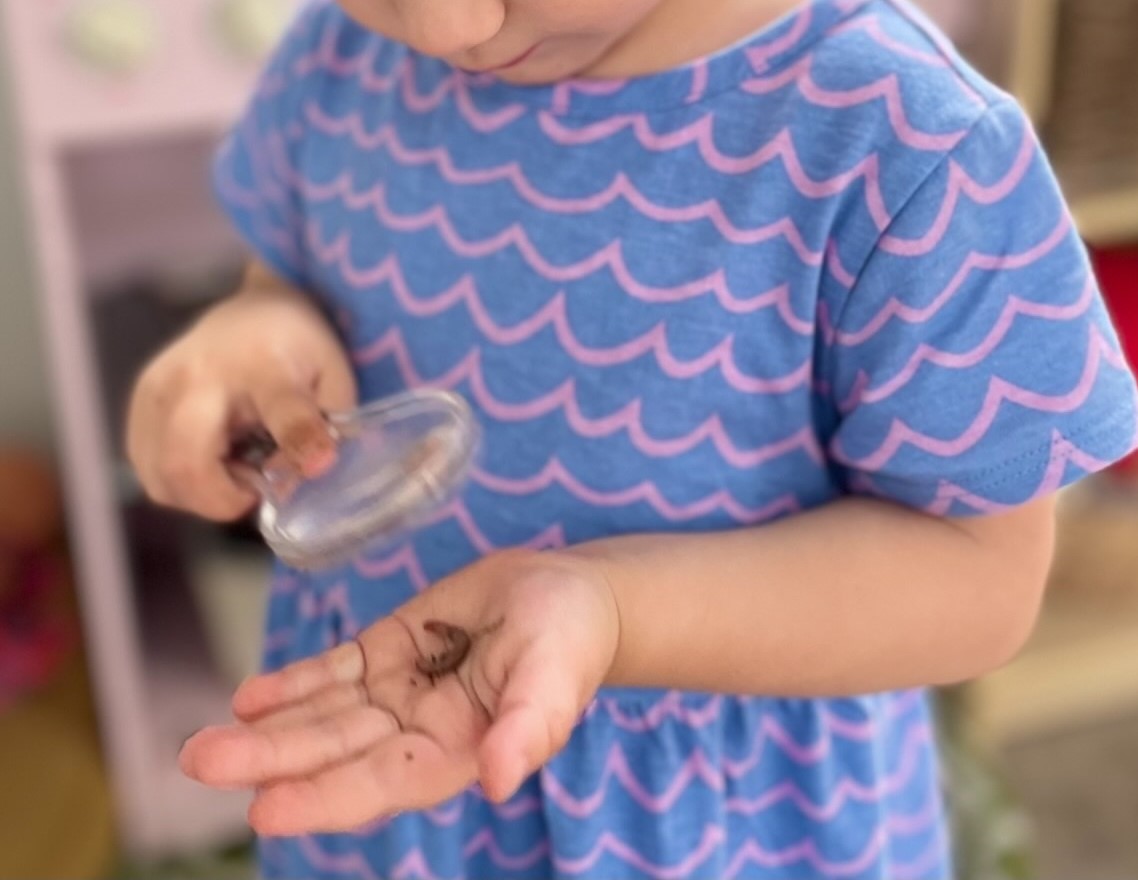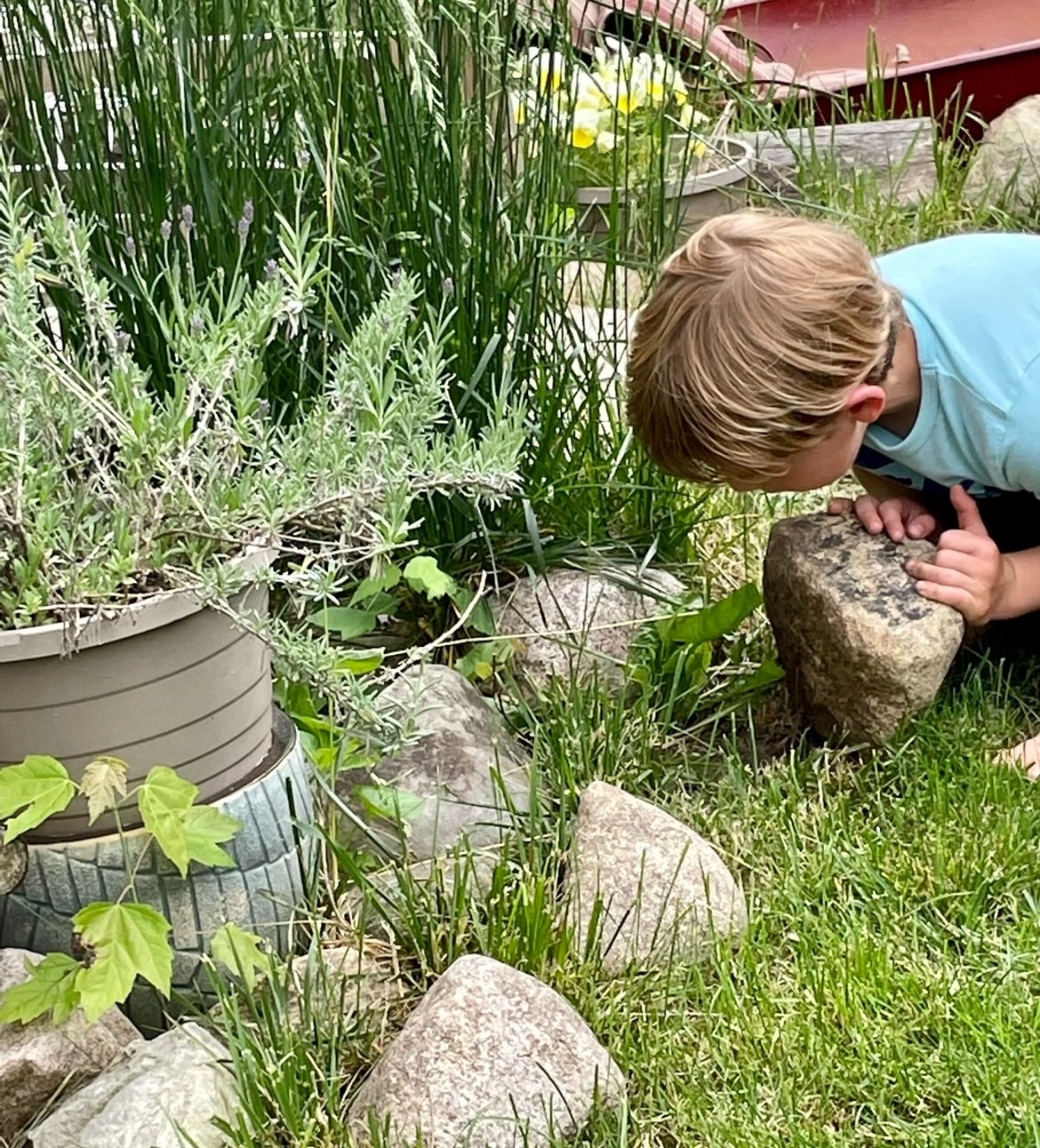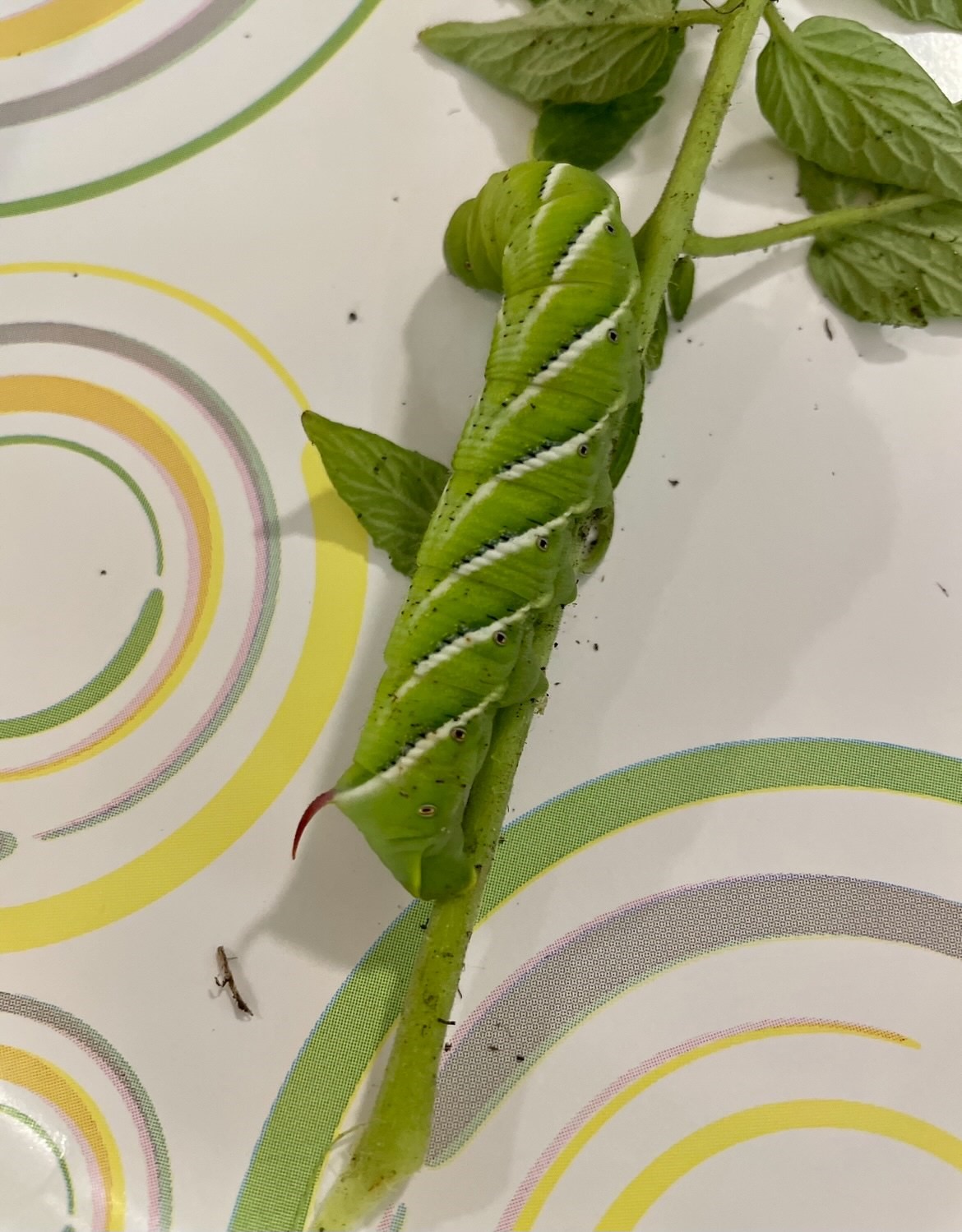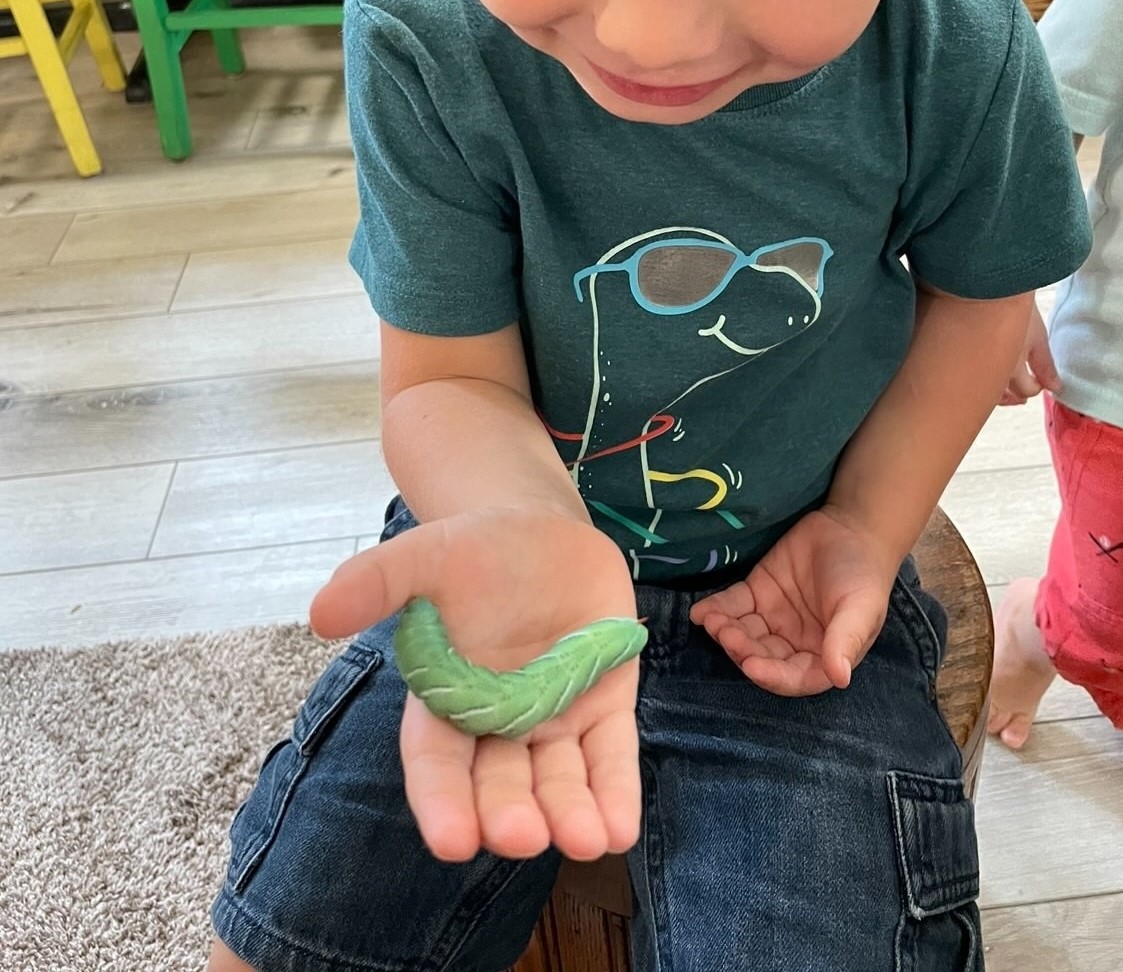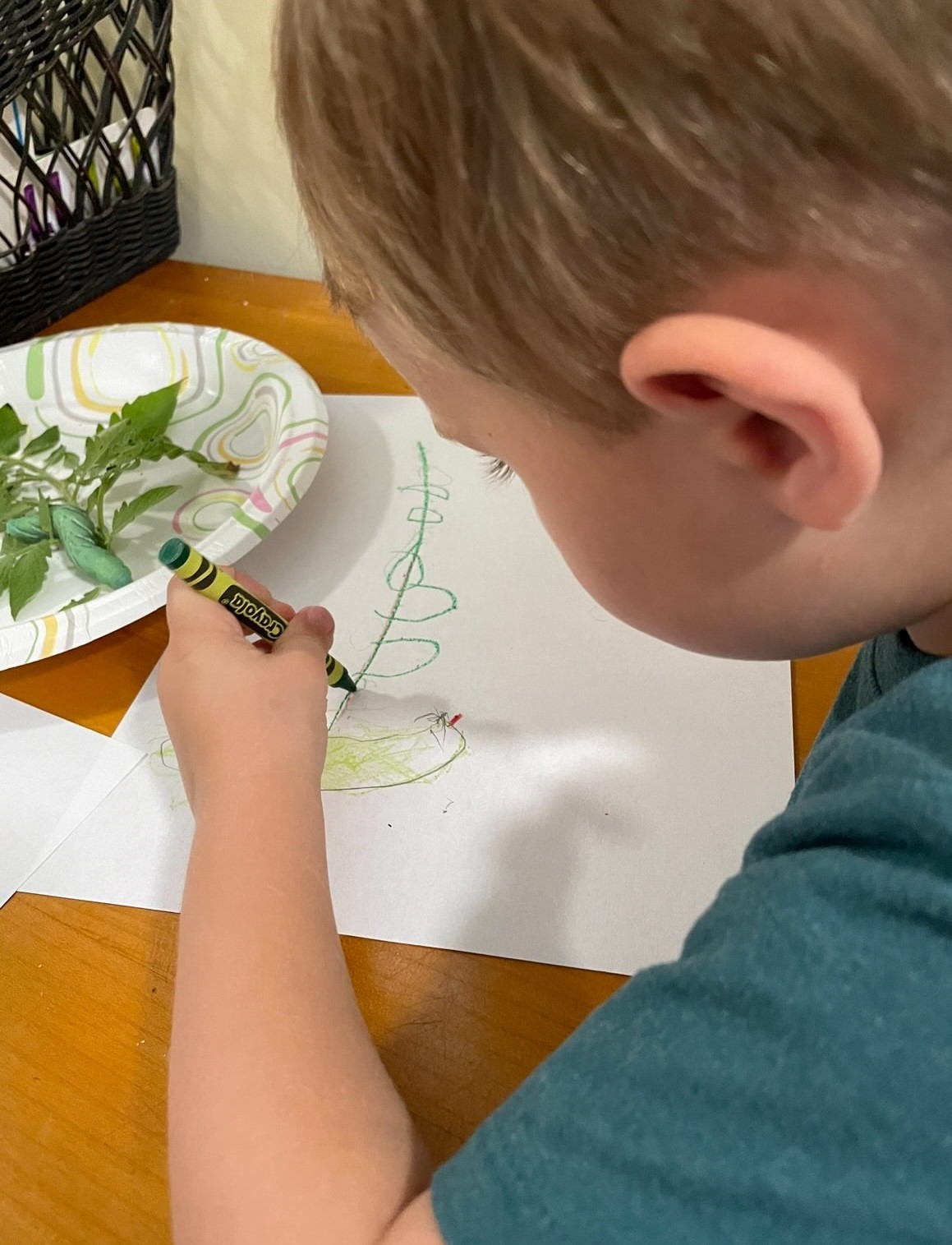 As we explore intentionality in incorporating nature into home-based care. We reached out to two family childcare professionals Diann Gano, Owner of Under the Ginkgo Tree Nature School, and Ashley Hugues, owner of Roots Nature School, to discuss the curriculum of a home-based nature program. We hope this conversation is a starting point to rethink nature in your program or help support your current practice.
We began our exploration by observing the tree, hearing, touching, and smelling the tree. We read a book to learn more about the maple tree and start our tapping exploration.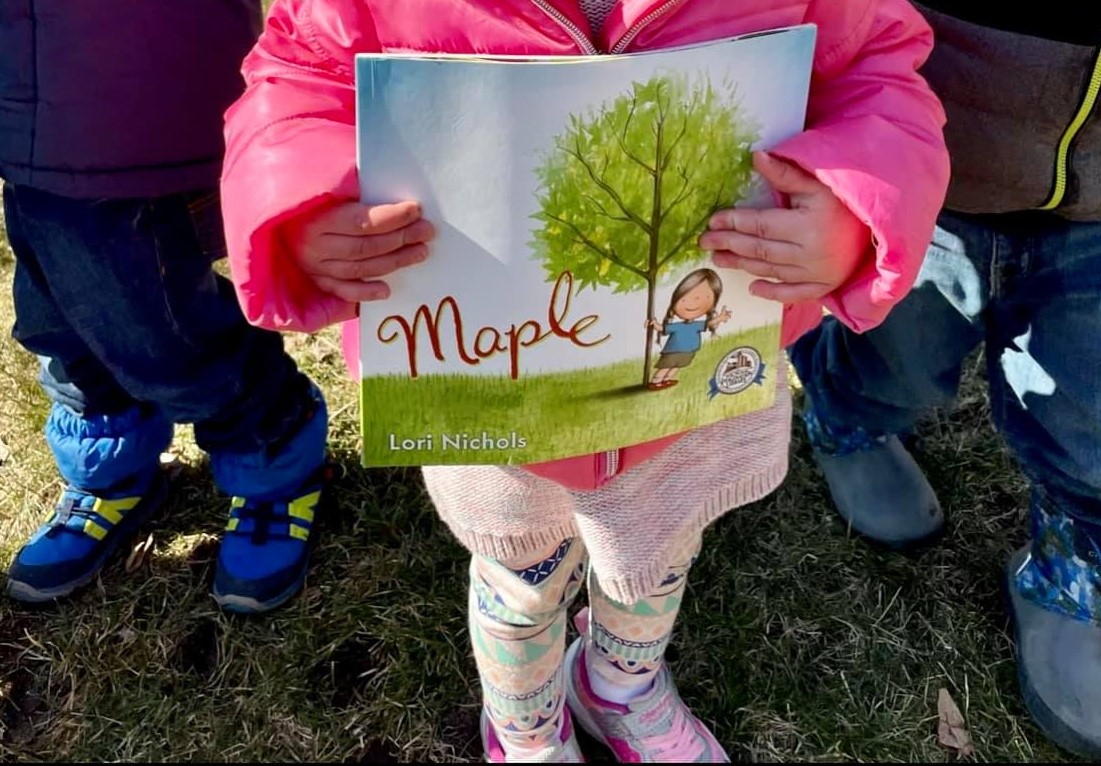 We were all excited about this inspiring learning activity that brings together science, math, forestry, and taste buds.  
Tapping is done in late winter, early spring when days are above freezing and nights are below freezing. We started by inserting the spile into the tree, finding a spot that receives sunshine, and making sure to remove the bark to get a smooth area to tap. 
Tapping helped us learn of the source of real maple syrup. We realized that the tree has sap "water," which contains sugar. Trees store this sugar for their food, and trees have a way of transporting the sap.   
Through tapping the maple, children are supported in observing and inquiring about their natural environment.   
We went outside daily to measure how much maple water we had and if the jugs were full to put out new ones– playing around the Maple Tree was a highlight, and some children would stick their fingers under the tap to taste the sap as it oozed from the tree – learning, that sap isn't the same as syrup. 
Best practice in early childhood education is based on supporting children to understand themselves through the natural world.
In a world that often requires a lot of patience, the kids were excited to finally find their jugs  full to overflowing the following morning.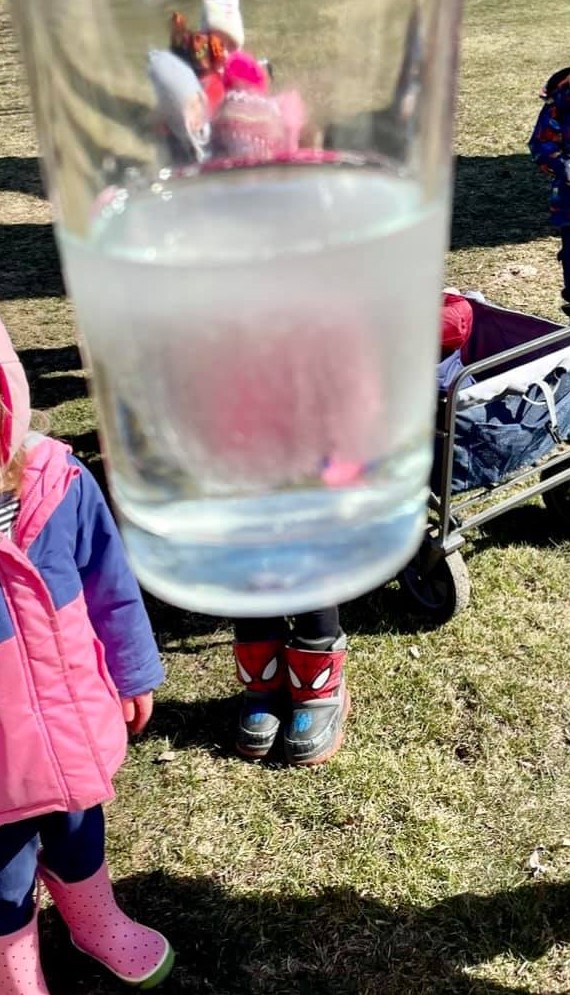 Once we collected 20 gallons, we boiled the sap!
Finally, after about four days, we had syrup and rewarded our patience with pancakes and syrup.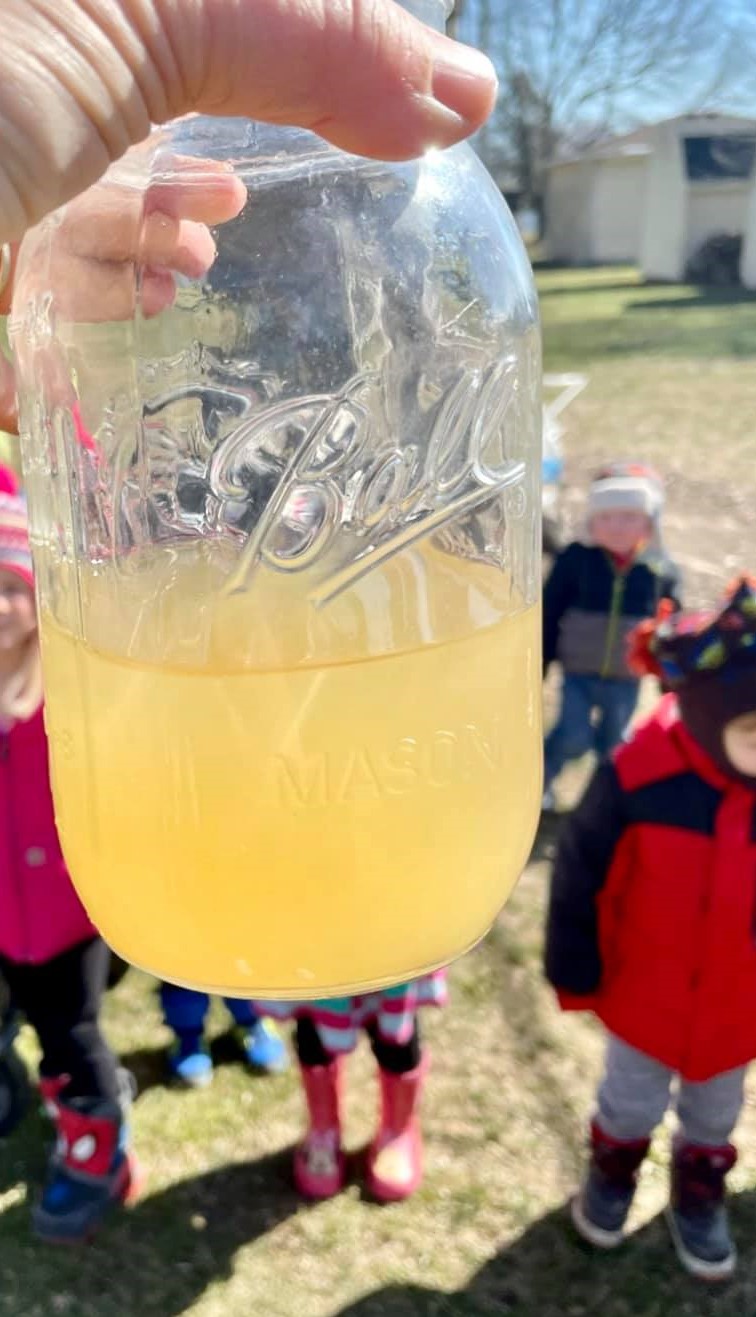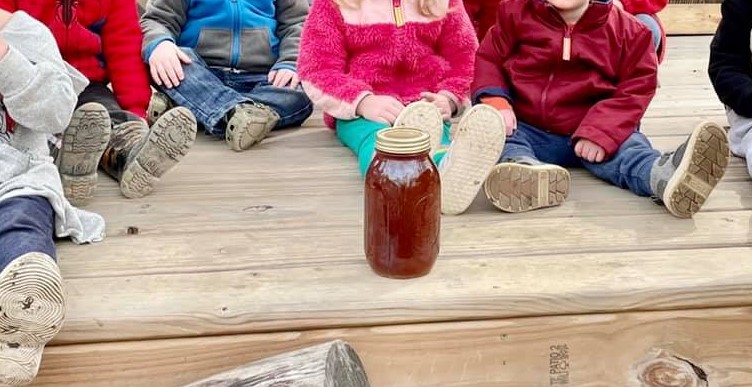 One of many skills that young children develop is delayed gratification. Tapping and exploring the maple tree sap allows children to see the steps in developing syrup and build their patience skills.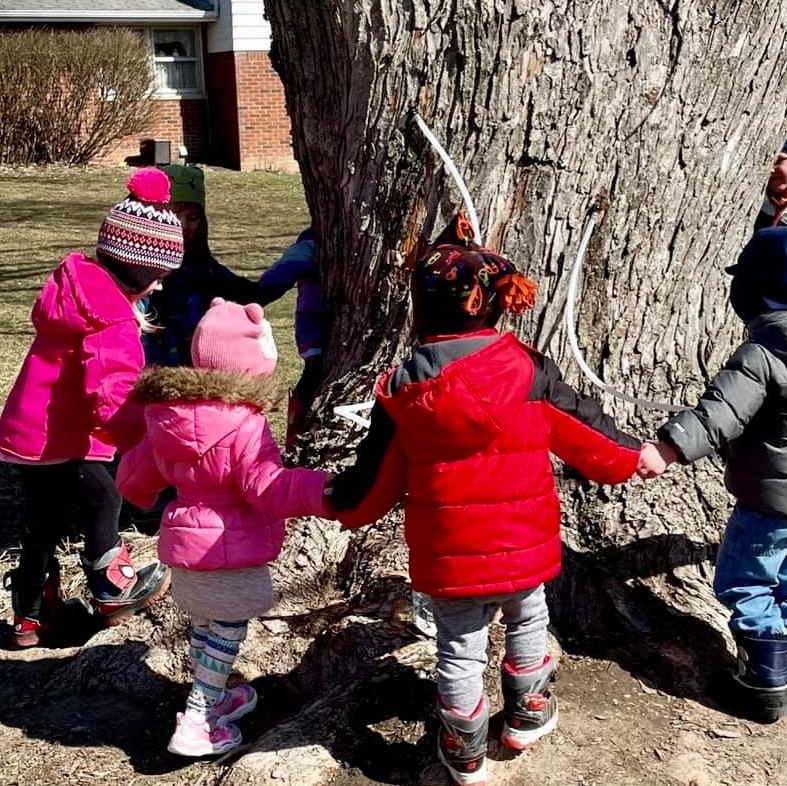 In the book The Last Child in the Woods, Richard Louv (2005) links the lack of nature in the lives of children to being part of a "wired generation." He says attention disorders, depression (yes, in children), and obesity are all due to a "Nature Deficit." This is an amazing book and a great resource for teachers. I encourage you to read it and bring more nature into your work with children
Kids love to dig and what's more exciting than finding a Roly Poly? Supply the kids with shovels, magnifying glasses and bug containers and let them go to work. I purchased all of my supplies at the Dollar Store making it very reasonably priced. You could use recycled food containers and spoons found in your kitchen if you don't have access to these materials.
Here are some fun facts about roly polies that you may not know:
They are found in most regions of the world and live in moist dark areas, under rocks, bark, leaves and logs.
They like to eat decaying plants or other vegetation. (What other creatures eat this type of food? Extend your science activity by setting out a fresh carrot with a rotten carrot and see which one the Pill Bugs will eat.)
Pill bugs have three body parts, seven pairs of legs, two antennae and two eyes.   They are ¼ to ½ of an inch in length and can roll into a ball when frightened. These are great facts to discover with your children. Bring out the magnifying glasses!
Pill bugs are actually not bugs, they are crustaceans. They are related to shrimp and crayfish, breathe with gills, and need humidity or moisture to survive. You can explore other types of crustaceans with children as well.
The pill bug goes through two stages of development: egg and adult. The female can lay up to 100 eggs, which are held in a pouch (like a kangaroo). After about two months as an egg, they hatch and emerge as a tiny adult. They grow by molting (shedding their skin) and can live up to three years. Good information to research with children. Try checking out a book about pill bugs.
You can explore habitats of all kinds of animals, bugs, or crustaceans. Try creating a roly poly habitat with children out of found materials. However, you also want to help children respect animals and their natural habitats. So make sure they know you ALWAYS put animals back in their natural habitats at the end of every day.