In the book The Last Child in the Woods, Richard Louv (2005) links the lack of nature in the lives of children to being part of a "wired generation." He says attention disorders, depression (yes, in children), and obesity are all due to a "Nature Deficit." This is an amazing book and a great resource for teachers. I encourage you to read it and bring more nature into your work with children
Kids love to dig and what's more exciting than finding a Roly Poly? Supply the kids with shovels, magnifying glasses and bug containers and let them go to work. I purchased all of my supplies at the Dollar Store making it very reasonably priced. You could use recycled food containers and spoons found in your kitchen if you don't have access to these materials.
Here are some fun facts about roly polies that you may not know:
They are found in most regions of the world and live in moist dark areas, under rocks, bark, leaves and logs.
They like to eat decaying plants or other vegetation. (What other creatures eat this type of food? Extend your science activity by setting out a fresh carrot with a rotten carrot and see which one the Pill Bugs will eat.)
Pill bugs have three body parts, seven pairs of legs, two antennae and two eyes.   They are ¼ to ½ of an inch in length and can roll into a ball when frightened. These are great facts to discover with your children. Bring out the magnifying glasses!
Pill bugs are actually not bugs, they are crustaceans. They are related to shrimp and crayfish, breathe with gills, and need humidity or moisture to survive. You can explore other types of crustaceans with children as well.
The pill bug goes through two stages of development: egg and adult. The female can lay up to 100 eggs, which are held in a pouch (like a kangaroo). After about two months as an egg, they hatch and emerge as a tiny adult. They grow by molting (shedding their skin) and can live up to three years. Good information to research with children. Try checking out a book about pill bugs.
You can explore habitats of all kinds of animals, bugs, or crustaceans. Try creating a roly poly habitat with children out of found materials. However, you also want to help children respect animals and their natural habitats. So make sure they know you ALWAYS put animals back in their natural habitats at the end of every day.
Nature Play as an Everyday Joy of Childhood
    For Kids, Frequency Requires Proximity
Most of us who enjoyed nature play in our childhoods realize that it didn't matter if we had a pristine patch of forest to play in or just a couple of vacant city lots. Either way, there were endless things to find, explore, capture, imagine, and play with. But what was important is that these places were right there, within our walking/running/biking distance. No car, no parent, and no schedule were needed to get outside and play in nature.
The children and nature movement is fostering wonderful new ways for kids to play outdoors, such as designed natural playspaces, family nature clubs, and naturalized schoolyards. These and other similar efforts are valuable steps — not only for the kids, but for parents who are re-considering their children's indoor, nature-deprived lives. Yet most of these new approaches are challenged in one vital dimension: frequency.
When Dr. Louise Chawla (University of Colorado) researched influential childhood experiences in nature, she found that, "The special places that stood out in memory, where people formed a first bond with the natural world, were always a part of the regular rhythm of life."1 Those powerful experiences didn't typically come from annual family camping trips, but rather from day-after-day, week-after-week events in children's lives. Actually, no special research is needed to realize that frequent childhood activities have more lasting impact than ephemeral ones. For instance, practicing the violin once a month is not a very effective strategy! Is it better than nothing? Perhaps — but only if you set your sights very low.
The same equation applies to nature play. If we want it to have maximum impact, then it needs to be "part of the regular rhythm of life." It seems unlikely that we can achieve this solely through monthly meet-ups or widely scattered playspaces — strategies that require parents, cars, and calendars, and thus compete for time within families' hectic schedules. Are these approaches valuable? Absolutely! Are they sufficient? Unlikely.
If we really want to power-up nature-based play, it needs to be available where children can enjoy it almost any day, without adult involvement or confining schedules. For most kids this means either home yards or neighborhood parks — and (sadly) only the former is likely to alleviate the fears of 21st-century American parents. Can a typical quarter-acre suburban yard actually support nature play? Or a city lot half that size? Or an apartment courtyard? The answer is yes, especially for kids of about two to eight years old. Younger children's worlds are much smaller than those of adults. They don't need sprawling spaces or eye-popping vistas. Their attention naturally focuses on tiny and manipulable pleasures: on dandelions rather than rose gardens; on earthworms rather than herds of bison; on a patch of dirt to dig in rather than a yawning cave to explore.
Unfortunately, the typical American yard is no haven for nature play. Good nature play requires "rich" settings — that is, a diversity of plants, animals, and landforms that create endless opportunities for discovery and engagement. Turf grass lawns, solitary shade trees, and a few neatly trimmed shrubs do not meet these criteria. However, even the sparest yard can be augmented for good nature play with a little thought, a dose of elbow grease, and much less money than what those elaborate backyard play sets cost.
The key is to create yards with a "density of diversity:" a collection of micro-habitats that will harbor lots of natural discoveries and delights throughout the seasons. These micro-habitats might include a shrub thicket, a wildflower garden, a jumbled pile of boulders, a tiny garden pond, a butterfly garden, a berry patch, a mass of tall native grasses, or even a space allowed to just grow into whatever comes up! Once you've established a few of these tiny worlds in your yard, you can enhance them with a digging pit or a giant dirt pile, a couple of large logs, bird and toad houses, a bench or hammock in a quiet nook, and plenty of "loose parts" to nurture creative and constructive play. These loose parts can be branches, driftwood, cattails, bamboo poles, boards, tree cookies (log slices), tarps, seed pods, pine cones, large boxes, hay bales, and whatever else you can readily scrounge up.
By focusing your primary efforts on creating multiple micro-habitats, you will ensure authentic nature play: interactions with real nature, in all of its beauty, wonder, unpredictability, and adventure. Manufactured outdoor play components — like the plastic play equipment designed to look natural — do not create the same connections to the natural world. Kids can't peel the bark off a plastic log to find rolly-pollies, and they won't find monarch caterpillars feeding on fiberglass leaves. In fact, one big, over-grown wildflower bed — or a patch of flowering shrubs laced with tiny paths — will bring more lasting and real nature play to your kids than will any human-made product!
Note, though, that nature playscapes are more "messy" than most home landscaping, so you may want to keep much of your nature play zone in the backyard where it won't generate hostility from neighbors who think front yards should look like golf greens. However, certain nature play features are usually "dressy" enough to bring into front yards, like butterfly gardens, boulders, and herb gardens. And by highlighting street-side nature play, you may encourage other local parents to think more about "kid-scaping" their own yards. Nature play zones get better and better when more of your neighbors imitate and add to your own efforts!
None of these steps towards home-based nature play require great knowledge, training, or expense. They can be implemented bit by bit, and your plans can be in constant flux as you discover what your kids and their friends most enjoy. The ultimate goal is to create enough nature play "critical mass" so that your kids are excited to play in their own yards — day after day, and whenever they wish. Then nature play will be a regular joy for your children; then it will achieve the frequency needed to influence and benefit them for decades to come!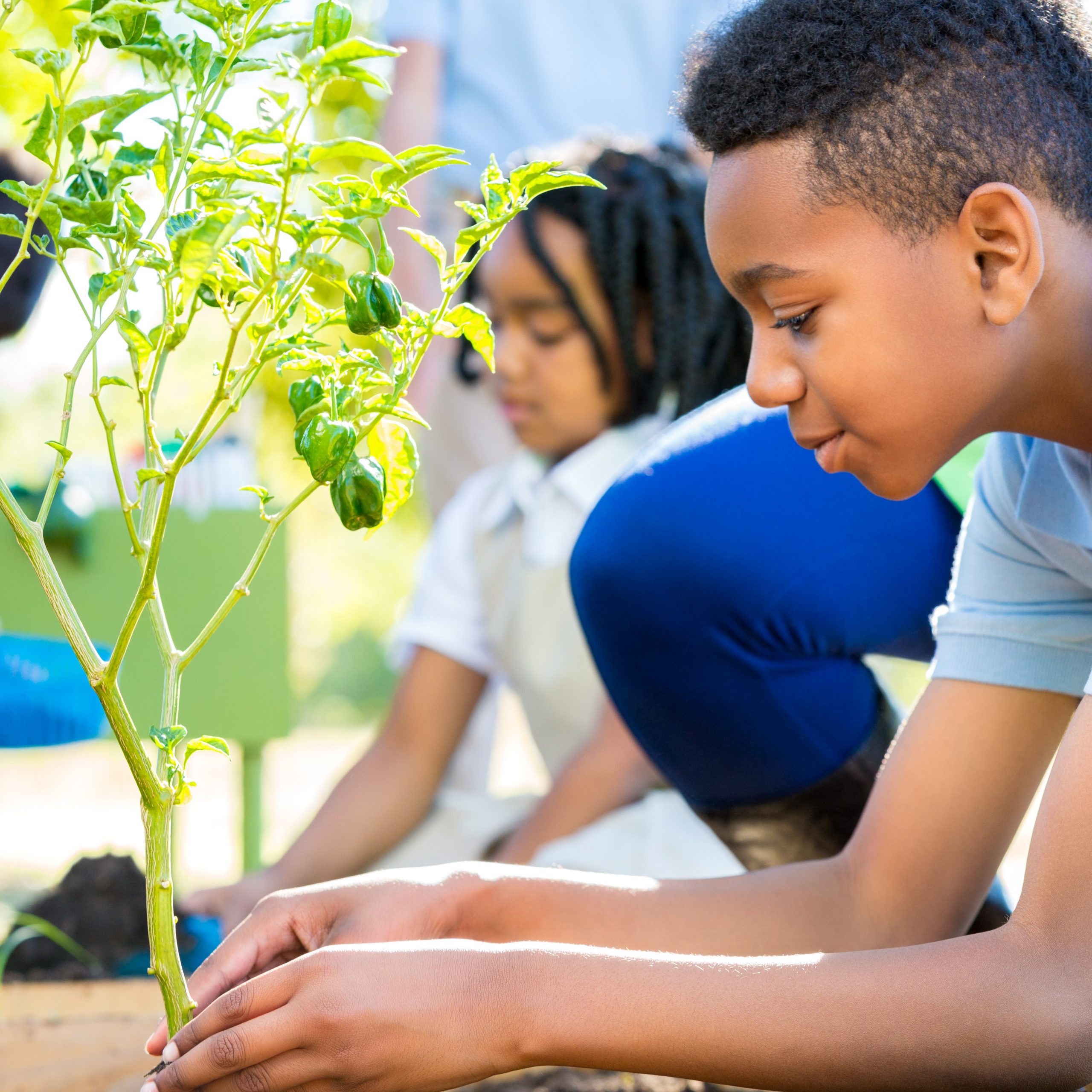 Article courtesy of Community Playthings
En el libro The Last Child in the Woods (El último niño en el bosque), Richard Louv (2005) establece un vínculo entre la falta de naturaleza en la vida de los niños y estar en una "generación electrónica". Dice que los trastornos por déficit de atención, la depresión (sí, en los niños) y la obesidad se deben a un "Déficit de Naturaleza". Este es un libro increíble y un gran recurso para los educadores. Los animo a leerlo y a incorporar más naturaleza en su trabajo con los niños.
A los niños les encanta escarbar y no hay nada más emocionante que encontrar un Roly Poly (cochinillas).  Proporciona a los niños palas, lupas y recipientes para insectos y déjalos trabajar. Yo compré todos mis materiales en la tienda del dólar, lo cual resulta muy económico. Si no tienes acceso a estos materiales, puedes utilizar recipientes y cucharas de comida reciclados que encuentres en tu cocina.
Aquí tienes algunos datos curiosos sobre los roly polies que quizá no conozcas:
Se encuentran en casi todas las partes del mundo y viven en zonas húmedas y oscuras, bajo rocas, troncos y hojas.
Les gusta comer plantas descompuestas u otra vegetación. (¿Qué otro tipo de criaturas comen estos alimentos? Amplía tu actividad científica colocando una zanahoria fresca junto a una zanahoria en descomposición y observa cuál se comen).
Las cochinillas tienen tres partes del cuerpo, siete pares de patas, dos antenas y dos ojos. Miden de ¼ a ½ pulgada de largo y cuando se asustan pueden enrollarse en una bola. Son datos estupendos para descubrir con los niños. ¡Saca las lupas!
Las cochinillas no son insectos, sino crustáceos. Son parientes de los camarones y los cangrejos de río, respiran con branquias y necesitan humedad para sobrevivir. Es posible explorar otros tipos de crustáceos con los niños.
La cochinilla pasa por dos etapas de desarrollo: huevo y adulto. La hembra puede colocar hasta 100 huevos, que guarda en una bolsa (como un canguro). Después de unos dos meses como huevo, emergen como un pequeño adulto. Crecen mudando la piel y pueden vivir hasta tres años. Es buena información para investigar con los niños. Intenta consultar un libro sobre las cochinillas.
Puedes explorar los hábitats de todo tipo de animales, insectos o crustáceos. Intenta construir un hábitat roly poly con los niños utilizando materiales encontrados. Sin embargo, también debes ayudar a los niños a respetar a los animales y sus hábitats naturales. Así que asegúrate de que sepan que SIEMPRE regresamos los animales a su hábitat natural al final de cada día.
You may have heard about the idea of loose parts and how wonderful they are for encouraging children's exploration and play. This handout created by Penn State Extension offers tips for using loose parts, examples of types of loose parts, and outlines some of the benefits of play with loose parts. Chances are you have several loose parts for children to explore already in your home, so get them out and get ready to play!
Looking for a new way to support outdoor play?  Chantelle Simmons, owner of Under the Oak Tree, sent these ideas for organizing natural materials and creating a play kitchen outside.
"We placed small metal buckets in plant pot holders on the railing to organize our natural materials.  We change what are in the buckets quite often.  In the picture, there are different types of stones.  We also use them to hold acorns, pinecones, seed pods, as well as a variety of other natural materials.  We also re-worked an area making it into a kitchen-like environment.  We have more plans to extend this area.  We have hung garden hose baskets on the wall to hold watering cans, tools, and kitchen items."
I recently visited the Botanical Garden near Chicago with my children and also participated in a Nature Workshop, which has left me amazed at the calming and restorative power of being in nature.  It is something I know as a parent of two active young boys is of utmost importance as a part of our every day life.  And it is something that I think I just know, in my bones, from my childhood.  Nature is really powerful for uncluttering the mind.  Maybe it is the air, or the activating of the senses, or the feeling of sharing the experience of nature (even if you are alone) with humankind.
It also recently dawned on me that these nature experiences appeal to my senses in an aesthetic way and I feel a sense of inner calm with its beauty.  The grounds at the Chicago Botanic Gardens are almost overwhelmingly beautiful and the amount of care put into making them so healthy and vibrant and beautiful is also overwhelming.  The workshop was a science and nature workshop, but was equally an aesthetic experience, and placed in the more organic and natural forest setting of the North Park Village Nature Center.  It was a day of serenity and beauty that was restorative to my spirit and energy.
This is as true for young children as it is for adults. I love taking children outside and into nature areas. They immediately seem to slow down. They begin to look intently for insects and they make new discoveries. When I can finally convince them to leave they are calmer and more focused at the same time. For some, art can bring about the same experience of calm and focus. By combining the two we can tap into the inner calm of children and provide an escape from the sometimes overbearing, overwhelming, and demanding world around them.
We encourage everyone to get out and experience more nature with children and bring drawing materials. You will be amazed at the change in behavior, mood and focus that comes from experiencing art and nature together.
A container garden can be a great way to garden when space is limited and also a great way to get children started with gardening.  Taking part in the process from seed to plate is a great learning opportunity for children, and might even get picky eaters to try something new that they have helped to grow themselves!  This resource gives tips for how to create a garden of edibles, from choosing containers to selecting the kinds of edible plants you would like to grow.  There are links to many other resources to support this activity.
Growing Edibles in Containers Handout
Celebrate Earth Day by doing something good for the earth with the children in your care.  These Town Square resources are some possibilities for using recyclables or taking advantage of nature.
Creative Projects Using Recyclables
Nature Explore is a collaboration between the Arbor Day Foundations and Dimensions Educational Research Foundation. They support the development of outdoor classrooms and nature play for schools, centers, and family child care homes. They also have materials to support outdoor play for families which is appropriate for family child care providers.  Check out their free Nature Explore Families' Club Kit.  You can see all the Nature Explore resources for families here.
This space is used for a gathering area for the kids (or a fort/playhouse).
I went to Menards to look for ways to create a natural play house (since I gave away my two plastic little tykes houses). I originally planned to do an arch hut that I saw on Pinterest using a garden arch but when I saw the prices, I just kept walking. I then came up with the idea of using garden trellis, stakes and bamboo fencing. The garden trellis was an accordion type (pictured below), so it can expand to whatever size you want. I already had the rubber pavers, so decided to make it around those and that's how I determined my size.
Step 1: Hammer the stakes into the ground. (I purchased 4 foot stakes with the rubber coating so they wouldn't rust). If your sides are long, you would need a stake for each corner and then a stake for each wall for support.
Step 2: Zip tie the accordion fence to the stakes
Step 3: Zip tie bamboo fence on three sides of the structure.

Step 4: Trim off excess bamboo to the height you want the structure to be.
Step 5: Place garden stakes on top to support the bamboo roof. Make sure to measure the width of your structure to know what size stakes to get. I rested them on top of the accordion fence and zip tied them in place.
Step 6: Lay the bamboo fence on top and zip tie it down.
Tip: Measure your space first so you have an idea of how many materials you will need.
Tip: You will need a lot of zip ties to make it sturdy. I purchased natural colored zip tie.
Tip: I did purchase an outdoor rug to place on top of the rubber pavers. This gave them a little bit cozier area and makes it easier to sweep rocks off of.