This reading from the Head Start Early Childhood Learning and and Knowledge Center for Cultural and Linguistic Responsiveness revisits the Multicultural Principles handbook from 1991.  It provides updated research and information on key points including:
Culture has an influence on the beliefs and behaviors of everyone.
Culture is passed from generation to generation.
Culture is dynamic and changes according to the contemporary environment.
Home language is a key component of children's identity formation.
Successful programs respect and incorporate the cultures of children and families.
The first principle is "Every individual is rooted in culture".  To view all of the updated principles visit ECLKC.
Every Individual is Rooted in Culture
Esta actividad creada en la Plaza de la Ciudad le ayudará a comprender mejor su propia creencia como educador y le ayudará a desarrollar una relación con las familias, cuyas prácticas familiares no está de acuerdo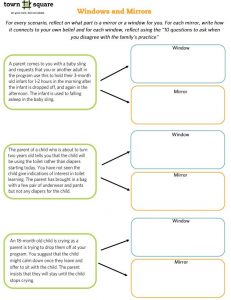 Para usar este documento en su computadora usando Microsoft Word, haga clic
Si prefiere una copia física, por favor, descárguela e imprímala.