Part 2  – Indoor large motor play activities for programs with limited access to an outdoor space, bad weather, or to share with families
Balloon ping pong – Using a paper plate or piece of cardboard and a stick, create a simple paddle. Then tie a string to a balloon and hang it down from the ceiling or doorway. Invite the children to hit the balloon with the paddle.
Tape maze – Use painters' tape to make a fun maze on the floor. Ask children to then walk, hop, skip and jump to follow the tape. Different lines or shapes can indicate different ways to move. You can also use the maze for a car road by moving toy cars along the tape.
Hit the target toss – Using a bean bag, soft toy or plastic ring, add a mark on each step of a staircase. Add some extra fun and put numbers, colors or shapes on each stair. Ask each child to toss the object at the designated targets. You can also try this on a flat surface, just be sure to arrange the targets further apart from one another.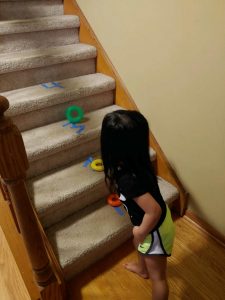 Paper airplane challenge – Take some paper and use some to cut out shapes of different sizes as targets, then tape the paper with the cut out targets across a doorway. Have children create their own airplane to try to fly through the targets. Encourage creating different kinds of paper planes and challenge the children to fly their airplane through different targets.
Ball Maze – Cut out strips of paper and then use tape to place them on the floor, arrange the arches to create a maze. Using a ball, ask children to roll under the arches to the end of the maze.
Simon Says – Play an active game of Simon Says, using paper cutouts of handprints or footprints, call out the name of the body part to have children move to reach the printout. Try adding different learning concepts, use shapes, colors, numbers depending on the children in your care.
Obstacle Course – Have each child design one part of an obstacle course and take a photo of it, shuffle the order of the photos to decide the order of the obstacle course, you can also draw the order or have children guide one another through the course. 
Printable version  Indoor large motor activities 2parte

Best for infants around 1 mo. Infant should be lying in front of you. Hold your index fingers up to the infants fingers touch gently until they grasps each finger firmly. Gently pull baby forward and watch baby hold on tight, straighten arms and begin to sit forward. Smile and say things like,  "look how strong you are"!
Goal: Supports the development of muscle and vision as baby focuses on your voice and face while using their arm and hand muscles.
Let children use blocks (cardboard or soft blocks work well), pillows/cushions, and even furniture to set up an obstacle course where they can climb, crawl under, and move in various ways to make their way through. This is also something that can be set up outside with natural landscape features, using chalk on sidewalk to mark areas, or even with riding toys as part of the course.
Goal: Children will work collaboratively to set up and run through an obstacle course.
Parte 2 – Actividades de juego en casa usando los motores grandes para programas con acceso limitado a un espacio externo,  días con mal clima o para compartir con las familias
Ping pong con un globo – Usando un plato de papel o un pedazo de cartón y un palo, crea una simple paleta. Después amarra una cuerda a un globo y cuélgalo del techo o de la puerta. Invite a los niños a golpear el globo con la paleta.
Laberinto de cinta – Usa cinta de enmascarar para hacer un divertido laberinto en el piso. Pídale a los niños que caminen, salten o brinquen para seguir la cinta. Diferentes líneas o formas pueden indicar diferentes maneras de moverse. También puede usar el laberinto para un camino de coches moviendo coches de juguete a lo largo de la cinta.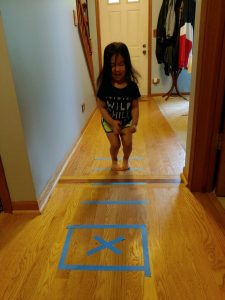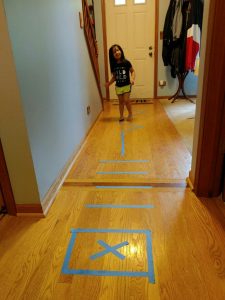 Tira al blanco – Usando un juguete de peluche o un anillo de plástico, haz una marca en cada escalón de la escalera. Incorpore algo de diversión extra y ponga números, colores o formas en cada escalera. Pídale a cada niño que tire el jugete a los objetivos designados. También puede intentarlo en una superficie plana, pero asegúrese de colocar los objetos separados unos de otros
Desafío de los aviones de papel – Toma una hoja de papel y use un poco para recortar formas de diferentes tamaños como objetivos, luego pega el papel con los objetivos recortados a través de una puerta. Haga que los niños creen su propio avión para tratar de volar a través de los objetivos. Anime a crear diferentes tipos de aviones de papel y desafíe a los niños a volar su avión a través de diferentes objetivos.
Laberinto de pelotas – Corta tiras de papel y usa cinta adhesiva para colocarlas en el suelo, ordena los arcos para crear un laberinto. Pídale a los niños que rueden la pelota por debajo de los arcos hasta el final del laberinto.
Simón Dice – Juega un juego activo de Simón Dice, usando figuras recortadas en forma de huellas de manos o pies, di el nombre de la parte del cuerpo para que los niños vayan a la figura. Intente agregar diferentes conceptos de aprendizaje, use formas, colores, números dependiendo de los niños a su cargo.
Carrera de obstáculos – Haga que cada niño diseñe una parte de una carrera de obstáculos y tome una foto de ella, mezcle las fotos para decidir el orden de la carrera de obstáculos, también puede dibujar la orden o hacer que los niños se guíen unos a otros a través de la carrera.
Versión para imprimir Juegos de motores grande parte 2
Sit at a table, hold the baby in your arms in front of you, resting your elbows on the table. Tilt baby up at an angle so you are face to  face with the baby. Gently, slowly rock and sing or hum to get babies attention. When baby is looking at you, speak to baby looking straight into baby's eyes. Gently lower baby on his/her back and repeat.
Goal: Babies focus on the face and voice and build their neck muscles, which helps them hold their head up.