You don't have to spend a lot on supplies for children to enjoy creating interesting projects.  Check out these suggestions from PBS Kids for re-using boxes, paper towel tubes, and more.  You can start with these ideas and let the children come up with even more.  Best of all, it is making use of materials that might otherwise fill up the trash!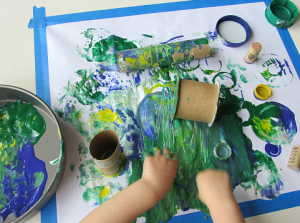 Make your own game of bowling using recycled 1 or 2 liter bottles. make them fun by decorating them with colorful masking tape. Helpful tip, seal the top on with a glue gun so the bottles do not crush easily. Use any ball to knock down the pins.
Goal:  Children will develop large motor skills and hand-eye coordination with this activity.