Sharing ideas on how to use social media – specifically Facebook groups to communicate with families

Adapted from Janet Gonzalez-Mena and Navaz Bhavnagri these questions are helpful for providers to self reflect when struggling with a family's practice, that is different than their own.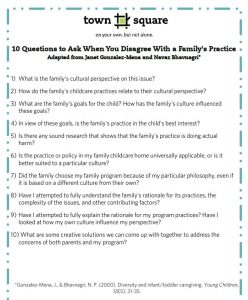 You don't have to be a technology expert to create a blog. There are many tools out there to use, but you can also get started by just creating a business facebook page. It is a really good way to have positive communication with parents and show prospective parents what you are about.  Even one short post a day adds up to hundreds over the year.  Just make sure you have signed permission forms from parents and avoid posting direct images of children's faces.  This is easier than you think. Check out this provider blog. She spends a few minutes a day posting and parents get a really great sense of what their children are doing all day and throughout the year. Yay for Explore More Learning.
Don't forget however, it is important to limit the time you spend documenting and posting to your blog and it should never interfere with the quality time you spend with the children.