The trauma-informed approach is guided by the "Four R's": Realize the widespread impact of trauma and understanding potential paths for recovery; recognize the signs and symptoms of trauma in clients, families, staff, and others involved with the system; respond by fully integrating knowledge about trauma into policies, procedures, and practices; and seeks to actively resist retraumatization. (SAHMSA,2014)  This Town Square-created resource gives practical ways to utilize the Four R's.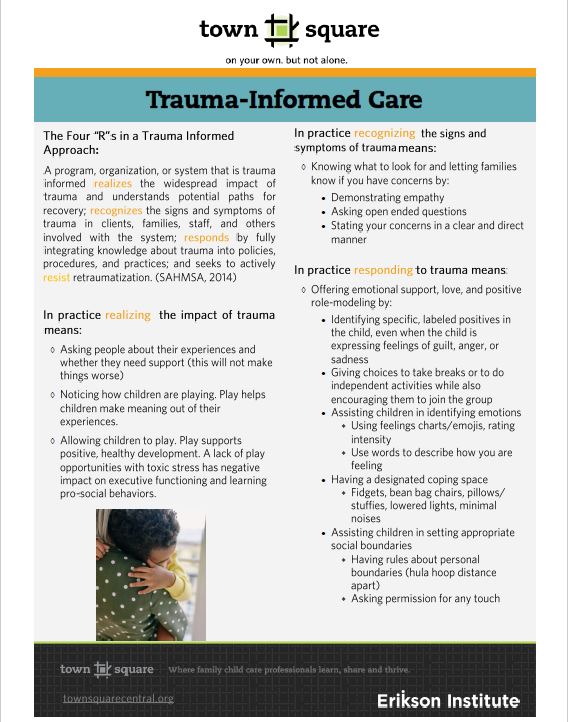 A huge part of our work is caring for the health and well-being of the children we care for. However, for us to do this effectively, we need to also care for ourselves. This resource created by The Office of Child Care, State capacity Building Center an office of  the Administration for children & families, highlights the importance of caring for our wellness, exploring the eight areas of wellness ( physical, emotional, and mental health, environmental, occupational, social, intellectual, financial, and spiritual). The resource also helps in reflecting on how we currently support each area and how we can better plan to support all areas.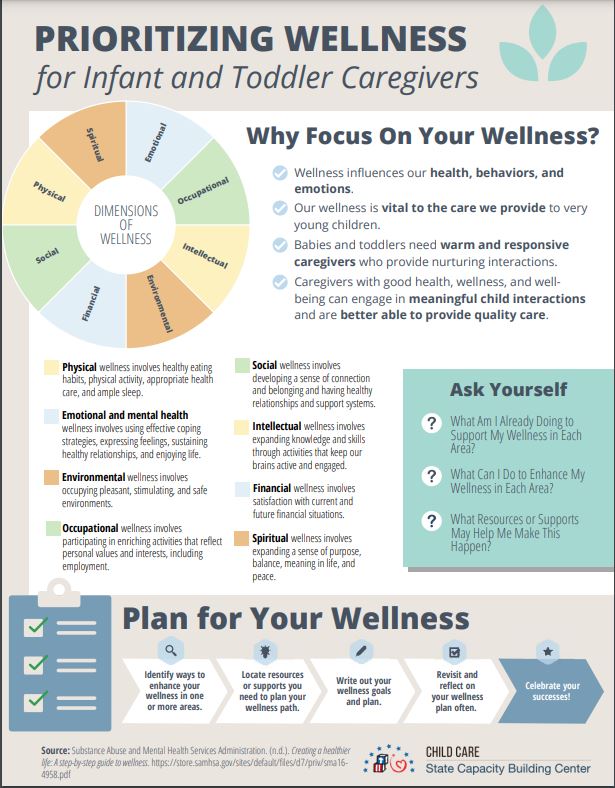 The webinar on January 20, 2016 sparked conversations about common scenarios that family child care providers often face in working with families. It can be challenging to approach parents concerning their child's behavior. Sometimes the behavior is not occurring at home, only in the family child care environment. Sometimes parents see the behavior you describe at home as well, but they aren't sure what to do about it. It can be difficult to have a discussion with a parent about their child's behavior not knowing how they will react. Visit the Town Square discussion board to connect with other providers and share ideas about ways to approach talking with parents.
You may have heard the expression that parents need to have a "united front" with their children. We believe family child care providers and parents need to have a united front as well. Beginning with an open conversation with a parent regarding your concerns about their child's behavior and also lets parents know that you want to collaborate with them to provide consistent messages and responses to children is the starting point.
Try to set the parent at ease and let them know you would like their help to develop a plan to address the issue. Parents may feel embarrassed or upset about the behavior, so reassure them that you will find a solution together. Your years of experience and knowledge of children can further reassure parents. Your experience counts for a lot and you can always seek further resources and help.
When collaborating with parents, each person needs to feel good about and comfortable with the plan. The benefit of collaborating with parents is the consistency for their child. Children feel more secure when they are getting the same message of expected behavior instead of mixed messages. Set goals together for the child and a time to talk again and assess the plan and the child's progress, and make adjustments and changes to the plan as needed.
To view the Child Development for the Family Child Care Provider webinar visit the Grow page on Town Square.