Bring the mirrors outdoors and enjoy this simple and rewarding activity! During the early years, children are enamored with their own reflections. Providing this opportunity to study themselves, and create art, encompasses many different skill sets for young children.
Infants: Infants will enjoy simply looking at themselves in a mirror. Offer a hand mirror on a blanket where they can gaze and practice tummy time!
Toddlers: Help toddlers label their own features in the mirror. Encourage them to explore different art materials without concern about the final product. Focus on correctly holding utensils (pencil between fore finger and thumb).
Older Toddlers: Encourage older toddlers to recognize simple shapes in their features and transcribe those shapes on their drawing. Encourage correct handling of utensils, and help children write their names.
Pre-K: Encourage children to write their names and label their features when finished with their portraits.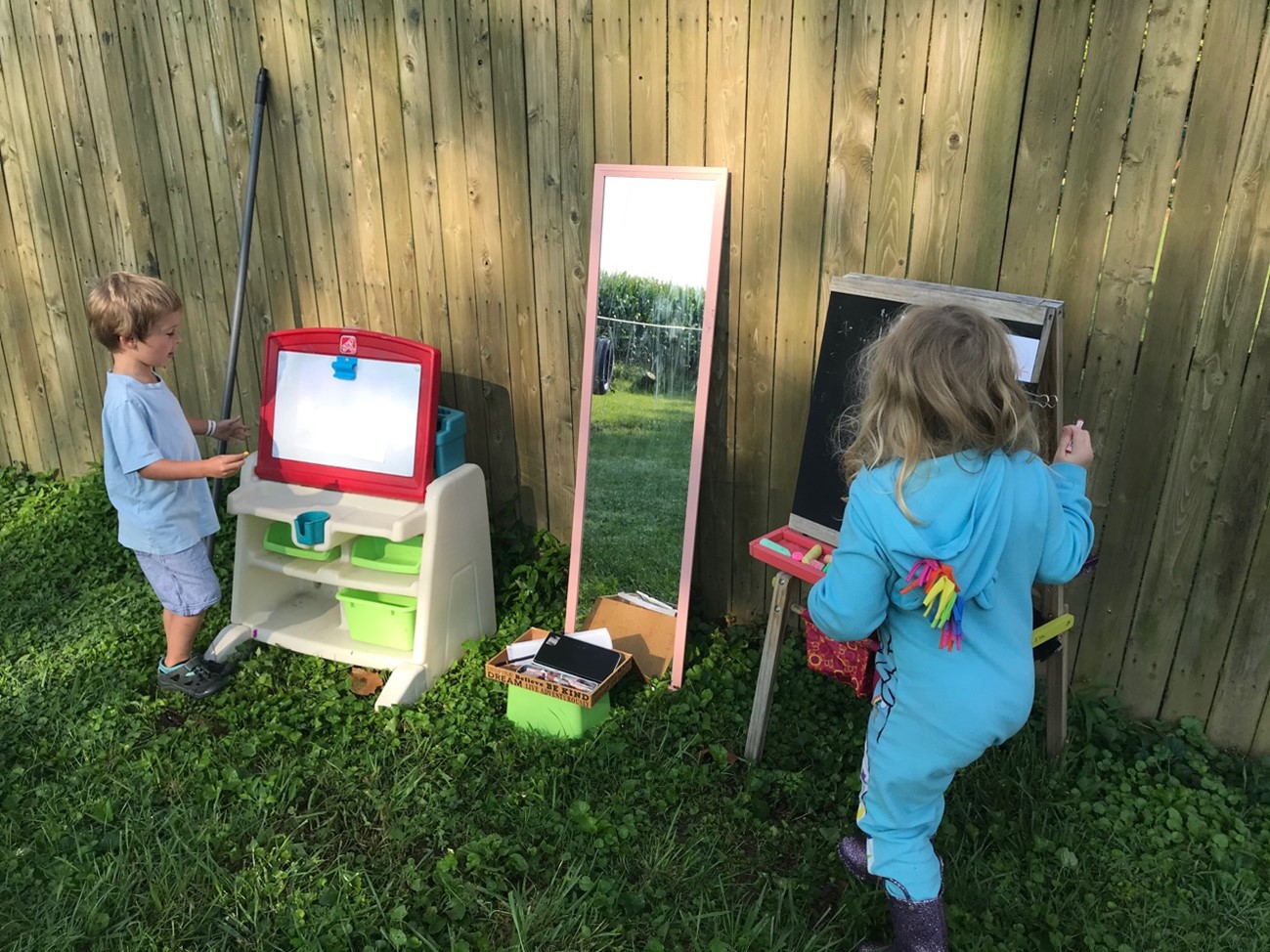 Have you tried self portraits in your program?  Have a fun activity?  Share it with us info@townsquare.org
Check out the Learn, Share, and Grow series on Excursions.  In this three-part series providers will hear about benefits of outings and ideas for before, during, and after an outing to expand children's learning and to make the excursion go smoothly. Explore this and many other series on our Professional Development page, under Learn, Share, and Grow section.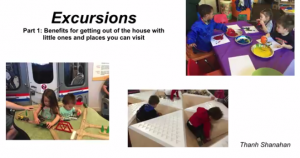 Theo the Bear began as a way to welcome new children into the program. I introduced him as a friendly companion they could cuddle and rely on throughout the day. If they wished to take Theo home, they were welcome to do so, but they had to bring him back the next day for more fun. Theo helped children feel more comfortable and secure in the classroom, making the transition smoother.
After a while, we stopped using Theo because there were no new children enrolling. However, he remained a beloved member of the classroom and became the sharing bear. As a sharing bear, he is available for everyone to take home. I explain to the children how much Theo loves going on adventures and visiting their homes. To enhance his travels, I added some accessories to Theo's small bag, such as clothes, a brush, and a book. During their birthday week, each child takes Theo home for a week-long trip. Families are then asked to help children record their adventures in the Theo book by adding pictures or drawings. At the end of the week, they share their adventures with the class.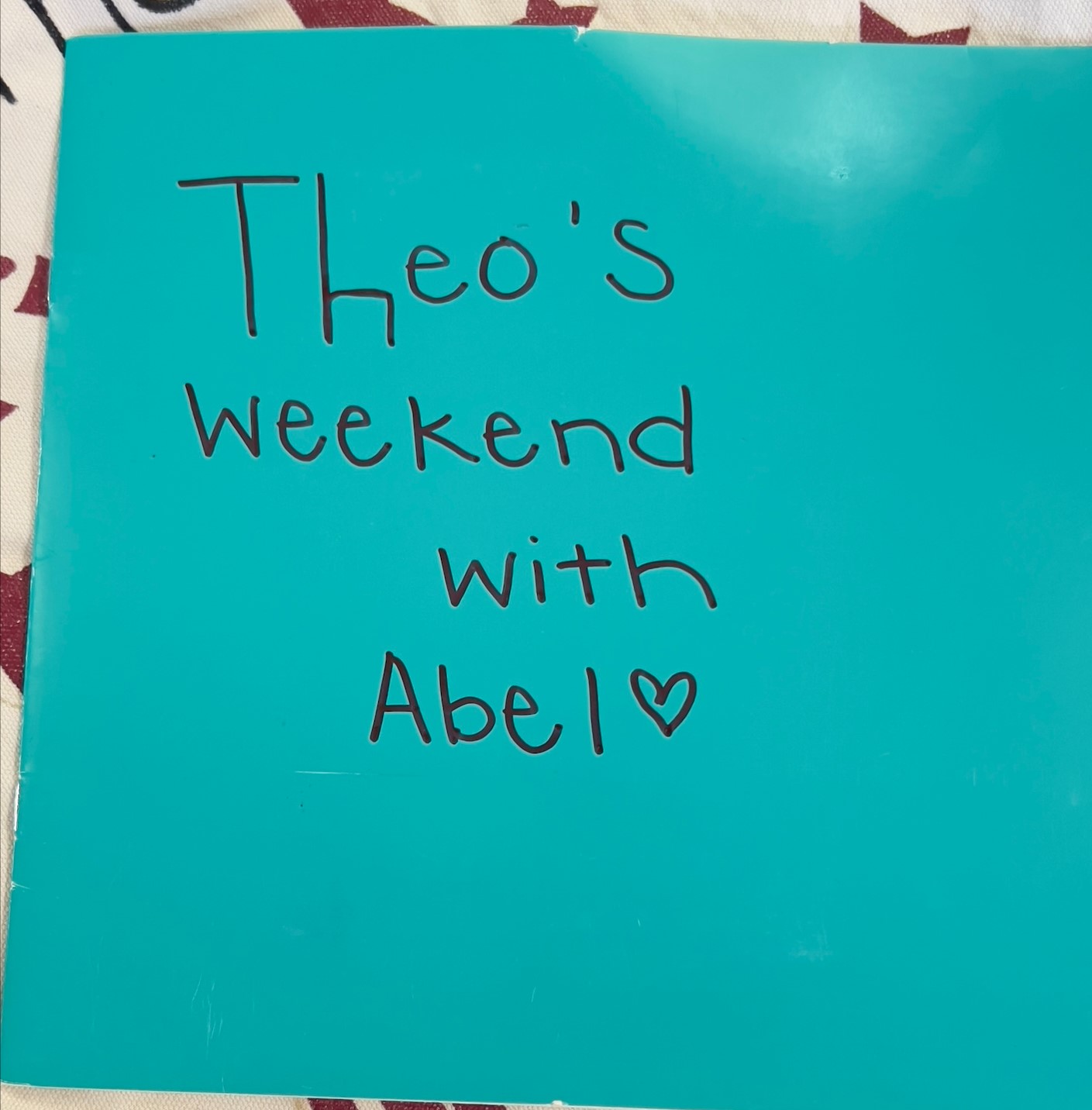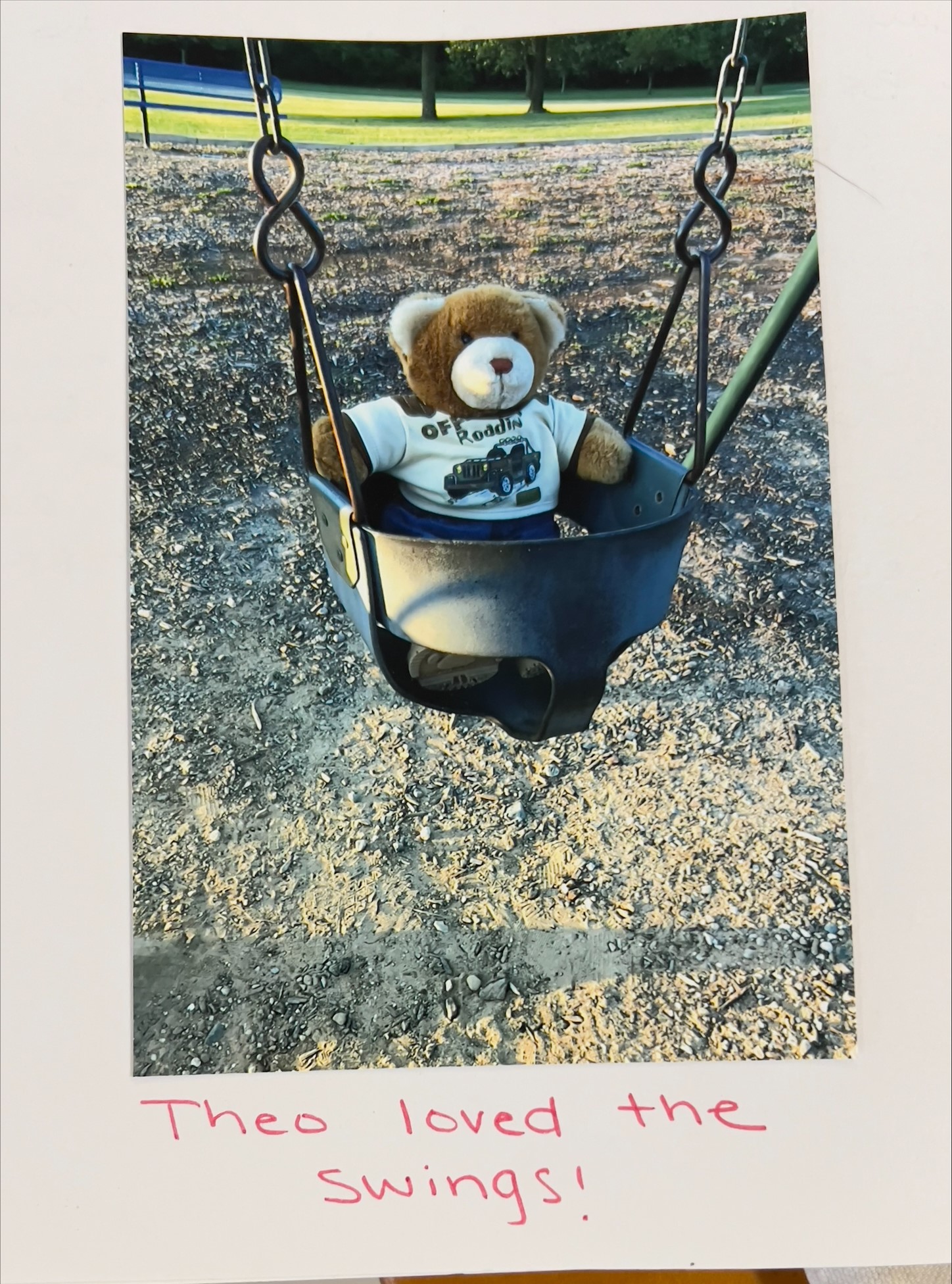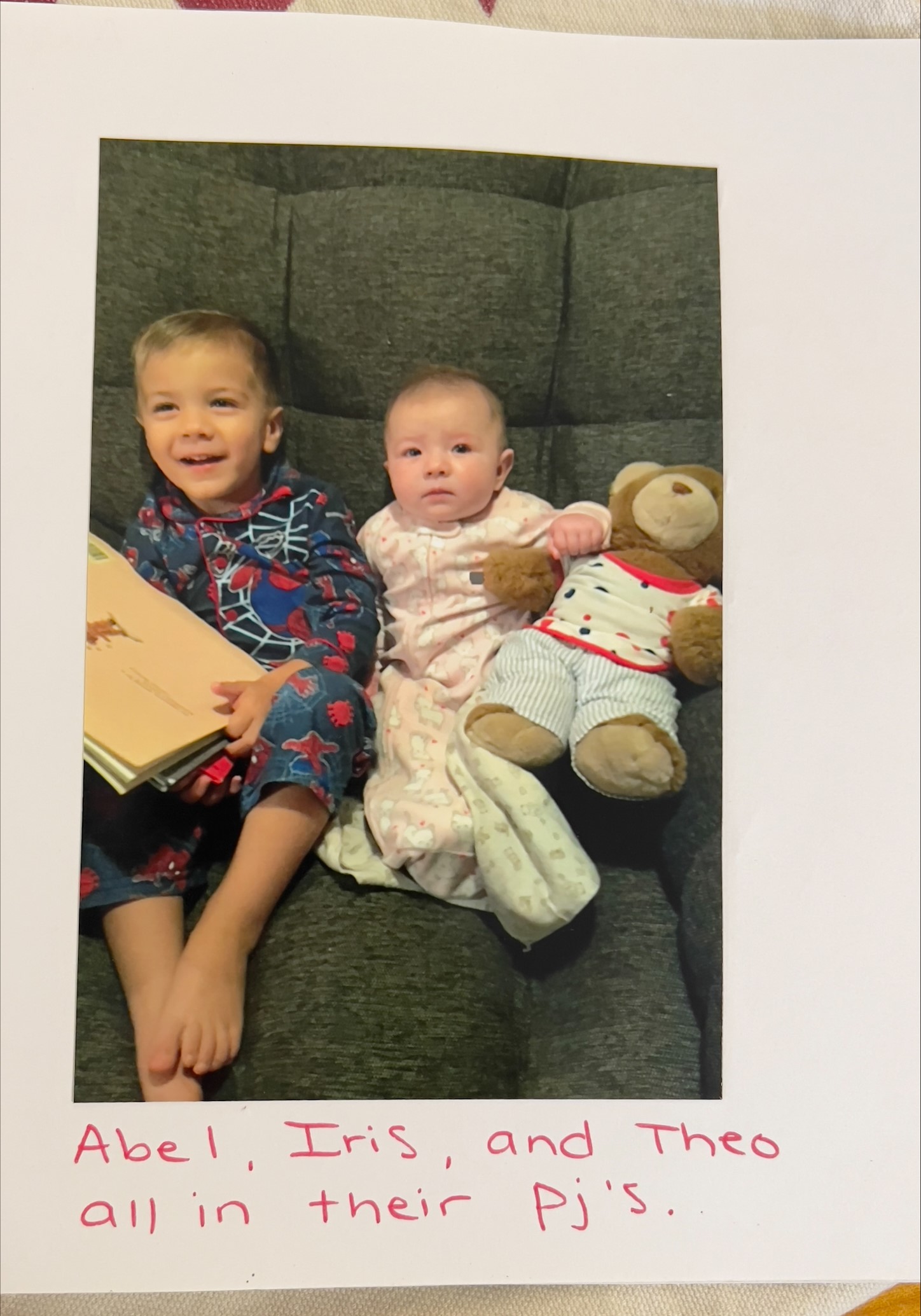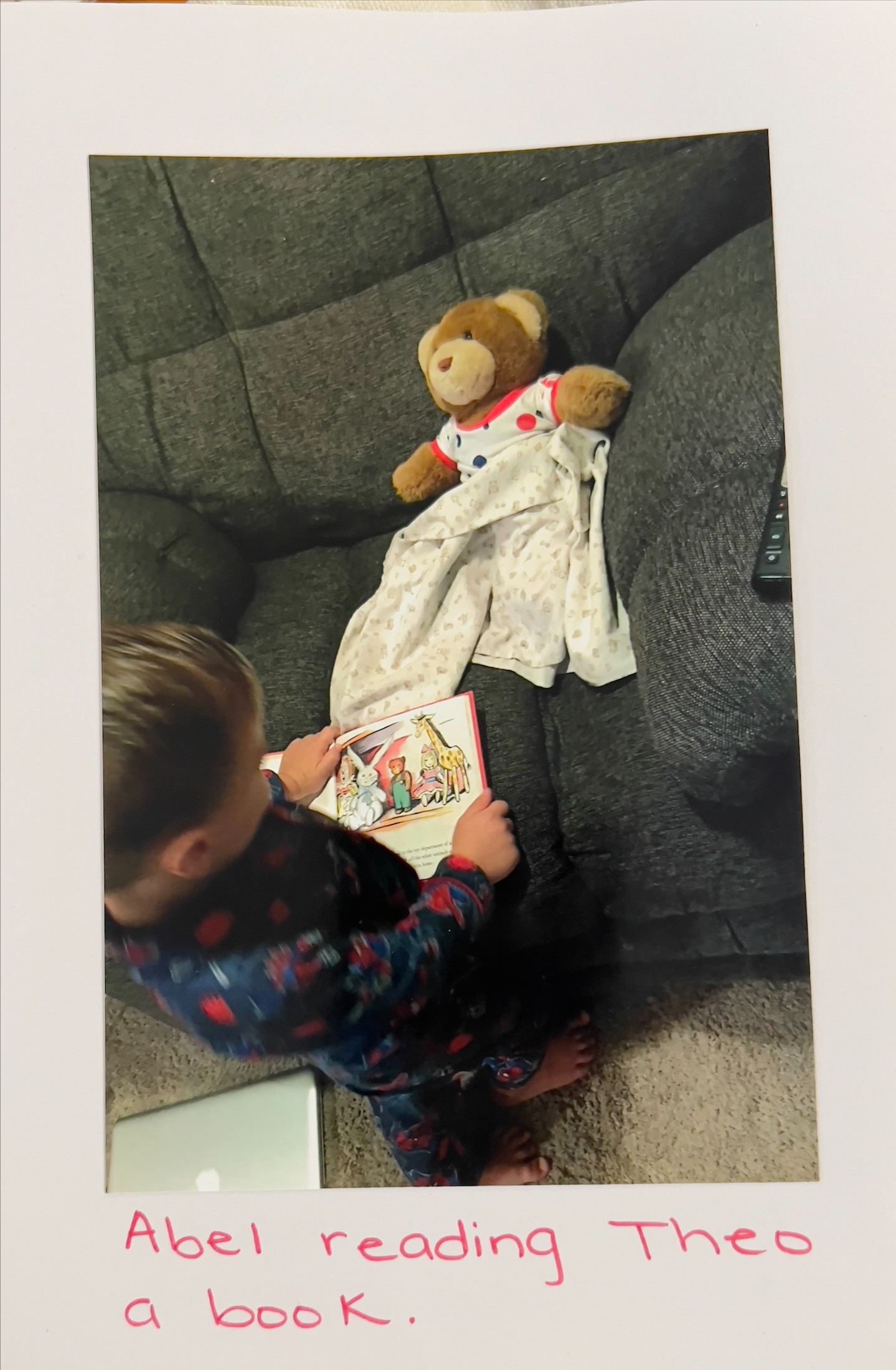 Looking at the sky is a simple and relaxing activity that fosters observation and creativity skills. It can change your perspective of the world as you have to explore a broader view. Children can see different animals or flying objects, some we may have missed if we don't look up. They can also observe cloud formation and shape. Develop their creativity in describing what clouds look like and the stories the clouds are telling us. Next time you are outside, encourage children to look up and explore the sky. You can invite them to this activity by simply laying down a blanket or, if available, providing binoculars!

One of our favorite and must exciting activities is exploring worms. To start, we first figure out where worms live; often, children have seen worms out on the sidewalk or crawling on dirt and have a good idea of where to search for more. Exploring all the places in our outdoor space where they can live—asking children where they saw them and where they could have crawled under. By taking on this approach to finding the worms, we set the groundwork to learn more about worms' habitat. Plus, it is fun to look for clues.
Once we decide where to look, the fun and messy part starts, children can use their hands, or I provide shovels so they can dig in the dirt. Figuring out what children are comfortable with is key; some will love to touch the dirt, while others may not want to. The same can be said for when we find a worm. Some children are curious and want to pick them up immediately. Others may want to see them from afar. We give children space and allow them to go at their own pace in the exploration.
If they are touching the worm, we talk about kindness, responsibility, respect, and compassion for the worm. Years ago, when we saw a worm or bug, I would immediately say, "look with your eyes, we might scare it or hurt it". Over time I have learned the importance of having children experience holding insects, animals, and materials. I had to shift my thinking, and instead of avoiding the touching. I began to trust the children. Talking with them about how we treat animals and how we want to make sure we are caring for nature. Allowing them to take responsibility and feel proud of how they care for others helps them develop a great sense of self.
Maple samaras or helicopters are winged seeds of maple trees; because of their shape, it is fun to see them fall and twirl in the air. Stephanie Mckinstry of My Caterpillar Clubhouse shares fun ways to utilize these seeds in your program.
Start by collecting the leaves, having children gather as many leaves as possible, and then setting them out so they can explore.
Encourage children to toss them to see them twirl or to separate the leaf from the seed.
Opening the seed and observing what they see, feel, and hear. You can also add a muffin tin or container to separate the leaf from the seed.
They are a great addition to the mud kitchen, or incorporate them in your indoor dramatic play area.
Use the seeds to count or create patterns.
Once dried, they are an excellent collage material and can easily be glued or painted.
Get creative and encourage the kids to use their imagination!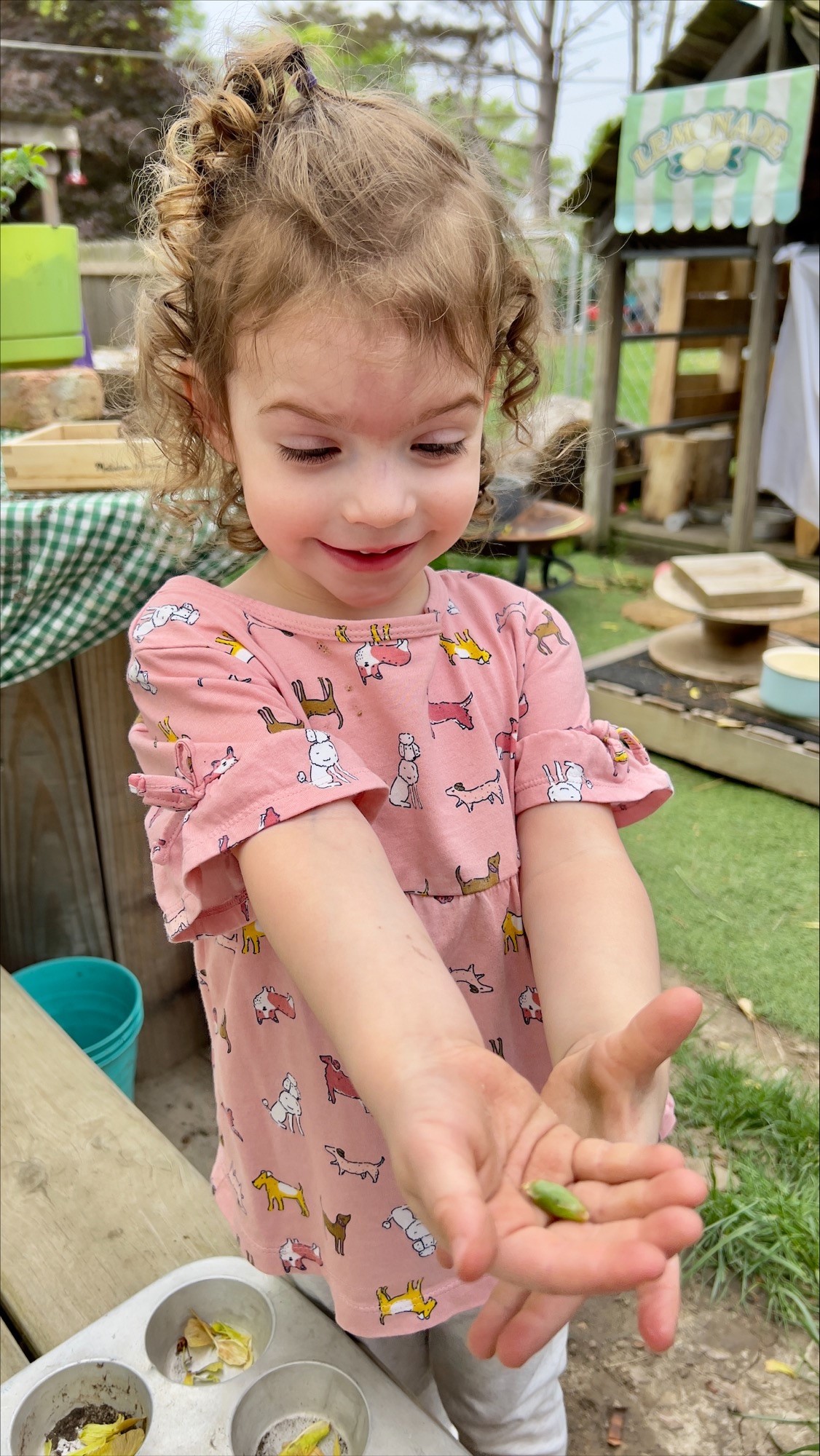 Gardening has many benefits for young children, including developing responsibility skills , fostering a sense of community, and developing confidence as they care for the plant and observe the growth. To begin, all you need are a few materials, and gardening doesn't need an ample outdoor space; you can easily create a small indoor garden to fit your program.
Stephanie Mckinstry from My Caterpillar Clubhouse, a Certified Nature Explore Classroom, shares more benefits of gardening, how she begins her garden indoor  and transfers the seeds to her outdoor garden. Watch below.
When I was a family child care provider I was lucky enough to live in the Chicago Metro Area and had a world of museums at my fingertips. I would choose every year to have a different annual membership and we would spend a couple of days every month exploring every nook and cranny of that museum. The next year I would move on to another museum. We spent hours and hours exploring Brookfield Zoo, the Chicago Children's Museum, the Field Museum, the Museum of Science and Industry, and Wonder Works Children's Museum. It was relatively inexpensive for the annual passes and I could take as many children on the annual pass as I wanted.
Many of you are probably thinking I am crazy! Field trips can be very stressful I know. But, the trick is to not see it as a field trip, but rather as an extension of your learning environment. Having an annual membership that allowed us to visit a couple of times a month meant I was not stressed out about making sure we saw everything in one day. We would often go spend 3 hours just in one or two areas of the museum. There was never any rush. Today some museum policies have changed, you can't always bring in as many children as you want and the parking (at least in Chicago) can be terribly expensive unless they offer deals for annual pass holders. But, it's still worth thinking about. Many of you may have local small museums right in your backyard that you don't even know about. These smaller museums are easier to navigate with young children, cater to smaller groups, and are often really excited you are there. It can be worth inquiring about a membership as a provider if information is not listed.
For example Wonder Works Children's Museum is in Oak Park, IL, a suburb just outside of Chicago. It has free parking and is small at only 6,400 square feet as compared to the Chicago Children's Museum at 84,000 square feet. But it packs a lot of fun into its small space. It has six experience areas including art, dramatic play, farm to market, outdoor theme area, construction, and gardening. Children will be happy to spend many days at this small museum and will love returning for things they remember fondly.
Though transporting children can be challenging (and this is especially true if you only venture out once or twice a year), it gets easier once children know the routine and understand why they are doing it.  So, don't judge your outings based on that once a year jaunt to the pumpkin patch. It can be helpful to remind children "If we get settled in the car quickly, we can get to the museum and play sooner." It is also helpful if the children know where they are going. I know that once I told my children it was a "Wonder Works Day", they would begin to get excited and talk about what they would do once they got there, which made the transportation process that much easier. Please remember that you must always follow licensing guidelines when transporting children.
So check out the big and small museums in your areas and make them into an extension of your learning environment.
We began our exploration by observing the tree, hearing, touching, and smelling the tree. We read a book to learn more about the maple tree and start our tapping exploration.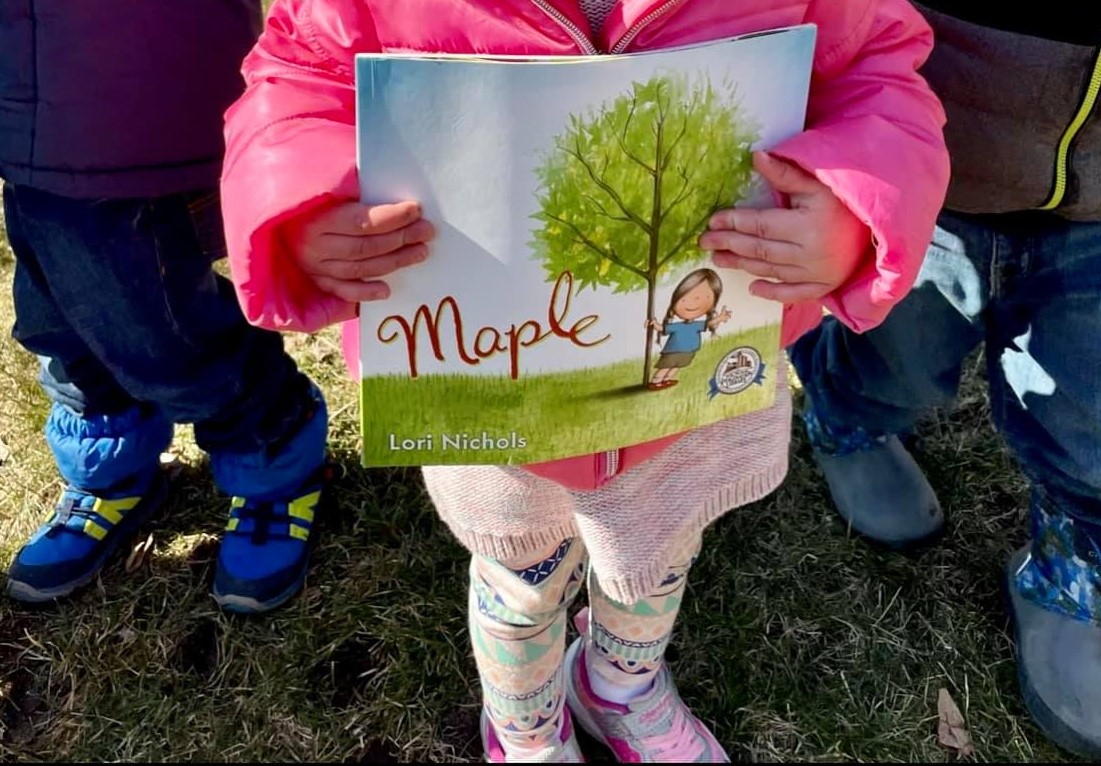 We were all excited about this inspiring learning activity that brings together science, math, forestry, and taste buds.  
Tapping is done in late winter, early spring when days are above freezing and nights are below freezing. We started by inserting the spile into the tree, finding a spot that receives sunshine, and making sure to remove the bark to get a smooth area to tap. 
Tapping helped us learn of the source of real maple syrup. We realized that the tree has sap "water," which contains sugar. Trees store this sugar for their food, and trees have a way of transporting the sap.   
Through tapping the maple, children are supported in observing and inquiring about their natural environment.   
We went outside daily to measure how much maple water we had and if the jugs were full to put out new ones– playing around the Maple Tree was a highlight, and some children would stick their fingers under the tap to taste the sap as it oozed from the tree – learning, that sap isn't the same as syrup. 
Best practice in early childhood education is based on supporting children to understand themselves through the natural world.
In a world that often requires a lot of patience, the kids were excited to finally find their jugs  full to overflowing the following morning.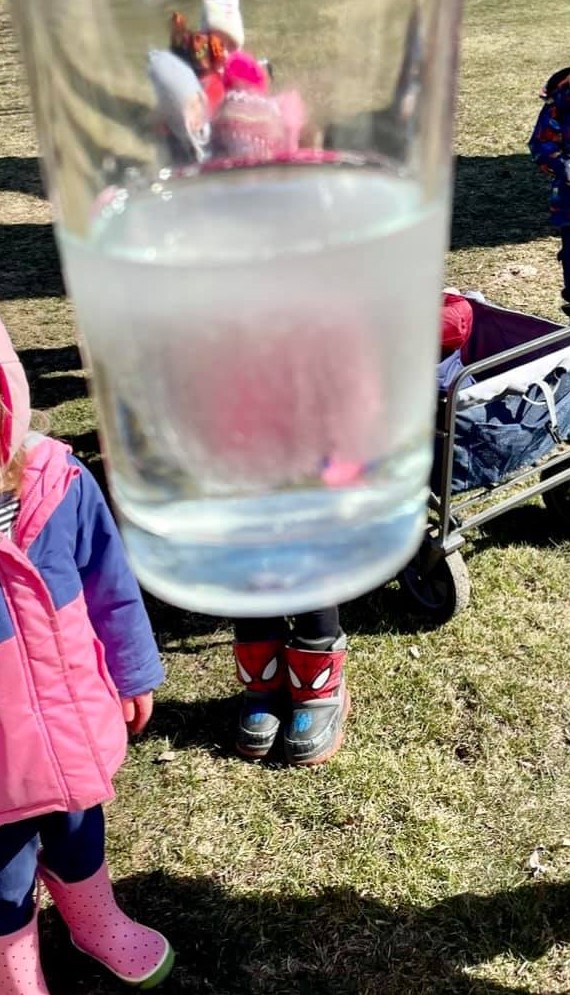 Once we collected 20 gallons, we boiled the sap!
Finally, after about four days, we had syrup and rewarded our patience with pancakes and syrup.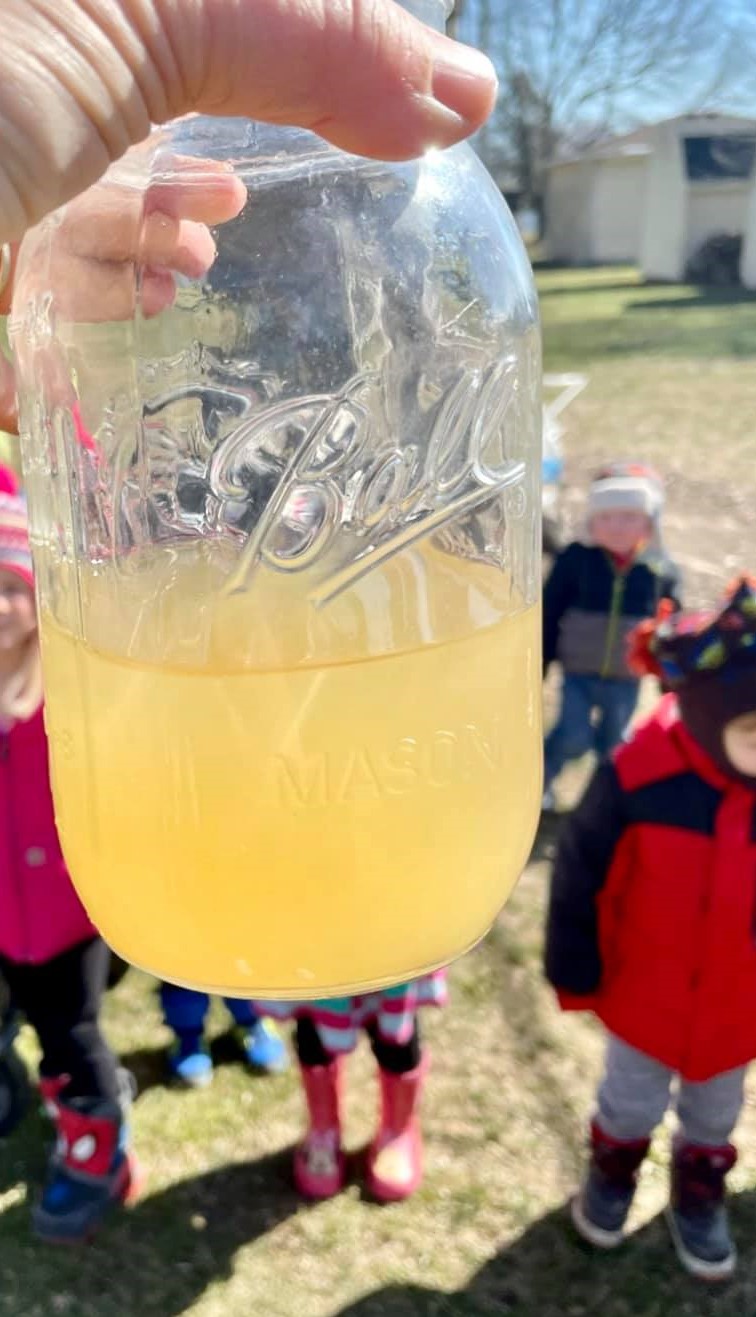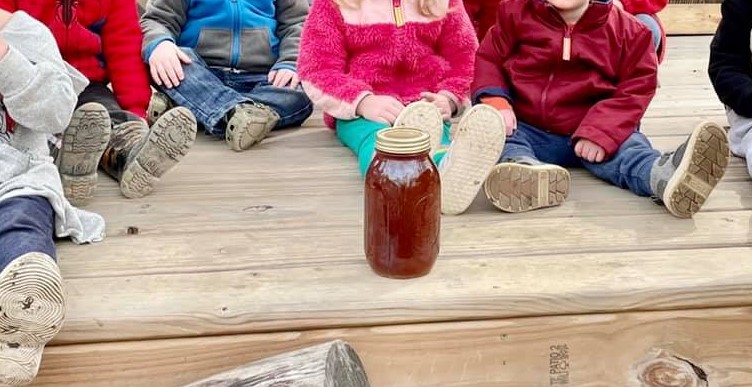 One of many skills that young children develop is delayed gratification. Tapping and exploring the maple tree sap allows children to see the steps in developing syrup and build their patience skills.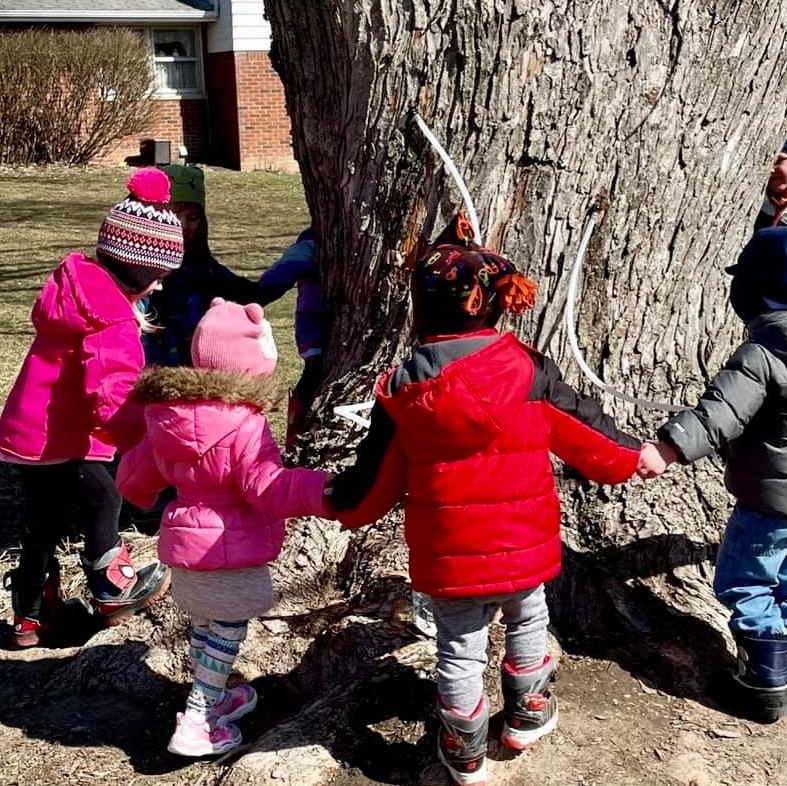 Debido al brote de Covid-19, tuve que reformular mi política de enfermedades para mi guardería y modificar el manual de padres para que reflejara los nuevos cambios inculcados por el Departamento de Salud del estado y las recomendaciones de los CDC.
La política típica de enfermedades en mi guardería consiste en que los niños sólo regresan 24 horas después del último síntoma. (Fiebre, diarrea, vómitos, gripe, etc.) No siempre se requiere una nota del médico al regresar, siempre y cuando el niño espero 24 horas sin síntomas. Esta política tiene sus defectos. Muchas veces, los niños no se recuperan bien cuando pasan las 24 horas. Enfermedades como el virus estomacal, la faringitis estreptocócica o la gripe se transmiten como un incendio forestal, no sólo entre los niños sino también entre el personal, causando interrupciones inesperadas al programa debido a la falta de personal adecuado en proporción a los niños.
El Covid-19 ha cambiado la forma en que manejamos las políticas de enfermedades y también ha mejorado la forma en que los padres se sienten acerca de evitar que un niño enfermo entre en el programa.
Nuestra nueva política de enfermedades, que se añadió como apéndice a la antigua política, refleja un período de exclusión de 48 horas después del último síntoma de fiebre y/o enfermedad. También se requiere una nota del médico al regresar, en la que se indique que el niño está en buena salud y puede regresar a al programa. Estas medidas por sí solas han reducido sustancialmente las enfermedades que se propagan por todo el centro. He visto menos niños y personal enfermo durante esta época del año en comparación con años anteriores. Por esta razón, he decidido convertir estas políticas permanentes.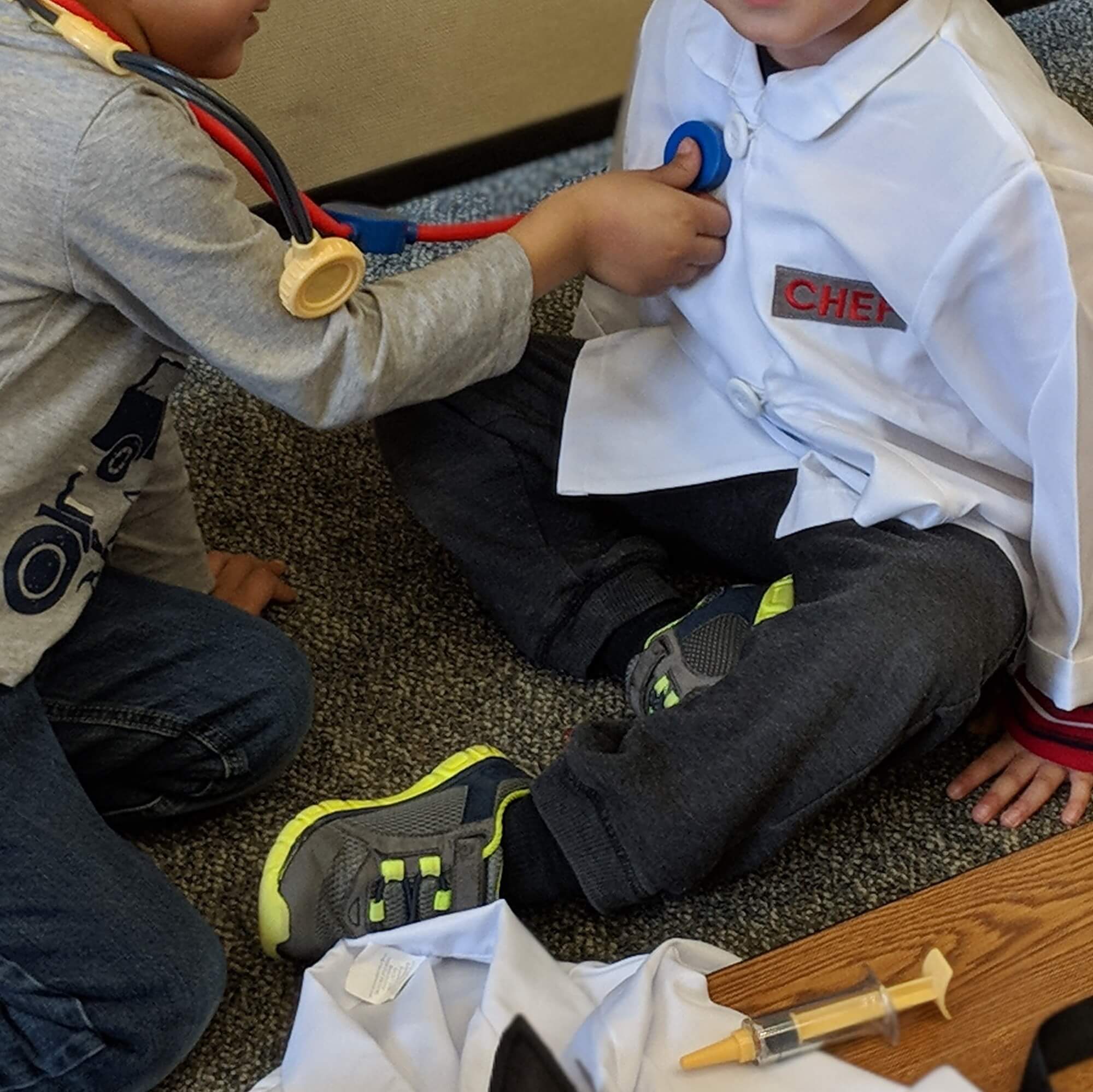 ¿Ha habido cambios en las políticas de su programa debido a COVID-19? Conéctese con nosotros para compartir los cambios y el impacto en su programa.