Play is vital for children; through play, children can develop, explore, and practice new skills. This Town square created a resource aids in developing a better understanding of the skills and learning involved in children's play.
You might think that I'm just playing, but…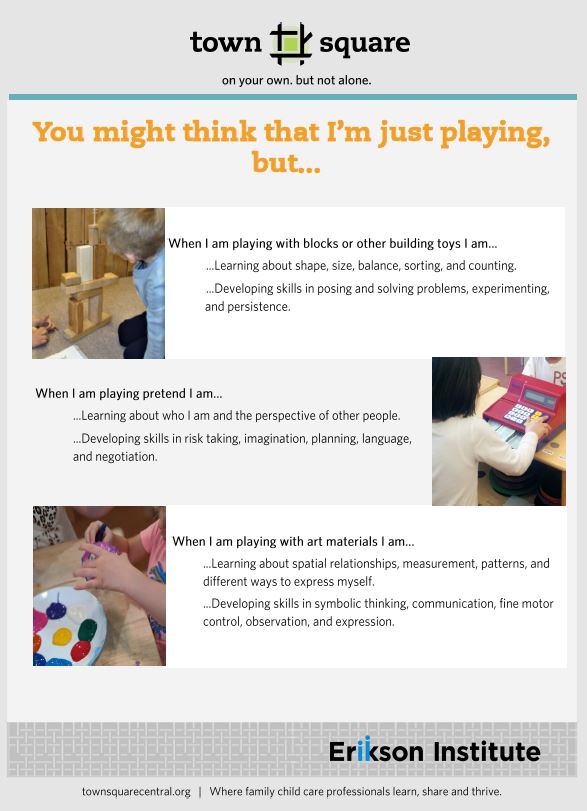 When children are given the responsibility to wash dishes, they are able to develop essential life skills such as responsibility, independence, and self-care. Allowing children to participate and contribute to the family household tasks instilling a sense of accomplishment and  belonging.
To get started, set up a simple pretend sink or washing station with two basins – one with dish soap and warm water, and another with clean rinse water. Have a water source nearby so that children can add more water as needed. It's important to establish a process for emptying and refilling the basins. As children explore and wash the dishes, they will learn how warm water creates suds while cool water cuts suds, how much water is needed to clean, and how to use a sponge to scrub and ensure cleanliness.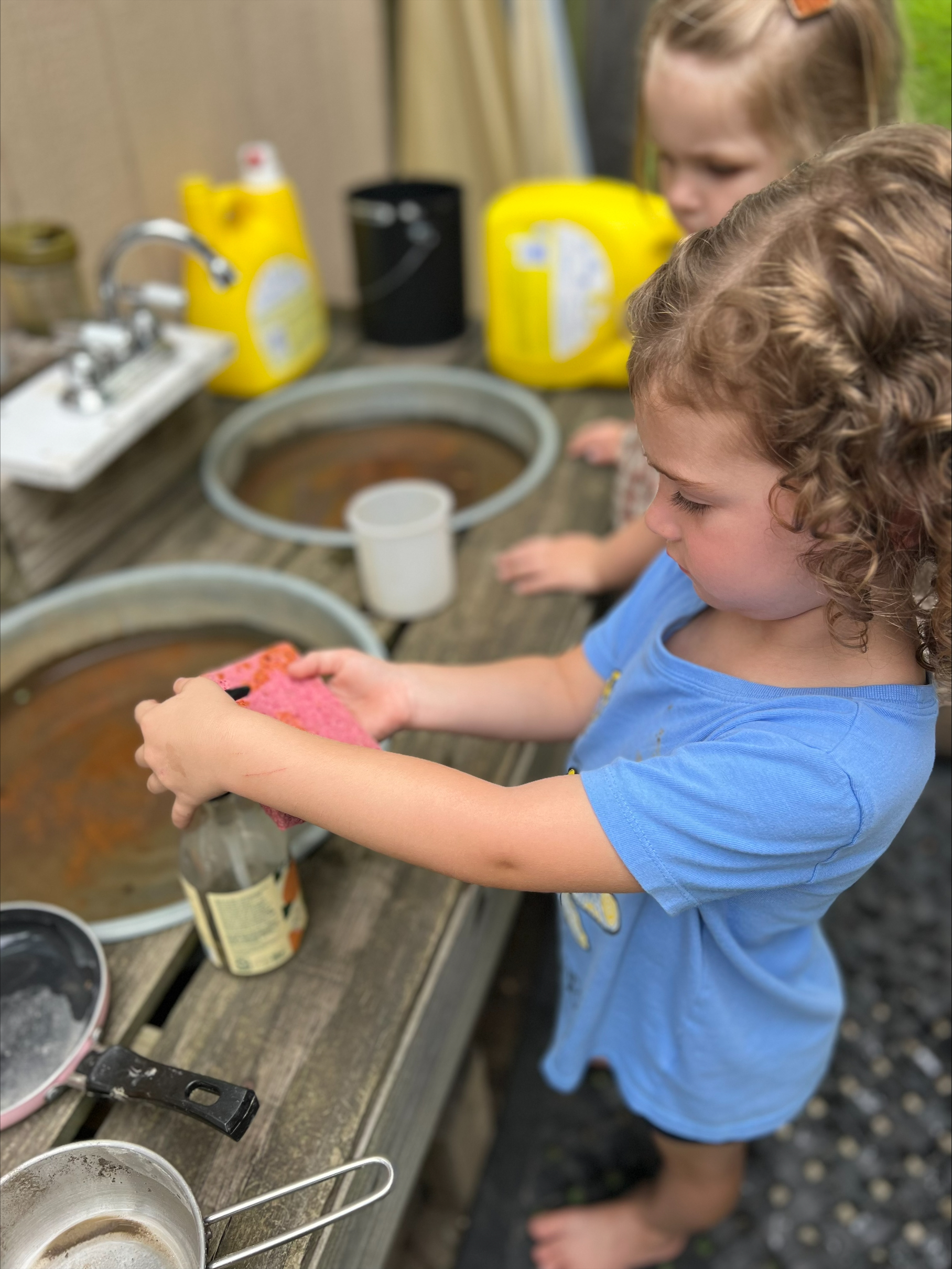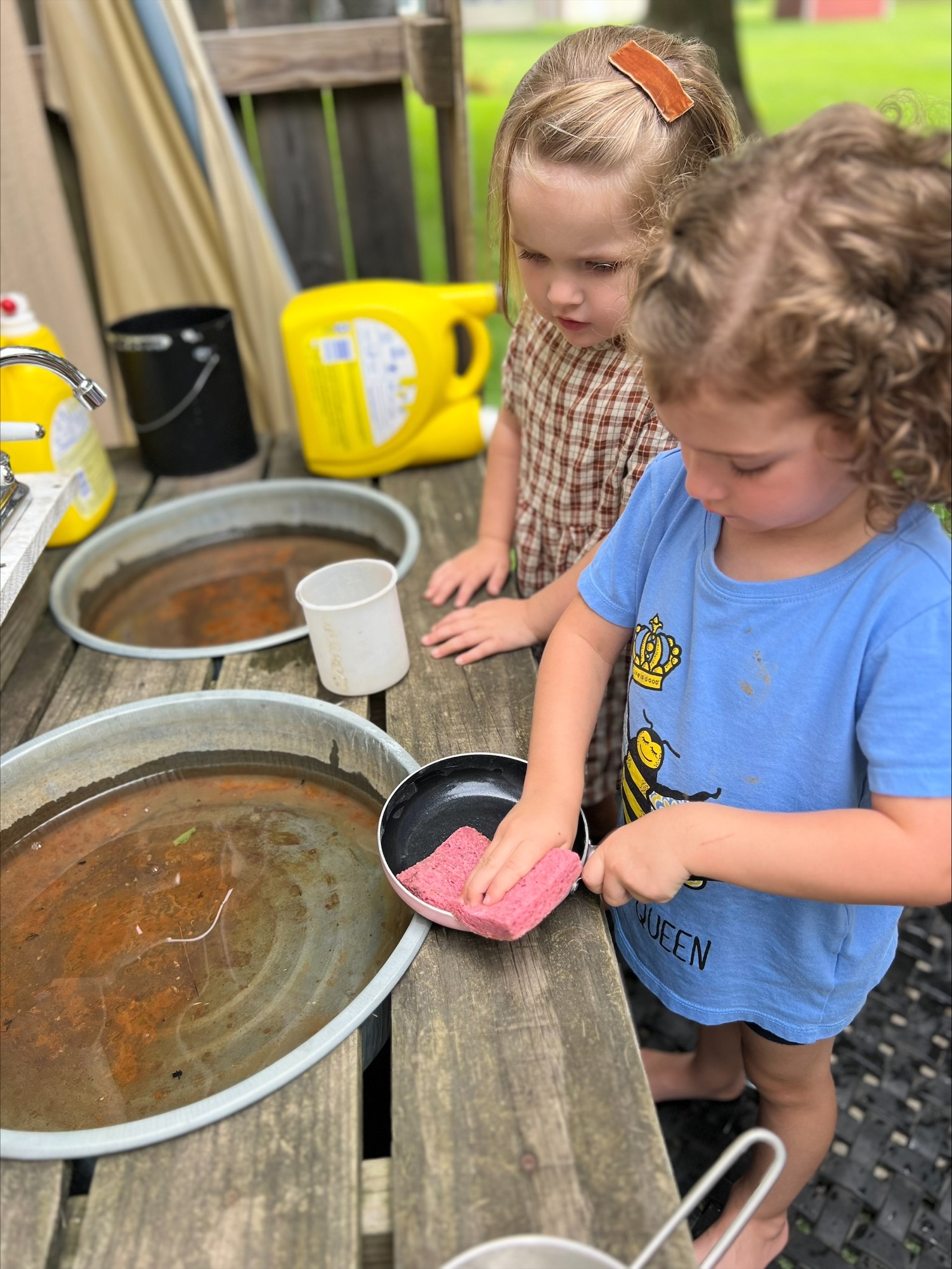 Through dish washing, children develop an internal sense of order as they follow a long sequence of steps. It takes a high degree of self-control to only collect one pitcher of cool water and one pitcher of warm water to pour in the two basins. They also coordinate their whole body in walking back and forth to the outdoor play sink, sometimes carrying a full pitcher, and in balancing as they shift their weight  moving the dishes from one basin to the other.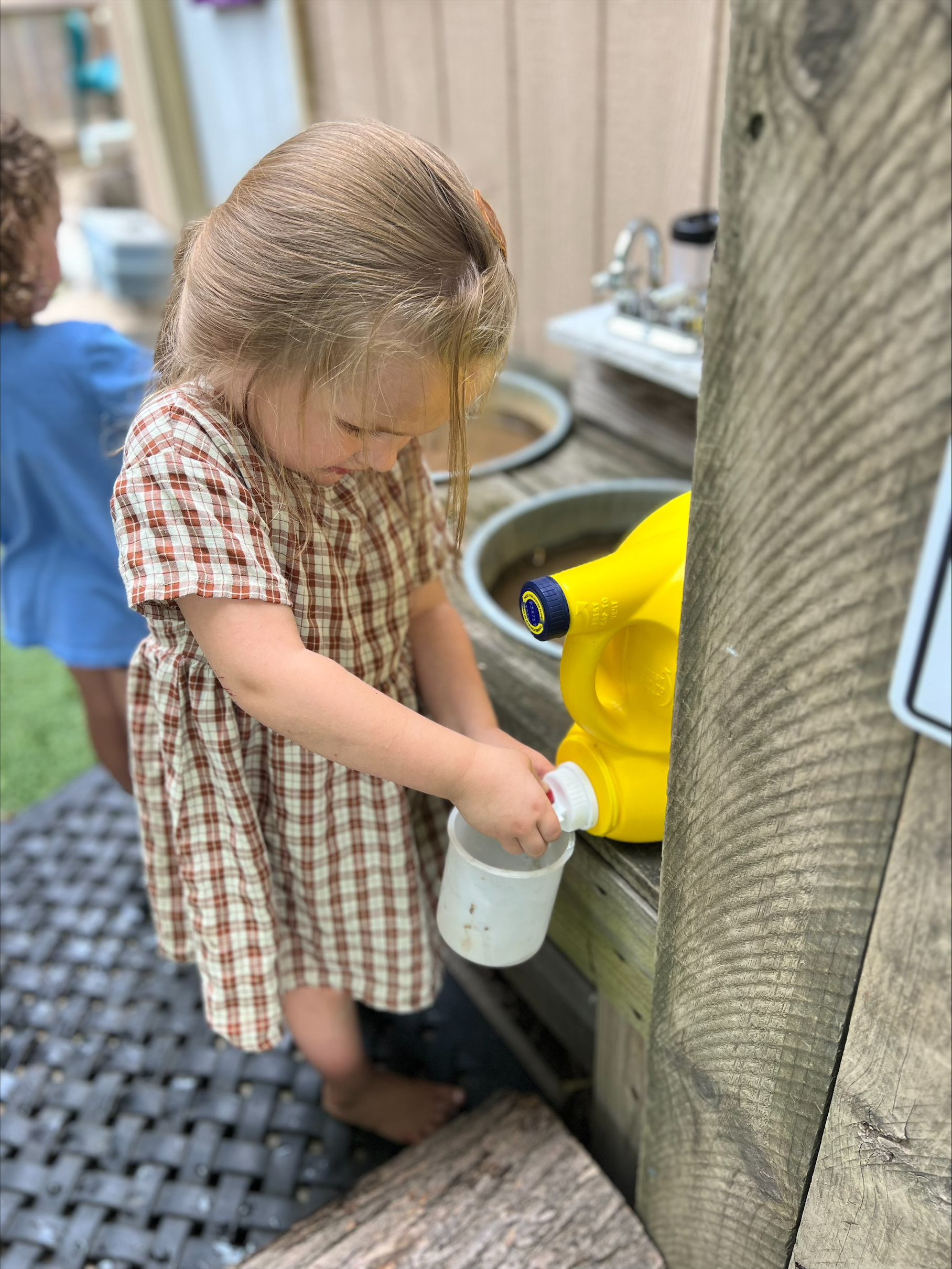 As with many Practical Life materials, the opportunity for repetition helps to develop strong concentration. Children not only learn how to care for their own belongings, but they also learn how to help others.
Some fun ideas for indoor large motor play for programs with limited access to an outdoor space, bad weather, or to share with families
Laser maze – Works best in a hallway, but a door frame can work for a shorter obstacle. Using painter's tape, streamers or yarn, web it between the walls or door frame. Have children walk through without touching the tape.
Ball toss – Use softballs or bean bags and baskets or boxes. Arrange the boxes in a straight line. Have children take turns hitting the target. You can also use a staircase and have a box on each step, for older children use different size boxes to challenge them.
Movement dice – Create a die with different movements shown on each side. Have children do the movement they roll or do a sequence of movements based on several rolls. For an added challenge, add a second die with numbers on each side for the number of times they must repeat that move.  Simply print the pattern below, draw the movements, cut and fold the pattern into dice and start playing! 
Hopscotch – Using painters tape or washi tape create your version of a hopscotch board.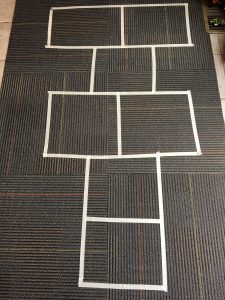 Sticky wall – Place contact paper or thick tape on a wall, sticky side out. Have children throw pompoms or balls of paper to the target. For younger children, lower it down and allow them to place items on the sticky side. 
Ball race – using a box and a few balls, cut out holes on the bottom of a box, then have children then move the box allowing the ball to fall through. For older children, have them work with a larger box in teams, or create many holes and ask the children to try to keep the ball from falling through a hole.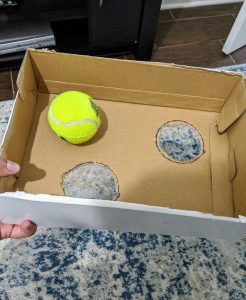 Bubble wrap road – Lay a path of bubble wrap on the floor and have children use balls or cars on the road. For younger children, have them walk or crawl on the bubble road.
Balancing course – To work on balance, have children hold a spoon with a ball or pompom, then walk, jump, skip, to the other side of the room.  Try a paper plate on their head, or holding toilet paper roll with a ball on top for extra challenge.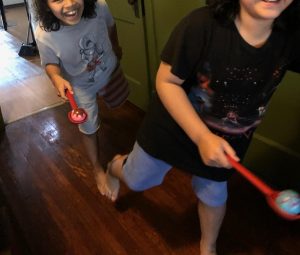 Magnetic fishing– Create a simple magnetic fishing game with paper clips or bobby pins, paper or felt, straws and a magnet. Have children take turns fishing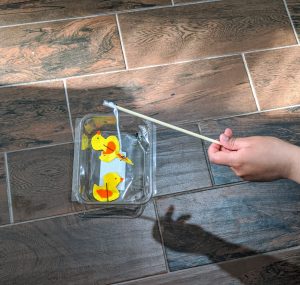 Printable version Indoor large motor activities
Use masking tape to create roads on the floor for matchbox or hot wheel type cars. Children can 'drive' cars along the roads and create dramatic play scenarios. Children can add other accessories, such as road signs, farm animals, train toys, etc. to extend the activity.
Goal: Children will move vehicles around the masking tape roads and engage in dramatic play.

El juego es vital para los niños; a través de él, los niños pueden desarrollar, explorar y practicar nuevas habilidades. Este recurso creado por Town Square ayuda a comprender mejor las habilidades y el aprendizaje que implica el juego de los niños.
Quizás pienses que sólo estoy jugando, pero…