NAFCC Archived Webinar Presented by Tom Copeland
The National Association for Family Child Care hosted a webinar presented by Tom Copeland that gives information about how family child care providers can prepare for changes due to new tax laws for 2018. This webinar has been archived and providers who missed the live webinar can purchase access to the recording (as well as other archived webinars hosted by NAFCC) here.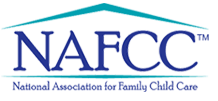 For more information on NAFCC visit their website.
Was this content helpful?