El monitoreo de los gastos e ingresos es vital para cualquier empresa, especialmente para las pequeñas compañías.
El monitoreo de los ingresos requiere el registro de los pagos por niño/familia, ya que ayuda a asegurar que usted está recibiendo fondos, y tiene el beneficio adicional de ser un registro de cada pago. Una adecuada contabilidad le ayuda a usted y tambien  a las familias a completar su W-10 y sus impuestos. Heather Mallett es una proveedora de cuidado de niños en Vincennes, Indiana. Ella es la Directora y Propietaria de Happy Hearts Daycare and Preschool LLC, como tal, Heather comparte este formulario de Registro Individual de Pagos Anuales para monitorear los pagos y registrar los totales para las familias. Hace unos años, Heather encontró este recurso a través de una colega directora general de una guardería con sede en otro estado y lo ha utilizado desde entonces.
Para utilizar el formulario
Prepare uno para cada niño/familia al principio del año
Ponga el formulario en la documentación del niño.
Anota el pago cada viernes, o cuando sea necesario.
Anote el total al final del mes.
Por último, sume el total anual y añada su número de identificación fiscal.
Haz una copia para compartirla con las familias y guarda el original para tus archivos.
Heather también incluye una nota en la que se indica si las familias desean otra copia, que costará 2 dólares.
Registro Individual de Pagos Anuales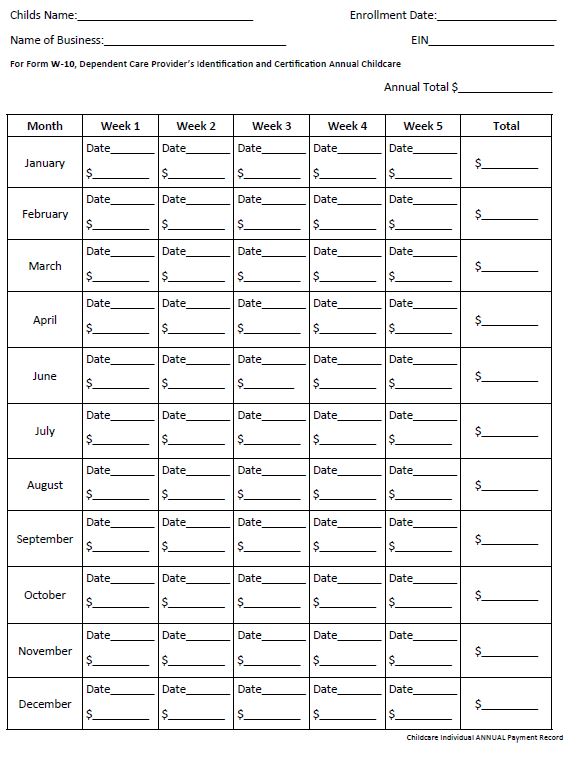 Especial agradecimiento a Heather Mallett
Directora y propietaria de Happy Hearts Daycare and Preschool LLC
Was this content helpful?