This guide can be a helpful tool when planning activities for multiple ages and that address different learning domains.  You can learn more about learning domains and planning for multiple ages in the module: Selecting and Managing Materials that Support Learning Across Domains on the Grow Page in Town Square under the Town Square Modules tab.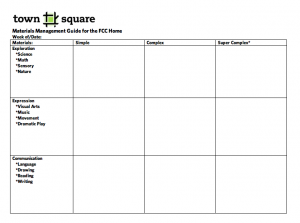 This resource was created by Town Square IL which is funded through the federal Race to the Top Grant – Early Learning Challenge, under the joint direction of the Governor's Office of Early Childhood Development and the Illinois Department of Human Services in partnership with Erikson Institute.
Was this content helpful?