A provider's response to the concerns surrounding school's reopening
It's no small statement to say that we are living in strange and sometimes scary times. As a world, we are navigating a health crisis that most of us have never experienced personally. We don't have any right answers, there are no good choices. So, we do the best that we can for our families; our friends; ourselves; and as ECE and FCC providers, for the families we serve. That spirit of continuing to serve families is how I developed my plan for my FCC program for the foreseeable future.
Before I talk about the changes I'm making, I should tell you a little about myself. I am an FCC provider with three kids of my own. My oldest is 7 and planning on attending in-person 2nd grade this fall…fingers crossed. I also have a 4-year-old and a 2-year-old. I am currently licensed to care for 7 children in addition to my own 3. My waiting list is long, and I don't anticipate being able to help even half of the families who are calling me every day. Childcare has taken a big hit; spots are precious, and parents are worried.
To add to parents' stress is the extremely difficult decision about what to do with their school age kids come August. Do I send them back to class and risk illness and trauma from the new rules? Do I somehow balance virtual learning with my full-time job? Do I withdrawal from the school and opt for a homeschooling option? How will I keep up? How can I best serve my children's education, health, social development, and emotional well-being? Again, there are no good answers, just a selection of bad options that we must choose from.
As more and more families called me to ask if I would be able to watch their school-agers while they were virtual learning, and I as I heard more and more parents share their concerns about being able to balance work and school at home (along with all of the other things that parents have to balance every day); I began to realize that this was an area I could help. All through this pandemic, I've been wondering: What's my role here? How can I use my skills to help others? What can I do to make a difference? Well, here it was. Slapping me in the face. I can offer virtual learning proctoring in my program. I can take the burden off parents and work with the district and teachers to help these children succeed this year.
So, I began to develop a plan. I'm lucky enough to have a wonderful assistant, so I was able to work out a daily routine that would allow me to teach the virtual learning kids at the table (each with their own device, following their district's learning plan) while my assistant ran play-based learning activities in the other room. I could offer one-on-one help for each child as they navigate this new way of learning in our own mini-school and communicate with their teachers to be sure we are staying on target and that I am focusing on any improvements or extra assistance that each child needs.
This is something many FCC providers could do to help the families we serve. This may not be the best option for all. I am not saying that every single FCC provider should or would be able to do this; but for those of us who can, what a great blessing it is to be able to help ease parents' stress in this time of need.
An example of our daily schedule is as follows: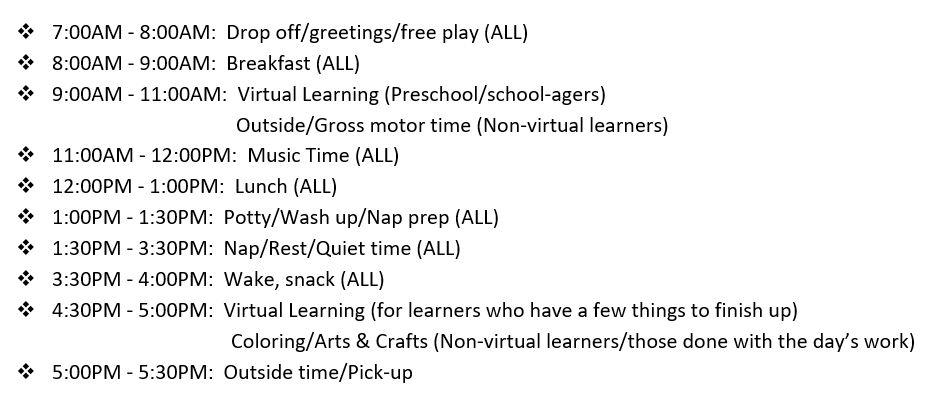 As you can see, some of our activities are still together as a group and our virtual learners are still getting to play outside, enjoy music/dancing, and participate in any extra activities we have scheduled for the day such as a special craft. Each day's schedule will be built so that school is not taking away special experiences and so the school-agers aren't sitting doing work on their own all day.
I currently have 3 children whose families have now chosen not to send their kids to in-person learning in favor of virtual learning with Mrs. Jessie and, if things don't go as planned, I'll be adding my big guy to that list as well. For our program, that means providing assistance for three different grades/ages, and four different virtual learning platforms/teachers/experiences at the same time. It sounds a bit hectic, but I know that it will be rewarding and worth the effort for the kids and their parents.
I encourage FCC providers, if this is something you feel like you could work into your program, to think about a plan, and assess if it is feasible for you. This is a long commitment, quite possibly the entire school year, but if you're up for the challenge, it may be a great help to parents in your community.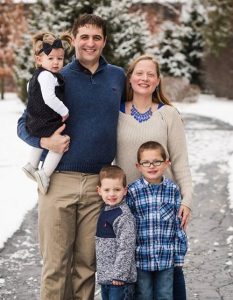 This blog was written by family child care professional Jessica Krueger (Mrs. Jessie)
Owner of Crayons and cuddles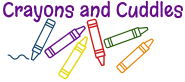 Was this content helpful?